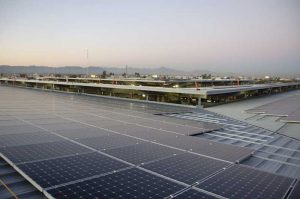 Within the past four decades, more than 185 hundred million m2 (2 billion sf) of metal roofing have been installed in the United States each year. This number continues to grow year over year and is more than any other commercial roofing material.
The roots and technology of metal as a cladding material date back more than 3000 years. Its use as a roofing material originated in the Middle East with such applications as the Dome of the Rock in Jerusalem circa 690 A.D. and even earlier on Solomon's Temple circa 960 B.C. The metal roof migrated to Europe during the Crusades (1095-1291). Original structures can still be found all over Europe, the Middle East, and Asia.
Metal roofing first came to North America with artisans like the well-known Paul Revere, who founded a copper company still bearing his name. It has always been coveted as a premium roofing option but, until more recent history, has been inhibited by higher initial costs than the alternatives (ethylene propylene diene monomer, polyvinyl chloride, or thermoplastic polyolefin). Beginning in the mid-1800s and continuing to present day, production technologies and the use of coated steel and (later) aluminum sheeting began to narrow the premium price chasm.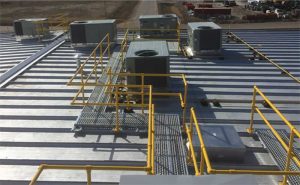 The lifecycle costs and environmental appeal of metal offer several advantages to current lifecycle trends. As a result, metal is becoming the roofing material of choice for both commercial and residential applications.  Today's roofing trends point toward evaluating the long-term costs of owning and maintaining a roof.  For owners and operators, environmental aspects of the industry—pre- and post-construction—have become the primary focus in the materials lifecycle of a roof. Additionally, concerns over landfills becoming overburdened with former building components discarded due to shortsighted budget-conscious building objectives are driving the focus on more sustainable roofing materials.
Metal is now one of the preferred roofing materials in the residential market niche, second only to asphalt shingle roof and has climbed from less than two percent of the market share to more than 15 within the last three decades. The more dominant use in the non-residential market share of engineered metal buildings as measured by the Metal Building Manufacturers Association (MBMA) fluctuates between 28 and 36 percent of F.W. Dodge Primary Construction. While MBMA construction represents only a portion of the total non-residential metal roofing market share, this figure alone exceeds any other commercial roof type in the industry.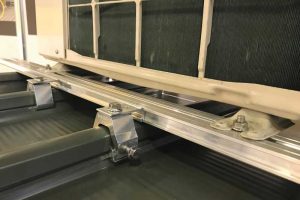 Service life and return on investment (ROI)
Metal roofs are known for durability, environmental sustainability, variant styles, and versatility. They are experiencing a surge in popularity because the maintenance requirements and lifecycle ownership costs are substantially lower than the alternatives.
Roofing for commercial construction is generally referenced as "low slope" or "steep slope." Steep-slope roofs are generally water-shedding (hydrokinetic), and low-slope roofs are generally water-tight (hydrostatic) and, therefore, suitable for use down to 0.25:12 (two percent) slopes. This minimum is no different than code mandated slope requirements for single ply.
The Metal Construction Association (MCA) published an empirical field/data study supported by lab analyses in the low-slope market sector.  The study indicates the service life of 55 percent aluminum-zinc (AlZn)-Coated Steel standing seam metal roofing (SSMR) is in the range of 70 years in non-coastal applications. (55 percent AlZn steel is the commercial standard for SSMR). Steep-slope, (also known as "architectural") coated-steel roofing is expected to have a similar service life except for some pigmented finishes.
Other metals used for roof applications have even greater service lives. Stainless and natural metals such as copper and zinc have service lives well over a century, but these materials are often beyond the reach of most construction budgets. A 70-year service life far exceeds that of non-metal commercial roofing systems, which generally expire around 15 to 20 years (refer to landfill concerns noted above). Additionally, because of the maintenance freedom afforded by metal roofs, owners are not faced with costly roof upkeep, patching, and repair.