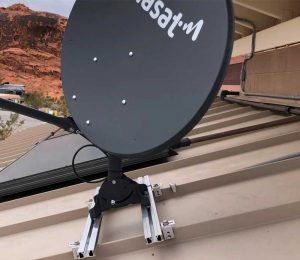 Typical maintenance of a properly installed metal roof involves annual gutter cleaning, debris removal and inspection for problems every five years or so. Semi-annual rinsing is often advised in coastal regions to prolong service life. ("Coastal" is defined within most warranty language as within one-fourth of a mile of breaking surf). Alternative roofing materials with much shorter life spans not only have more intense maintenance requirements but also the cost of repair, tear-off, and replacement offer little advantage over metal products other than initial cost.
Increasingly, building owners are choosing coated steel SSMRs over asphaltic and membrane roofs because the initial cost premium of 20 to 30 percent is a bargain, given SSMRs outlive those alternatives by three to four times.
Sustainability
The growing demand for durable and environmentally friendly construction materials with reduced maintenance and longer service lives leads commercial designers and owners to metal roofing. It is attractive, energy-efficient, long-lasting, weather-resistant, and easy to maintain.
Metal roofing is a sustainable material because of its extended service life, low production consumption of natural resources, zero-petroleum byproducts, and recyclable economic prudence.  Some roof system vendors make claims of "100 percent recyclability," but such claims are meaningless if the recycling process is not economically justified or verifiable.
For instance, an old shoe is "100 percent recyclable" despite the economic consequence (i.e. the cost of recycling versus value once recycled). What is pertinent is "what is the material's actual recycle rate?" At nearly an 85 percent recycle rate, steel is the most recycled construction material available, second only to copper. This is important to building owners and designers conscious of both environmental and economic efficacies. Old metal roofs rarely end up in landfills, thus saving dwindling landfill space and helping to protect the environment.
Metal roofing is also resistant to fire, weather, and climate conditions due to its sturdy and inert composition. It is non-flammable, non-combustible, and will not ignite during a wildfire or lightning strike, which may help save on insurance premiums. Metal roofing over open structural framing is a Class A (UL 790) material with respect to burning brand flame spread. Over wood decking with fire retardant underlayment is also accepted by Underwriters Laboratories (UL)and approved as Class A.