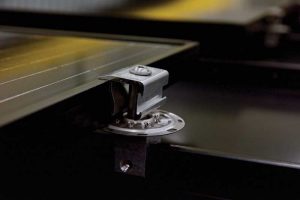 Ultraviolet (UV) rays and temperature changes fatigue most roof types with constant thermal expansion and contraction while modern SSMRs respond to temperature changes freely and without fatigue by their design. Metal is inert and impervious to UV degradation. Premium factory finishes of polyvinylidene fluoride (PVDF) paint films offer up to 40-year warranties against excessive fade, chalk, and film integrity. Further, because metal panels have structural characteristics, they can be designed to resist virtually any wind speed, including Category 5 hurricane winds.
With metal roofing, building owners can potentially save money on their utility bills. Reflective pigments on metal roofs rate the highest in "cool roofing," providing savings on cooling costs in warmer climates. According to Oak Ridge National Lab studies, metal roofs also retain their reflective characteristics better and longer than other membrane roofing materials which lose up to 50 percent reflectivity within three years and must be washed to be restored. Polyvinyl di-fluoride (PVF2 or PVDF; Kynar/Hylar) paint makeup used on metal roofs makes it a close chemical cousin to polytetrafluoroethelyne PVF4 (Teflon). Dirt and pollutants rarely collect on the surface because it is self-cleaning every rainfall due to a slippery finish chemistry.
Advantages to choosing a standing seam metal roof (SSMR)
"Standing Seam" style metal roofing has been in use for more than a millennium on some of the most prestigious buildings in history including Notre Dame Cathedral, Houses of Parliament, and Westminster Abbey in England; the Kronborg (Hamlet) Castle in Helsingor, Denmark; Abe Lincoln's original law office in Springfield, Ill.; and numerous historical buildings in Washington, D.C., just to name a few.
SSMR attaches to the building's structure or deck with concealed clips folded into the standing seams. The clips enable the roof panels to expand and contract freely in response to thermal cycling. This method of fastening means the weathering surface of the finished roof is penetration-free. The challenge is mounting ancillaries to a SSMR without violating those two design principles: movement and keeping the weathering surface free of holes.
Today's building owners are faced with the need to mount essential rooftop equipment and ancillary mechanicals including HVAC equipment, screens to hide it, piping and conduit to fuel it, scuttles to access it, and walkways to service it. With no clear industry consensus as to the "right way" to mount equipment in years past, such ancillaries were mounted by "hook or crook," violating roof integrity. Sadly, the exceptional lifespan of a metal roof became compromised when forced to function as a mechanical equipment platform.
Enter disruptive innovations (beginning in 1992) that enable the attachment of virtually anything to a SSMR penetration-free—and without violation of the roof's thermal response. The mounting of everything from a satellite dish to a photovoltaic (PV) solar array became easy and inexpensive. In fact, it is so expedient and cost-effective, the standing seam roof has become the most user-friendly roof type in the construction industry.
Today's SSMR is a time-proven choice for both steep and low-slope applications, considered by most to be state-of-the-art in metal roofing alternatives. The weakness of a SSMR has now become the newly found advantage of the most durable and sustainable metal roof: nearly anything can be mounted to the roof penetration-free, without concern (except for structural loading considerations).