Thin brick veneer for multistory, wood-framed construction
November 26, 2018
by Glen Clapper, AIA, LEED AP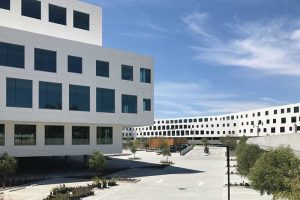 Thin fired-clay brick veneer is increasingly specified for multistory, wood-framed construction to gain the flexible aesthetics, durability, and performance benefits of traditional anchored brick veneer at a lower cost.
Also known as adhered veneer, thin brick is employed for a range of new and existing commercial and residential exterior and interior applications including multifamily projects, educational facilities, offices, hospitals, restaurants, malls, kitchens, basements, accent walls, and remodeling homes.
As a versatile and economical alternative to traditional clay brick, thin brick can be employed when building plans or budgets may not permit standard brick masonry. This is particularly true in regions requiring greater thickness of insulation or higher R-values to meet energy codes when the project team wants to minimize the wall system's total thickness.
Thin brick veneer offers virtually limitless design potential through many colors, textures, and overall appearance.
Using thin brick wall systems for wood-framed construction permits lighter dead loads for the building's structure while providing some of the beneficial properties of clay brick masonry. Just like full bed depth units, the color of thin clay brick units does not fade over time. Therefore, they do not need to be repainted. Thin brick wall assemblies can also achieve a fire-resistant rating when constructed according to Chapter 7, "Fire and Smoke Protection Features" of the International Building Code (IBC). While the overall installation cost, material, and labor of thin brick may equal anchored brick veneer, cost savings could be realized because the structure that is required to support conventional anchored brick veneer may not be necessary.
Former Brick in Architecture Award winners incorporating thin brick include The Brickyard in Los Angeles, California, and Mercy Health West Hospital in Cincinnati, Ohio.
The exterior façade of Mercy Health West is composed of 11 colors and 19 shapes of glazed thin brick. The thin masonry veneer was used in conjunction with a fully insulated wall system allowing it to reduce energy consumption and related utility costs by 10 to 40 percent. Triple-pane glazing, coupled with the insulated precast panels, also provides an efficient thermal envelope to reduce mechanical demand and improve patient comfort.
The Brickyard commercial office buildings in Los Angeles were designed to attract young workers who traditionally gravitate toward older buildings—mills, factories, and warehouses—with raw, exposed materials and the potential for large, open-floor plans to support a creative office environment. The white, thin brick façade and oversized punched windows are a modern reinterpretation of a mill's building aesthetics.
The walls of traditional brick buildings have a thickness derived from the size of the brick, a fact giving those buildings a sense of stoutness and mass. The walls at the Brickyard, in contrast, use refined modern thin brick to create a wall that feels thin and taut, resulting in the appearance of light, white volumes hovering above the landscape below. Making use of the narrow section afforded by thin brick facing, the wall system packs a great deal of insulation into a compact, economical wall cavity in order to minimize heating and cooling loads in all weather conditions.
Four installation methods
Thin brick veneer can be classified by four basic installation methods:
thick set;
thin set;
modular panel systems; and
prefabricated panels.
The first two involve field installation of each brick unit on a substrate with either a thick mortar bed for thick set or a thin layer of modified mortar or adhesive for thin set.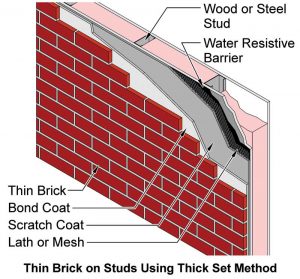 Modular panel systems use an intermediary panel located between the thin brick units and the backup wall with a typical area of 0.33 to 0.5 m2 (4 to 6 sf) made of polystyrene, metal, or other materials to support the thin brick. The panels are either fastened to the substrate wall with thin bricks already adhered to them or the bricks are adhered to the panels in the field. Prefabricated panels involve the creation of larger, structurally independent panels. Typically larger than 1 m2 (10 sf), these panels are lifted into place on the building. Panels consisting of wood stud framing are usually constructed offsite.
Properties
As detailed and illustrated in the BIA's Thin Brick Veneer Technical Note[3] 28C, thin bricks are made from materials and processes just like other bricks, but are thinner and weigh less. Thin bricks are a single element among many within an adhered veneer system. System performance can be accurately determined only when an assembly is evaluated. When compared with common lightweight cladding systems, thin brick veneer generally provides superior resistance to noise, minor impacts, abuse, and heat. The durability, fire resistance, security, and acoustic comfort provided by thin brick systems are primarily due to their mass.
: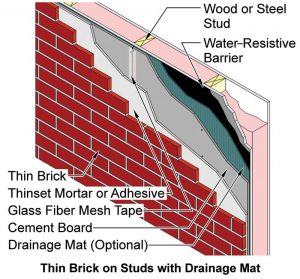 Thin bricks are manufactured to the requirements provided in ASTM C1088, Standard Specification for Thin Veneer Brick Units Made from Clay or Shale. The grade defined in ASTM C1088 for use as an exterior cladding is straightforward, exterior. Similar to the more common ASTM C216, Standard Specification for Facing Brick (Solid Masonry Units Made from Clay or Shale), there are three types of thin brick units:
TBA (no specified dimensional tolerances);
TBS (for general use); and
TBX (where dimensional tolerances are important).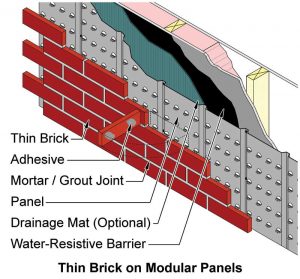 While there is not a minimum prescribed thickness for thin bricks, code requirement limits the maximum thickness of thin bricks. The Masonry Society (TMS) 402, Building Code Requirements for Masonry Structures, which is referenced in the IBC, limits the maximum thickness of adhered units to 67 mm (2 5/8 in.) and less than 73 kg/m2 (15 psf).
Adhered brick veneer can be employed where providing support for heavier, anchored brick veneer may be difficult. Thin brick veneer may be installed by masons, tile setters, or other workers. Some manufacturers can match thin brick with brick used in anchored veneer applications found elsewhere on the building.
System descriptions
Applied either on- or off-site, thin brick veneer is bonded to, and dependent upon, backing for stability and strength. Bond is achieved by embedding the thin bricks in a mortar or polymer-modified mortar setting bed, or by applying a non-sagging adhesive to the back of the brick and pressing the thin bricks on a panel substrate material. The adhesive must be compatible with the thin brick unit and the substrate, and applied according to the the adhesive or panel manufacturer's instructions.
The thick-set method consists of applying thin bricks with a bond coat of mortar onto a mortar scratch coat. It requires a reinforcement layer of either lath or mesh within the scratch coat to help control cracking due to shrinkage of the mortar behind the thin brick.
Thin brick installed using the thin-set method is adhered directly to the substrate by a thin (typically about 3.2 mm [1/8 in.]) layer of polymer-modified mortar, or by applying non-sagging adhesive according to manufacturer's instructions which usually require application of 25-mm (1-in.) diameter (quarter-sized dabs) on the back of the brick at each end. The surface of the veneer closely mimics the surface condition of the substrate. Irregularities in the surface of the substrate where the thin brick is installed may telegraph through the adhered veneer and be visible in the finished surface. Cement backer board is the recommended substrate for exterior adhered veneer installed over stud walls using the thin-set method.
Modular panel systems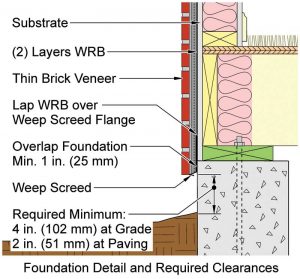 With modular panel systems, thin bricks are adhered or mechanically secured to a modular panel, usually made of metal, rigid foam insulation, wood, or other materials fastened to the substrate wall. Modular panel systems often have integral water resisting elements such as drainage mats or spaces. Thin bricks are adhered to some modular panels prior to installation, while others are attached to the substrate before thin bricks are adhered. Unlike thick or thin set, panels usually have grooves, tabs, or rails to align the thin brick courses and to provide support while the mortar or adhesive cures. Some proprietary modular panel manufacturers provide all the components needed for installation and warranty the panel and components as complete systems.
Prefabricated panels
Prefabrication using thin bricks can be accomplished by building panels on sections of wood or metal stud framing and applying thin bricks to the panel. In addition to straight walls, this system is well suited to soffits and other locations where lightweight prefabricated components are needed. The thin bricks are typically attached to the panels using the thick-set method.
System selection
Several factors influencing the selection of a thin brick system or installation method include the substrate, weather conditions, cost, and the installer's experience and skill levels. The performance characteristics of each system should also be considered throughout the selection process.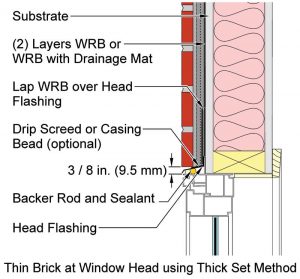 Thick-set installation provides a greater thickness to absorb some of the irregularity in uneven substrates. It also incorporates lath or mesh reinforcement fastened to the substrate to provide a mechanical connection to the veneer, and to accommodate some differential movement between the veneer and substrate.
Thin-set installations require a more plumb and level substrate surface than thick-set installations because the veneer is adhered directly to the substrate. Unevenness in substrate surfaces will also be evident in the thin brick wall surface. Additionally, the location of movement joints in thin-set installations requires more careful attention than in thick-set installations, as movement between the substrate and the veneer is accommodated only where movement joints are placed.
Modular panel systems, like thick-set installations, accommodate substrates that are uneven or have questionable bonding surfaces relatively easily. Since modular panels systems are designed to align brick units properly, to securely attach thin brick units, and to promote drainage of penetrant water, their installation typically requires less skill than other methods. Wood or metal stud frames are fabricated in a manufacturing facility, permitting them to be assembled without interruption from weather.
The size of panels can be limited by the maximum size allowed on the roads to the project site. Large variations in the building's frame may make it difficult for panels to be installed to typical masonry tolerances.
Detailing
Regardless of the installation method selected, detailing a thin brick wall system is just as important as it is with an anchored brick veneer wall system. Chapter 14, "Exterior Walls," of IBC contains prescriptive methods for design of thin brick veneer systems, in addition to referencing Section 12.3, "Adhered Veneer," of TMS 402. TMS 402 provides for either prescriptive or alternative design methods of adhered thin brick veneers.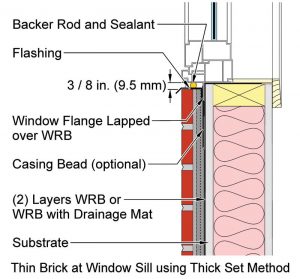 For wood-framed wall construction, IBC limits out-of-plane deflection for studs to L/240. However, BIA recommends stud deflection is limited to L/360 to minimize potential cracking in thin brick veneer and separation from the stud framing. Both IBC and TMS 402 require a water-resistive barrier (WRB) over the sheathing of the exterior wood stud wall (Figure 1). Thin brick veneer must incorporate flashing or weep screeds at specific locations. Essentially, flashing should be detailed in any area where` thin brick terminates.
A flashing or weep screed must be installed at the base or foundation of the building (Figure 2), with the code-required clearances indicated. Flashing should be included at heads of doors and windows (Figure 3). Additionally, flashing must be incorporated into the sill of window openings (Figure 4).
Like anchored brick veneer, movement joints are necessary with adhered thin brick veneer. The building codes do not provide specific requirements for the location and spacing of movement joints in thin brick cladding. BIA recommends movement joints be spaced no further than 5.5 m (18 ft) in either direction, with a maximum area of 13 m2 (144 sf) contained by the movement joints. In addition, the length-to-height and height-to-length ratio of the area should not exceed 2.5:1. However, due to increased heights of wood-framed buildings, additional care should be given to horizontal placement of movement joints to accommodate the potential shortening of the wood-framed building. It may be necessary to install horizontal movement joints at each floor to avoid potential damage of the thin brick cladding.
In addition to accommodating the shortening of the building's wood frame, the horizontal expansion joints in the thin brick veneer[9] could incorporate flashing to direct any water, which may have entered the wall system, back to the exterior.2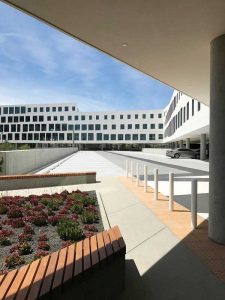 Substrate surfaces for thin bricks must be structurally sound and free of loose or deleterious debris and substances such as bond-release agents, sealers, or other coatings that could potentially impact the bonding of the veneer. Surfaces on which thin bricks are placed must not vary from plane by more than 6 mm (¼ in.) in 3 m (10 ft). If a surface does not conform, then a leveling coat must be applied before proceeding.
Walls of wood and steel stud framing should be designed to meet lateral deflection requirements. Exterior walls of wood or steel stud framing require a WRB on sheathing. Fasten cement board through sheathing and WRB into studs. Joints of cement board should be staggered and offset from sheathing joints. Treat cement board joints with alkali-resistant glass fiber mesh tape embedded in mortar or modified mortar in accordance with cement board manufacturer recommendations. Allow masonry and concrete substrates to cure for 28 days prior to installation of thin brick veneer.
Offering a wide range of applications, thin brick provides an alternative solution expanding design options, eliminating certain restrictions, and opening the possibilities to enhance exterior or interior walls. Thin brick's space saving and affordability offers the advantages and enduring appeal of real fired-clay brick veneer.
Glen Clapper, AIA, LEED AP, is architectural services manager at the Brick Industry Association (BIA). Clapper joined the brick industry in 2001. He has nearly 30 years of experience with design and construction. Clapper speaks regularly to architects, building officials, homebuilders, contractors, and inspectors on the benefits and use of brick. A registered architect, Clapper holds a bachelor's degree in architectural studies and a master of architecture degree from the University of Illinois. He can be reached at gclapper@bia.org.
Endnotes:
[Image]: https://www.constructionspecifier.com/wp-content/uploads/2018/11/TheBrickyardPlayaVista_MichaelMaltzanArchitecture_01.jpg
[Image]: https://www.constructionspecifier.com/wp-content/uploads/2018/11/FigA.jpg
Technical Note: http://www.gobrick.com/
[Image]: https://www.constructionspecifier.com/wp-content/uploads/2018/11/FigB.jpg
[Image]: https://www.constructionspecifier.com/wp-content/uploads/2018/11/FigC.jpg
[Image]: https://www.constructionspecifier.com/wp-content/uploads/2018/11/FigD.jpg
[Image]: https://www.constructionspecifier.com/wp-content/uploads/2018/11/FigE.jpg
[Image]: https://www.constructionspecifier.com/wp-content/uploads/2018/11/FigF.jpg
brick veneer: http://www.gobrick.com/
[Image]: https://www.constructionspecifier.com/wp-content/uploads/2018/11/TheBrickyardPlayaVista_MichaelMaltzanArchitecture_02.jpg
Source URL: https://www.constructionspecifier.com/thin-brick-veneer-for-multistory-wood-framed-construction/
---