System selection
Several factors influencing the selection of a thin brick system or installation method include the substrate, weather conditions, cost, and the installer's experience and skill levels. The performance characteristics of each system should also be considered throughout the selection process.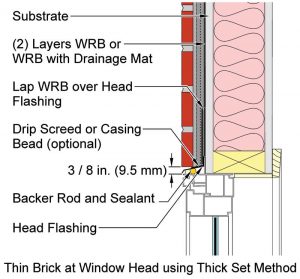 Thick-set installation provides a greater thickness to absorb some of the irregularity in uneven substrates. It also incorporates lath or mesh reinforcement fastened to the substrate to provide a mechanical connection to the veneer, and to accommodate some differential movement between the veneer and substrate.
Thin-set installations require a more plumb and level substrate surface than thick-set installations because the veneer is adhered directly to the substrate. Unevenness in substrate surfaces will also be evident in the thin brick wall surface. Additionally, the location of movement joints in thin-set installations requires more careful attention than in thick-set installations, as movement between the substrate and the veneer is accommodated only where movement joints are placed.
Modular panel systems, like thick-set installations, accommodate substrates that are uneven or have questionable bonding surfaces relatively easily. Since modular panels systems are designed to align brick units properly, to securely attach thin brick units, and to promote drainage of penetrant water, their installation typically requires less skill than other methods. Wood or metal stud frames are fabricated in a manufacturing facility, permitting them to be assembled without interruption from weather.
The size of panels can be limited by the maximum size allowed on the roads to the project site. Large variations in the building's frame may make it difficult for panels to be installed to typical masonry tolerances.