The thick-set method consists of applying thin bricks with a bond coat of mortar onto a mortar scratch coat. It requires a reinforcement layer of either lath or mesh within the scratch coat to help control cracking due to shrinkage of the mortar behind the thin brick.
Thin brick installed using the thin-set method is adhered directly to the substrate by a thin (typically about 3.2 mm [1/8 in.]) layer of polymer-modified mortar, or by applying non-sagging adhesive according to manufacturer's instructions which usually require application of 25-mm (1-in.) diameter (quarter-sized dabs) on the back of the brick at each end. The surface of the veneer closely mimics the surface condition of the substrate. Irregularities in the surface of the substrate where the thin brick is installed may telegraph through the adhered veneer and be visible in the finished surface. Cement backer board is the recommended substrate for exterior adhered veneer installed over stud walls using the thin-set method.
Modular panel systems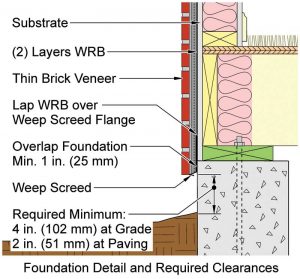 With modular panel systems, thin bricks are adhered or mechanically secured to a modular panel, usually made of metal, rigid foam insulation, wood, or other materials fastened to the substrate wall. Modular panel systems often have integral water resisting elements such as drainage mats or spaces. Thin bricks are adhered to some modular panels prior to installation, while others are attached to the substrate before thin bricks are adhered. Unlike thick or thin set, panels usually have grooves, tabs, or rails to align the thin brick courses and to provide support while the mortar or adhesive cures. Some proprietary modular panel manufacturers provide all the components needed for installation and warranty the panel and components as complete systems.
Prefabricated panels
Prefabrication using thin bricks can be accomplished by building panels on sections of wood or metal stud framing and applying thin bricks to the panel. In addition to straight walls, this system is well suited to soffits and other locations where lightweight prefabricated components are needed. The thin bricks are typically attached to the panels using the thick-set method.