In addition to accommodating the shortening of the building's wood frame, the horizontal expansion joints in the thin brick veneer could incorporate flashing to direct any water, which may have entered the wall system, back to the exterior.2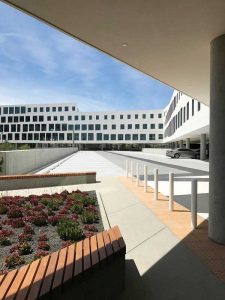 Substrate surfaces for thin bricks must be structurally sound and free of loose or deleterious debris and substances such as bond-release agents, sealers, or other coatings that could potentially impact the bonding of the veneer. Surfaces on which thin bricks are placed must not vary from plane by more than 6 mm (¼ in.) in 3 m (10 ft). If a surface does not conform, then a leveling coat must be applied before proceeding.
Walls of wood and steel stud framing should be designed to meet lateral deflection requirements. Exterior walls of wood or steel stud framing require a WRB on sheathing. Fasten cement board through sheathing and WRB into studs. Joints of cement board should be staggered and offset from sheathing joints. Treat cement board joints with alkali-resistant glass fiber mesh tape embedded in mortar or modified mortar in accordance with cement board manufacturer recommendations. Allow masonry and concrete substrates to cure for 28 days prior to installation of thin brick veneer.
Offering a wide range of applications, thin brick provides an alternative solution expanding design options, eliminating certain restrictions, and opening the possibilities to enhance exterior or interior walls. Thin brick's space saving and affordability offers the advantages and enduring appeal of real fired-clay brick veneer.
Glen Clapper, AIA, LEED AP, is architectural services manager at the Brick Industry Association (BIA). Clapper joined the brick industry in 2001. He has nearly 30 years of experience with design and construction. Clapper speaks regularly to architects, building officials, homebuilders, contractors, and inspectors on the benefits and use of brick. A registered architect, Clapper holds a bachelor's degree in architectural studies and a master of architecture degree from the University of Illinois. He can be reached at gclapper@bia.org.