Four installation methods
Thin brick veneer can be classified by four basic installation methods:
thick set;
thin set;
modular panel systems; and
prefabricated panels.
The first two involve field installation of each brick unit on a substrate with either a thick mortar bed for thick set or a thin layer of modified mortar or adhesive for thin set.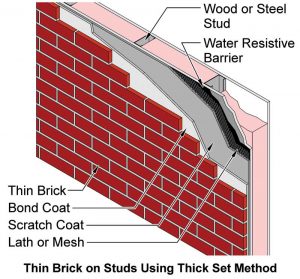 Modular panel systems use an intermediary panel located between the thin brick units and the backup wall with a typical area of 0.33 to 0.5 m2 (4 to 6 sf) made of polystyrene, metal, or other materials to support the thin brick. The panels are either fastened to the substrate wall with thin bricks already adhered to them or the bricks are adhered to the panels in the field. Prefabricated panels involve the creation of larger, structurally independent panels. Typically larger than 1 m2 (10 sf), these panels are lifted into place on the building. Panels consisting of wood stud framing are usually constructed offsite.
Properties
As detailed and illustrated in the BIA's Thin Brick Veneer Technical Note 28C, thin bricks are made from materials and processes just like other bricks, but are thinner and weigh less. Thin bricks are a single element among many within an adhered veneer system. System performance can be accurately determined only when an assembly is evaluated. When compared with common lightweight cladding systems, thin brick veneer generally provides superior resistance to noise, minor impacts, abuse, and heat. The durability, fire resistance, security, and acoustic comfort provided by thin brick systems are primarily due to their mass.