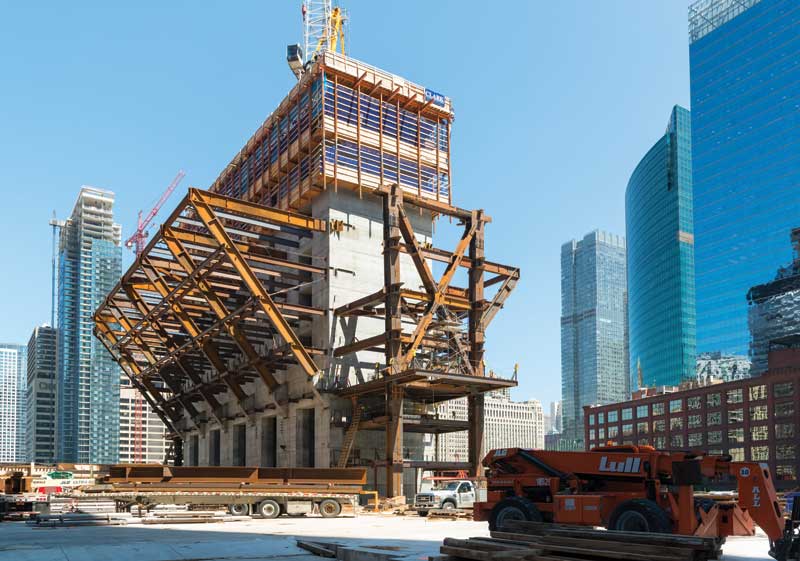 Curtain wall
The project team continued to work toward the highest quality of construction when placing the curtain wall façade. The system comprised 8500 individual units for a total of 50,167 m2 (540,000 sf) of glass. To meet the project's demanding acoustic requirements, the team implemented comprehensive acoustical testing of the curtain wall system. The tests, the first of their kind, validated design criteria and ensured the curtain wall obtained a sound transmission class (STC) rating of 43 STC.
The challenging design and implementation process at 150 North Riverside denotes the team's critical quality control process and collaboration, which kept the project on schedule while minimizing impact on the surrounding community.
Glass fins, rippling waves
The all-glass lobby creates a space, blurring the boundaries between indoors and outdoors. The remaining portions of the building, spandrel panels included, are clad in approximately 30 percent reflective glazing and the finish is neutral—it is basically gray, but 'reads' as blue on sunny days.
The façade incorporates undulating glass fins at each vertical mullion in the unitized curtain wall system. Projecting from 152 to 431 mm (6 to 17 in.), the fins are an allusion to the rippling of windswept water, with the inspiration coming from the adjacent river's waves.
More pragmatically, the fins also promote solar shading and minimize cooling loads during summer months, particularly on the building's west elevation.
Street access
Prior to the completion of the track overbuild (plaza over the trains), vehicle entry was limited to a single-lane access road—owned by Amtrak—that ran along the train tracks. The entrance to this road was several blocks away from the project site and required coordination and scheduling with Amtrak to avoid any impact to the trains or Amtrak's operations. Pedestrian access was through temporary stair towers leading from the elevator roadways down the project site.
However, when the track overbuild construction was completed, this all changed. The site joined the adjacent roadway structures at the same elevation, so pedestrians simply walked through the gate onto the project site. Vehicle traffic drove off of the elevated, adjacent roadways and onto the site, across the elevated sidewalk, utilizing temporary engineered driveway entrances.
Sustainability
Sustainability is a key principle in 150 North Riverside's design. The building was constructed to achieve Leadership in Energy and Environmental Design (LEED) Gold for the rating system's Core and Shell (C&S) program. Environmentally responsible features include high-efficiency plumbing and mechanical systems, a high- performance floor-to-ceiling curtain wall assembly, open floor plates, and lobbies with significant natural daylight, as well as use of low-volatile organic compounds (VOC) and non-emitting materials.
The tower is also home to 150 Media Stream—a new media installation in the building's lobby representing the convergence of art, architecture, and technology in showcasing digital works from a rotation of distinguished artists and cultural institutions.