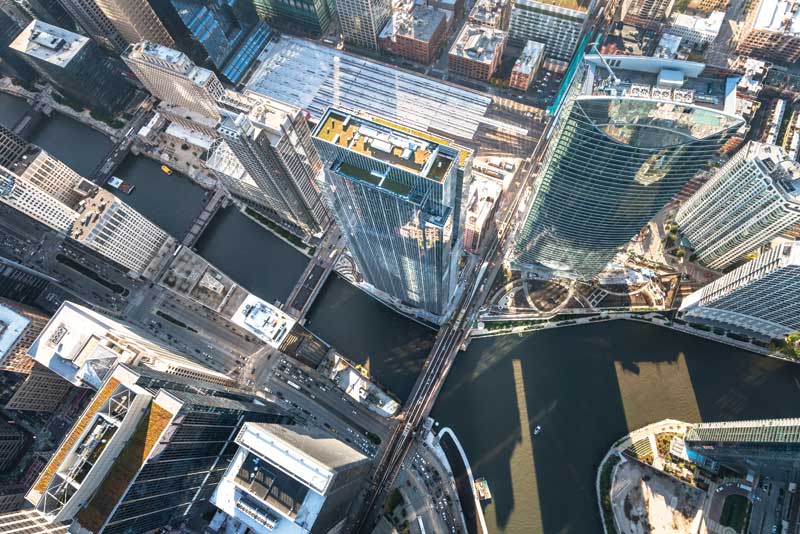 Impact on the community
In delivering 150 North Riverside, the team transformed a vacant lot with uncovered rail lines into a public green space contributing to the beauty of downtown Chicago. Creating an elevated park and plaza, the project team covered the rail lines and improved the acoustic and aesthetic experience for the surrounding neighborhood, including the adjacent condominium building.
The small building footprint, public park, and Riverwalk connection all serve to impact the community in positive ways. Additionally, the office building has already contracted out more than 80 percent of its leasable space, adding to the thriving business community in downtown Chicago.
Throughout the project's execution, the team avoided negatively impacting the neighborhood while continuing their efforts to provide new and luxurious public spaces along the city's riverfront.
Maneuvering around the several transportation corridors surrounding the site, the team worked around the clock to prevent impediments to public transportation. For public safety and transportation purposes, the project team completed crane lifts from 1 to 5 a.m. when the trains were not running.
When using the barge-based crane, the team performed a balancing act to prevent water traffic interference. To utilize a barge big enough to accommodate the crane's size and weight, without stopping water traffic, Chicago Steel Construction was able to customize the barge to a size that met both the crane's and the U.S. Coast Guard's demands. It also mitigated much of the traffic issues, keeping the crane at a far enough distance and not impeding pedestrians or cars.
Conclusion
This building helped solve a site constraint, which precluded development on one of the most prominent sites in Chicago for close to 80 years. To repair the urban fabric and make the 111,483-m2 (1.2 million-sf) tower possible, Riverside Investment formed a team of architects, structural engineers, and construction workers with an extensive knowledge set and collective experience in building on challenging sites.
While the building, with its many details, changed numerous times since it was first conceived five years ago, the tower's basic shape remained unchanged since the very beginning. There is perhaps no other new building in Chicago causing more people to tilt their heads and look up.
The collaborating project team includes Chicago-based Clark Construction Group (general contractor), Cosentini Associates (mechanical/electrical/plumbing [MEP] consultant), Wolff Landscape Architecture, and One Lux Studio (lighting design).
Chris Phares is a project executive with Clark Construction Group. He has worked in the construction industry for 17 years and has extensive experience in design-build, sustainability, commercial construction, and urban development. Phares lives in Chicago. He can be reached at chris.phares@clarkchicago.com.