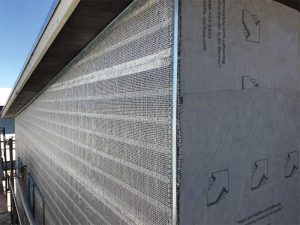 When it comes to creating the gap, various methods and materials can be used to separate the cladding from the substrates. One of these moisture protection approaches, and arguably perhaps the most effective, is using a dimpled membrane, or ventilated rainscreen. By disconnecting the cladding system, it uncouples it from the rest of the assembly, thereby improving longevity and durability. Without breaking the bond between commonly used housewraps and stucco to provide an air gap, coupled with the use of an alkali cementitious base scratch coat that can help act as a surfactant, stucco cladding systems will continue to fail.
Bringing the concept to life
A fire station is an icon of safety, part of the entire community, and central to everyday life. Recognizing the need to create a building that symbolized these values through design and performance was the driver behind the newly designed and rebuilt Lockhart Fire Rescue Headquarters in Lockhart, Texas. Designed by architect Robert Steinbomer and built by Countywide Builders, the new facility totals 251 m2 (2700 sf).
The exterior of the fire station is made up of stucco cladding, a design element that can be resistant to fire, rot, mold, impact, and termite infestation for as long as 100 years when properly installed. The design required a durable building envelope that could withstand a notoriously hot and humid climate in Texas with a focus on airtightness and vapor permeability.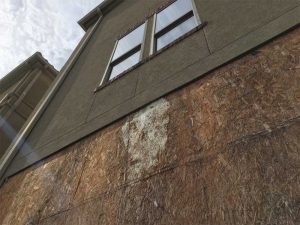 To create a high-performance wall system, a two-in-one rainscreen and lath was selected. Located in front of a spun-bonded polypropylene, self-adhering air- and water-resistive barrier, the rainscreen system features a drainage and ventilation layer in one, but also incorporates lath for the first scratch coat of the stucco. Simplifying many steps, the ventilated rainscreen with pre-installed glass lath will help to eliminate the building enclosure's risk of solar-driven moisture. At the same time, this one-step moisture control and lath system would allows any incidental moisture from within the wall to dry to the outside.
Unlike traditional methods, the fire station's exterior cladding is efficiently uncoupled from the rest of the assembly, thereby giving it longevity and durability.
Conclusion
When stucco and manufactured stone buildings are built correctly, they can provide many benefits, which include energy efficiency, sustainability, durability, and also increased fire protection. However, when moisture protection is unaddressed, the effects can be detrimental. Getting ahead of water and dampness is the only way to ensure new stucco and manufactured stone buildings give their full potential.
There are products incorporating all these qualities. For example, ventilated rainscreen membranes made of a special high-density polyethylene (HDPE) with pre-installed glass lath are multifunctional and provide high levels of moisture permeability along with the all-important water- and air-tightness.