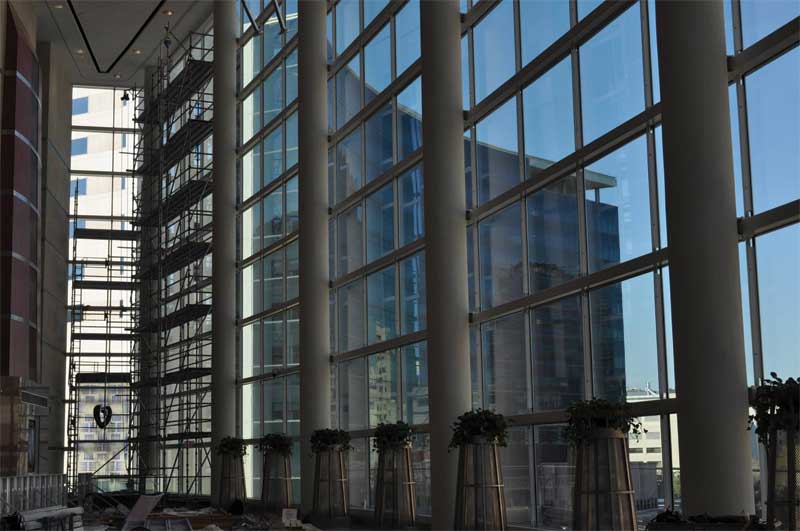 Anti-glare
Phones, tablets, laptops, and projection screens are essential for many offices. Often, the sun will sneak in through the windows and cast an unwanted glare to various screens. Window film helps block glare, providing clear views and comfort for all employees regardless of their seat positioning.
Safety and security
Windows and doors are the most vulnerable parts of a business or residence. They are easy points of entry, which may mean harm to the occupants. Window film offers a measure of protection from the hazards of flying glass fragments during a storm, blast, or other type of attack and can possibly deter or at least delay unwanted entry. When ordinary non-tempered glass breaks, it poses considerable danger, but filmed glass significantly reduces this hazard because it holds the shattered glass shards together.
There are several standards for glass fragment retention. Consumer Product Safety Commission (CPSC) Part 1201.4 (CFR Title 16 Chapter II Subchapter B Part 1201), Safety Glazing, has now adopted American National Standards Institute (ANSI) Z97.1, Safety Glazing Materials Used in Buildings−Safety Performance Specifications and Methods of Test. For blast mitigation, the often-used standard is the U.S. General Services Administration (GSA) Standard Test Method for Glazing and Window Systems Subject to Dynamic Overpressure Loadings. (For more information, click here.)
Aesthetics
Windows are character-defining features for any building, but consideration is not always given to the glass populating the façade. Rather than going through the time-consuming and expensive task of installing entirely new windows, one could consider repairing and maintaining the original glazing.
As mentioned, films are often a more cost-effective and less invasive option, especially for historical preservation. Window film can be applied quickly to the vast majority of historical buildings, preserving their authenticity, preventing damage, and lowering energy costs. In fact, the U.S. Department of the Interior (DOI) recommends it when restoring or preserving historical buildings. (For more information, click here.)
Window film in action
From a small retail shop to a large medical center campus, a range of case studies shows why window film can be an easy and cost-effective upgrade.
Office buildings
For office buildings, the products' ability to reduce glare and heat helps keep employees more comfortable, healthy, and productive. For these types of projects, use of window films also saves on cooling costs and protects furnishings from fading.
Southeast Bank recently built a four-story commercial building in Knoxville, Tennessee. The building was designed to house its local branch, service call center, mortgage office, and executive offices. The project team for this new facility aimed to be energy-efficient in all construction practices. The management staff viewed window film as a necessity to further this goal. When putting the construction plans together, it was clear window film was going to be incorporated into the design of the building.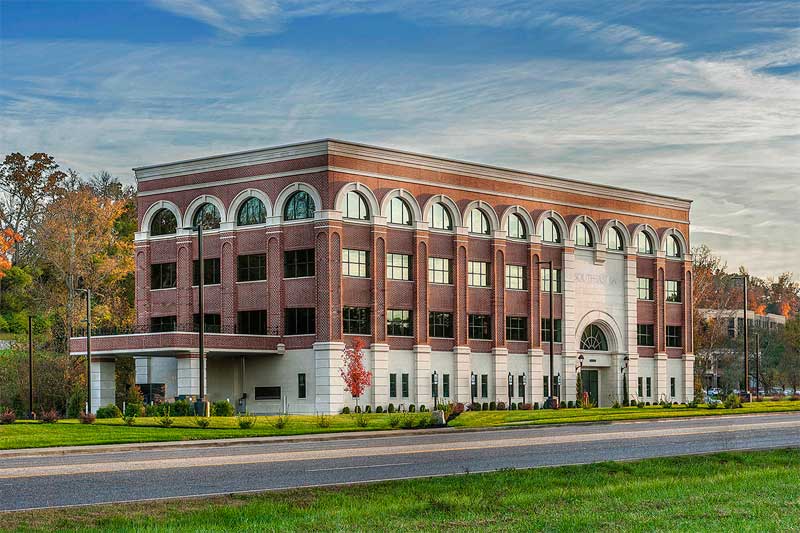 After film was professionally installed, employees moved into the new space that delivered a pleasant working environment through soothing natural light and balanced temperatures. The film also cut down on the glare bouncing off computer screens. By utilizing professionally installed window film, Southeast Bank took steps to protect furnishings and flooring from fading, while also creating a comfortable, beautiful, and, most of all, energy-efficient space. Window film was only one of the bank's numerous efforts to aesthetic appeal and energy efficiency as it continues to work toward earning Leadership in Energy and Environmental Design (LEED) certification for the building.
Hospitals and medical centers
Safety window film is designed to hold broken glass together in the event of a natural or unnatural disaster. This not only prevents physical harm from shards of flying glass, but also keeps high winds from entering a structure and doing damage, protecting patients and valuable medical equipment.
In 2012, Baylor St. Luke's Medical Center, an 850-bed medical and surgical facility in Houston, Texas, embarked on a comprehensive project to increase the safety and security of the hospital through the help of a Federal Emergency Management Agency (FEMA) grant. Securing the hospital's vast amount of glass windows and doors became a top priority. The hospital needed to find a way to offer its patients protection from flying glass in the case of a natural or unnatural disaster, as well as protect its millions of dollars' worth of state-of-the-art medical equipment from damage. Baylor St. Luke's management team began the search for a solution to the hospital's unique needs.
After exploring various options, the staff decided the ideal solution was window film. The final project involved installing 6040 m2 (65,000 sf) of safety and security film on the facility's windows and doors. By installing film in three separate phases, and working closely with the hospital staff, the team was able to complete the project with minimal interruption to patient comfort or facility operations. The film gives the healthcare team greater safety and peace of mind. Hospital staff members no longer have to plan for the contingency of moving patients around, and the medical equipment is more secure.