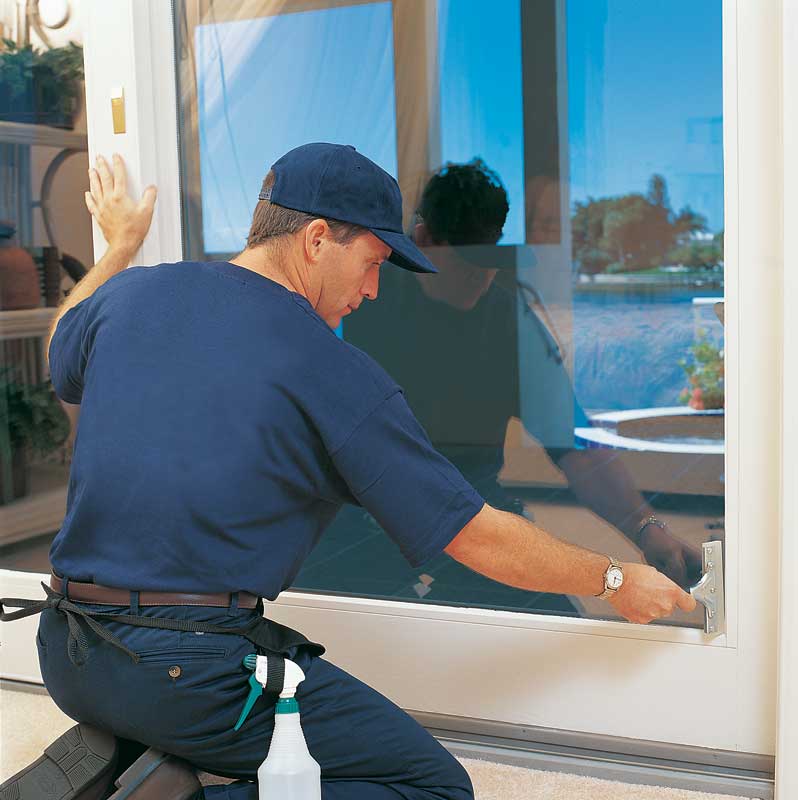 Schools, universities, and daycare centers
When safety and security films are applied, glass is designed to break, but not shatter. This can potentially delay and frustrate a would-be intruder, as well as keep children from being harmed by flying glass shards. Some window films also offer privacy, so intruders cannot see students and teachers inside.
Restaurants
Window film reduces glare and solar heat gain, which allows restaurants—even those with large windows facing toward the sun—to keep customers comfortable. For the Firestick Grill (located inside Tampa, Florida's Amalie Arena), this was especially important. The building was a prime location during Tampa Bay Lightning hockey games and concerts, offering views of the city's skyline through its 60-m (200-ft) wall of windows.
However, the sun caused discomfort among patrons. Diner customers would complain of the heat and glare, asking to move tables—this was no easy task when the restaurant was at capacity before a game. The restaurant's cooling costs were also high because the staff would try to compensate for the overpowering sun by blasting the air-conditioning.
As a solution, management used window film to reduce the sun's glare and increase the restaurant's overall energy efficiency. Film was installed on 427 m2 (4600 sf) of glass. When the restaurant reopened, the difference was immediately noticeable. Without spoiling views, window film significantly reduced the heat and glare, and patrons were no longer asking to be re-seated.
Conclusion
Overall, window film is an ideal choice for saving energy, increasing occupant comfort, and improving aesthetics of a building. The client will live, work, and play in a more efficient, comfortable environment and the film may even help him or her qualify for energy rebates, while adding to a builder's profit margins.
With all the different types of films available today, it is important to do research and find the film product best-suited to the project's unique requirements. Professional film installers will be able to provide clients a quality application, as well as an array of product options to accomplish the goals of the construction project. They will also advise when problems with the frame or glass preclude use of film in the first place.
Window films have been evolving for over 40 years and continue to grow as more architects, developers, and builders understand the benefits of their use. There are few products on the market that can make such a significant impact on a building for the relatively small investment.
 INSTALLING WINDOW FILM
Window film is applied by a professional installer, generally to the interior side of glazing. However, specific exterior film products do exist. An installer will survey a building prior to the installation to determine which product is the best fit, the square footage of the job, and any other details to make the application as smooth and efficient as possible.
Windows should be thoroughly cleaned prior to applying the film. The film is then installed using a mounting solution that is sprayed onto the window to activate the adhesive.
The film should not be cleaned until it has had the opportunity to fully cure, which usually takes about 30 days. The same common household products previously used to clean the window can still be employed.
Jeffrey Plummer is the senior vice president of sales and marketing for Madico Inc., based in St. Petersburg, Florida. Since beginning in the window film industry in 1988, he has been involved in all aspects of the industry, traveling to more than 60 countries on window-film-related business. Plummer has been in his role at Madico since 2010, previously serving as the vice president of sales and marketing at Bekaert Specialty Films for over 12 years. He can be reached at jplummer@madico.com.