XPS + building science = Three high-performing roofs
by sadia_badhon | November 5, 2020 10:22 am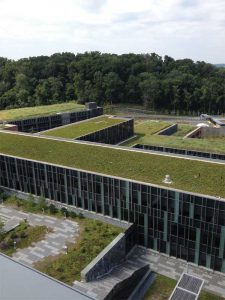 by Tiffany Coppock, AIA, NCARB, CDT, LEED AP
Fusing function and form, commercial building roofs in the United States are opening up new vantage points for taking in iconic cities, landmarks, and waterways. As local ordinances make protected membrane roof assemblies (PMRAs) more attractive to designers, they are also growing in sheer size. Some PMRAs measure more than 46,452 m2 (500,000 sf) and a network of vegetative roof assemblies (VRAs) in Washington, D.C., spans nearly a mile of waterfront. Whether topping federal buildings, high-end hotels, or event centers, VRAs support sustainability efforts, add beauty, and serve as multipurpose gathering spaces.
These high-performing roof assemblies also:
manage stormwater runoff while complying with more rigorous codes;
prolong the life of the roof;
provide a surface to host concerts and events without adding weight to the structure below;
reduce heat islands in the city and surrounding area; and
maintain habitat for local ecosystems.
New design trends
Few areas of the enclosure provide so many opportunities to use space creatively, which is one reason why designers continue to integrate VRAs into new rooftops. With so many VRA options available, U.S.-based designers have traditionally looked to Europe for guidelines.
Founded in 1975, the German Landscape Research, Development and Construction Society (FLL) has emerged as an early leader on standards for green roof technology. As an independent third-party organization that studies different vegetative roof assemblies, this organization curated a wealth of knowledge in the design and maintenance of VRAs. Combining these resources with decades of successful VRAs in North America, the U.S. has developed its own testing standards, guidelines, and processes. These improvements are resulting in stronger, more reliable VRAs, offering attractive environmental profiles. Just as significantly, they are inspiring creative adaptation of roof spaces.
An effective PMRA, as referenced in the International Building Code (IBC), requires placing the insulating layer on top of the waterproofing membrane. This assembly protects the membrane from traffic, temperature swings, ultraviolet (UV) exposure, and other damage, ultimately prolonging the life of the membrane, and is the traditional approach for VRA systems and plaza decks in the U.S. and abroad. As noted earlier, today's VRA and plaza deck designs deliver both function and performance.
This article explores three innovative U.S. roofs that reflect emerging design trends as well as analyzes how extruded polystyrene (XPS) insulation supports each roof's performance objectives.
A roof that ropes in strength and low weight-fill
It is hard to imagine the most exciting spot at the Dickies Arena Plaza Deck, Fort Worth, Texas, a rodeo and event venue, might actually be atop the facility, but that is exactly what the design team had in mind when creating the outdoor plaza for this 14,000-seat facility.
Ambitious in scale and architecture, the Dickies Arena was designed to complement Fort Worth's Will Rogers Memorial Center, a historic landmark. According to Eric Nelson, AIA, RID, CCCA, vice-president at HKS, the architect of record for Dickies Arena, the building resembles an opera house more than a rodeo venue when one thinks about the acoustic elements integrated into the building. However, while paying homage to the past via its visual design, HKS gave careful thought to sound quality inside the venue. The design called for many different roofing structures and shapes, including a dome, metal-topped towers, and the multi-use plaza area, which is equipped to handle concerts and many types of public gatherings.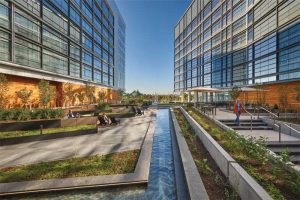 While inside the arena, attendees enjoy a range of entertainment options from sports and concerts to, of course, rodeos. On the plaza outside, people gather to take in a concert at the pavilion, grab a glass of wine at the 'cork yard,' and even get a preview of rodeo animals and handlers prepping for events inside the arena. Windows in the plaza deck let visitors turn their gaze down to the action below.
With so many possible uses for the plaza, the materials comprising the PMRA must safely support foot traffic, pavers, furnishings, and the vegetative assembly portions. Compressive strength is essential to supporting vehicular traffic, including emergency vehicles like firetrucks and tractor trailers filled with concert gear.
To lend strength to the project, the design team opted for XPS insulation for the roof. XPS is used in PMRAs for its high compressive strength values, available up to 690 kPa (100 psi). When installed above the waterproofing membrane, XPS delivers a high level of moisture resistance.
Grade and slope also factor into the roof's 'sandwich' design. The design team required a material that would raise the height of the roof over the building below by more than a foot, while also supporting 200 mm (8 in.) of concrete, sand, and pavers above. Drains located in the bottom concrete layer of the deck sloping in one direction are often attached to inconspicuous linear drains located a foot above the structural deck in the paver roof, which often slopes in a different direction.
Compressive strength was not the only challenge facing the team working on the Dickies Arena PMRA. The 13,006-m2 (140,000-sf) deck was massive in scale, including:
layers of reverse tapered insulation in order to create a flat surface;
flat fill insulation to raise the overall height of the roof; and
tapered insulation to slope to the drains embedded in the top roof layer.
Layers of strength and performance
The roof's design resembles a sandwich. At the lowest level of the assembly, a waterproofing membrane was hot-mopped over the concrete slab. Located at deck level are 261 drains. Sitting atop the deck layer is the XPS insulation. The next layer in the plaza is made up of filter fabric and a sand bed. Finally, the roof is finished with pavers and planters filled with trees. At the surface level, slot drains collect water and carry it down the assembly to the 261 drains below.
The Dickies Arena plaza deck gets plenty of traffic as the warm Texas weather welcomes visitors to enjoy the outdoors. With a clever mix of design and functionality, the green spaces of the plaza blend well with the venue's architecture. Visitors can take in the city's landmarks, get geared up for rodeo action, and soak up a gorgeous Texas evening, and if the state experiences one of its infamous deluges, the plaza deck is engineered to manage the rainwater.
Mixed-use VRAs manage moisture, maximize space
A complex of nine buildings spanning six blocks and a mile of Potomac riverfront, the Wharf in Washington, D.C., is more than a development—it is a whole new neighborhood that has been two decades in the making. As a public-private initiative, the Wharf epitomizes mixed-use with high-end hotels, condominiums, retail shops, commercial offices, and a 6000-seat music auditorium—a new destination for live, work, play, and tourism in the heart of the nation's capital.
While the structures and functions making up the Wharf are diverse, VRAs are a common element across the development. The roofs incorporated at the Wharf continue a trend seen all around Washington, D.C., which features more than 278,709 m2 (3 million sf) of green roofing. In the district, VRAs are not just trendy, but part of the city's sustainability and infrastructure efforts.
Sustainable solutions
The Potomac River may be the most famous waterway in Washington, D.C., but the city also sits close to the Anacostia River, Rock Creek, and Chesapeake Bay. In recent years, the district has taken more steps to protect these waterways and better manage stormwater runoff. VRAs have proved to be a key part of this strategy.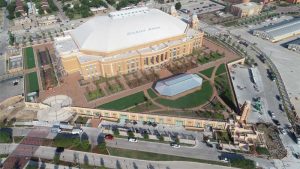 The District of Columbia's Department of Energy and Environment has established strict stormwater retention rates relative to building footprints. To meet these requirements, many developments have turned to VRAs, which can work like sponges to retain stormwater and, through systems such as drains and cisterns, control flow of runoff to prevent it from reaching nearby waterways. XPS' hydrophobic nature makes it suitable for navigating water mitigation requirements. Additionally, the material retains its R-value and protective properties in demanding flood tests as well as in more precise electro-field vector mapping; a newer, precision analytical process that can be used to uncover possible leak points in the PMRA before overburden is added.
Sustainability was top-of-mind from the start of planning for the Wharf project, which was designed to achieve an overall Leadership in Energy and Environmental Design (LEED) Gold certification from the U.S. Green Building Council (USGBC). The roofs at the Wharf helped achieve these goals not only by regulating stormwater runoff, but also by improving thermal performance of the buildings through the shading and cooling effect provided by the roofs' soils and plants. The roofs also create beautiful views and enjoyable occupiable spaces both at grade level and above the busy city streets, which increase value to occupants. As real estate is valuable in this location along the Potomac, these VRA roofs maximize the square footage value.
On each of the Wharf buildings, VRAs serve different purposes, but designers found a consistent insulation solution that could work for diverse needs. To help various VRAs achieve performance goals, many buildings at the Wharf utilized XPS insulation. Depending on each VRA's final use, insulation had to be strong enough to support soil, vegetation, pavers, furnishings, foot traffic; and the weight of vehicles in some locations. Each assembly also had to be carefully designed to remain in place despite the winds coming off the Potomac.
While the VRAs across the Wharf buildings varied in their design, the typical layers included:
vegetation–may include sedum, shrubs, perennials, and small trees; may require anchoring until they are established to resist wind uplift (coverage minimums are required to meet fire requirements);
growing media–this special blend of material retains just the right amount of moisture without drowning the roots of sun-loving, drought-tolerant plants, and also contributes to the overall weight
of the overburden needed to resist wind uplift;
moisture retention layer–retention needed will depend on requirements in each jurisdiction; some projects are utilizing mineral wool insulation, which is often used in hydroponic farming, to serve this purpose;
filter material–keeps fine particles out of drain board;
drain board/air movement layering–enables oxygen circulation to vegetation roots and helps keep vapor away from membrane and insulation;
insulation–due to its strength and impermeability to water, the National Roofing Contractors Association (NRCA) recommends XPS insulation for VRA applications; the insulation chosen for this project includes pre-cut channels, which help funnel moisture away from the membrane and toward drainage systems;
root barrier–protects membrane against aggressive roots, particularly weed roots; and
waterproofing membrane–these roofs used hot rubberized asphalt, but other cold-applied fluid materials are also available when hot materials are not allowed due to proximity or application.
Resilient performance
While water exposure tends to be one of the biggest concerns in VRAs, it is important to keep in mind that membrane and insulation materials, as well as sealants and adhesives, must stand up to chemical exposure. Over many seasons, VRAs may be treated with fertilizers that can compromise materials. Even organic compounds, such as pet waste, can create chemical reactions that break down materials over time, so it is important to specify a membrane and an insulation that will stand up to maintenance as well as use. The Wharf VRA assembly is designed to provide at least 50 years of performance, across a variety of uses and stresses.
Phase One of the Wharf opened with a concert by hometown favorites the Foo Fighters, bringing the kind of energy this new waterfront neighborhood hopes to impart to the community. The remainder of the project is currently under construction and set to be completed in 2022. When the entire development is complete, the Wharf will boast over a thousand residences, nearly 92,900 m2 (1 million sf) of office space, 800 hotel rooms, and a diverse set of vibrant roofing spaces that are sustainable, functional, and innovative.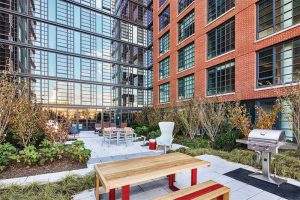 Green roofscapes let sustainability and flora flourish
The Douglas A. Munro Coast Guard Headquarters, Washington, D.C., served as a model of sorts for the Wharf project, demonstrating that scale and terrain need not hold back an ambitious VRA design. At more than 46,452 m2 (500,000 sf), the headquarters boasts one of the world's largest vegetative roofs. However, this roof is no simple flat grassland. The Munro headquarters is an 11-level terraced building. Nine of those levels are built into a hillside. Lush with native plant life, the vegetative roof blends so well into the surrounding landscape, local wildlife—including the occasional deer—treat the surfaces as a natural extension of their habitat.
The building's striking design is in keeping with its namesake. Douglas Munro is the only member of the Coast Guard to receive the Medal of Honor, earned for his selfless sacrifice as a landing craft pilot at Guadalcanal during World War II. The headquarters serves more than 4000 occupants, and in addition to the Coast Guard, houses several independent field commands including the National Pollution Fund Center and Marine Safety Center.
Designed to go with the flow
Like the Wharf, the Munro Coast Guard Headquarters had to meet strict stormwater retention regulations as well as federal EPA rules requiring 95 percent of stormwater to be collected on site. The vegetative roof—51,097 m2 (550,000 sf) in total—acts like an enormous sponge topping the offices. According to the Landscape Performance Foundation, the roof retains up to 1.6 million L (424,000 gal) of rainwater. The building's stair-stepped terrace design then moves that water gradually through 37 m (120 ft) of elevation changes, and eventually into a pond.
In addition to meeting stormwater runoff regulations, the project's designers wanted to go above and beyond with the building's sustainability profile, creating a roof that would help encourage biodiversity and reduce heating and cooling energy requirements. In urban settings, the plantings on VRAs can also help filter air pollution and create habitats for local wildlife. The roof ultimately received LEED Gold certification from USGBC.
The terraced design, natural landscape, and sheer size of the building (a sprawling 111,484-m2 [1.2-million sf] on 71 ha [176 acre]) had created numerous challenges in developing the VRA for this project. The design utilized XPS insulation over hot rubberized asphalt. A complex network of expansion joints was used to accommodate the many levels of the roof, tying together multiple air barriers within the system.
The roof design has proven highly resilient with no leaks to date and is considered to be a best practice for VRAs. The building has become a magnet for engineers, designers, and landscaping groups interested in its design, performance, and sustainability profile.
Conclusion
As designers gain experience with VRAs, they are experimenting with more creative ways to use these spaces to enhance building form and function. Innovations in materials, testing processes, and performance profiles of materials such as waterproof membranes and insulation are allowing VRAs to be placed in an increasing number of projects, bringing the benefits of green roofs to more places where Americans live, work, and play. The regulatory environment as well as the interest of architects, contractors, and building owners in technologies reducing global warming potential (GWP), also continue to inspire innovations in commercial roofing. As this issue of The Construction Specifier goes to press, manufacturers are introducing XPS insulation in compliance with environmental regulations set to become effective in parts of North America, beginning January 2021. Some of the blowing agents used in insulation offer a 90-percent reduction in GWP.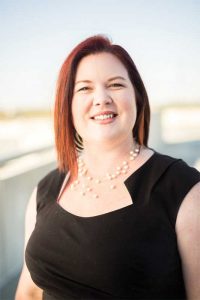 [5]Tiffany Coppock, AIA, NCARB, CDT, LEED AP, is the commercial building systems specialist at Owens Corning where she provides leadership in building science, system development, testing, and documentation. She can be reached via e-mail at tiffany.coppock@owenscorning.com[6].
Endnotes:
[Image]: https://www.constructionspecifier.com/wp-content/uploads/2020/10/Coast-Guard-1-002.jpg
[Image]: https://www.constructionspecifier.com/wp-content/uploads/2020/10/HDPhoto_171024_04a_FS.jpg
[Image]: https://www.constructionspecifier.com/wp-content/uploads/2020/10/Dickies-Exterior.jpg
[Image]: https://www.constructionspecifier.com/wp-content/uploads/2020/10/Wharf-2-_M5A6978.jpg
[Image]: https://www.constructionspecifier.com/wp-content/uploads/2020/10/TiffanyCoppock-Headshots-16.jpg
tiffany.coppock@owenscorning.com: mailto:tiffany.coppock@owenscorning.com
Source URL: https://www.constructionspecifier.com/xps-building-science-three-high-performing-roofs/
---