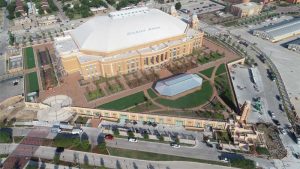 The District of Columbia's Department of Energy and Environment has established strict stormwater retention rates relative to building footprints. To meet these requirements, many developments have turned to VRAs, which can work like sponges to retain stormwater and, through systems such as drains and cisterns, control flow of runoff to prevent it from reaching nearby waterways. XPS' hydrophobic nature makes it suitable for navigating water mitigation requirements. Additionally, the material retains its R-value and protective properties in demanding flood tests as well as in more precise electro-field vector mapping; a newer, precision analytical process that can be used to uncover possible leak points in the PMRA before overburden is added.
Sustainability was top-of-mind from the start of planning for the Wharf project, which was designed to achieve an overall Leadership in Energy and Environmental Design (LEED) Gold certification from the U.S. Green Building Council (USGBC). The roofs at the Wharf helped achieve these goals not only by regulating stormwater runoff, but also by improving thermal performance of the buildings through the shading and cooling effect provided by the roofs' soils and plants. The roofs also create beautiful views and enjoyable occupiable spaces both at grade level and above the busy city streets, which increase value to occupants. As real estate is valuable in this location along the Potomac, these VRA roofs maximize the square footage value.
On each of the Wharf buildings, VRAs serve different purposes, but designers found a consistent insulation solution that could work for diverse needs. To help various VRAs achieve performance goals, many buildings at the Wharf utilized XPS insulation. Depending on each VRA's final use, insulation had to be strong enough to support soil, vegetation, pavers, furnishings, foot traffic; and the weight of vehicles in some locations. Each assembly also had to be carefully designed to remain in place despite the winds coming off the Potomac.
While the VRAs across the Wharf buildings varied in their design, the typical layers included:
vegetation–may include sedum, shrubs, perennials, and small trees; may require anchoring until they are established to resist wind uplift (coverage minimums are required to meet fire requirements);
growing media–this special blend of material retains just the right amount of moisture without drowning the roots of sun-loving, drought-tolerant plants, and also contributes to the overall weight
of the overburden needed to resist wind uplift;
moisture retention layer–retention needed will depend on requirements in each jurisdiction; some projects are utilizing mineral wool insulation, which is often used in hydroponic farming, to serve this purpose;
filter material–keeps fine particles out of drain board;
drain board/air movement layering–enables oxygen circulation to vegetation roots and helps keep vapor away from membrane and insulation;
insulation–due to its strength and impermeability to water, the National Roofing Contractors Association (NRCA) recommends XPS insulation for VRA applications; the insulation chosen for this project includes pre-cut channels, which help funnel moisture away from the membrane and toward drainage systems;
root barrier–protects membrane against aggressive roots, particularly weed roots; and
waterproofing membrane–these roofs used hot rubberized asphalt, but other cold-applied fluid materials are also available when hot materials are not allowed due to proximity or application.
Resilient performance
While water exposure tends to be one of the biggest concerns in VRAs, it is important to keep in mind that membrane and insulation materials, as well as sealants and adhesives, must stand up to chemical exposure. Over many seasons, VRAs may be treated with fertilizers that can compromise materials. Even organic compounds, such as pet waste, can create chemical reactions that break down materials over time, so it is important to specify a membrane and an insulation that will stand up to maintenance as well as use. The Wharf VRA assembly is designed to provide at least 50 years of performance, across a variety of uses and stresses.
Phase One of the Wharf opened with a concert by hometown favorites the Foo Fighters, bringing the kind of energy this new waterfront neighborhood hopes to impart to the community. The remainder of the project is currently under construction and set to be completed in 2022. When the entire development is complete, the Wharf will boast over a thousand residences, nearly 92,900 m2 (1 million sf) of office space, 800 hotel rooms, and a diverse set of vibrant roofing spaces that are sustainable, functional, and innovative.