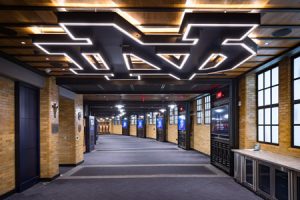 Originally constructed in 1930 and steeped in tradition, the University of Notre Dame Stadium, Indiana, remains an iconic symbol of the football program. Although significantly expanded in 1999, the facilities at "the house that Knute Rockne [football coach] built" received minimal upgrades and improvements over the years, and alterations had left an eclectic mix of building styles.
Enter the Campus Crossroads Project, the largest building initiative in the university's history. Initiated in 2014 and completed in 2017, the project added 74,322 m2 (800,000 sf) of classroom and educational space via construction of three new buildings attached to the east, west, and south sides of the Notre Dame Stadium.
In conjunction with the Campus Crossroads Project, the architectural and engineering firm Integrated Design Solutions (IDS), Troy, Michigan, was selected to redesign and renovate the stadium's concourse and facilities at the north-end of the building to include the home team's locker room and recruiting lounge.
"Some improvements had been made in 1999 but it was dated and certainly was not meeting the need to showcase the facilities to players and recruits," said Kevin Marshall, IDS senior associate and project architect.
The new locker room is stunningly modern, yet employs a material palette that retains and reflects the history and heritage of the football program, which was a key objective of the design team.
"We clearly wanted to bring back some of the art deco design features of the original facilities," said Katy Litwin, senior associate and design team member.
A strategic use of tinted zinc panels played an important role in the execution of the design. The zinc assembly framed video monitors throughout the facility and provided significant accent for end panels on multiple rows of lockers. The panels also match Notre Dame's navy blue color while also allowing the natural grain to show through.
The design team originally considered using simple plate steel panels for the metal applications but it was eliminated in favor of zinc because of weight, cost and aesthetic reasons, according to Marshall.
"There was also an uncertainty as to how the raw steel would age. We considered painting the steel, too, but concluded that it would not have the natural character and blue tone that we wanted," Marshall said.
The zinc panels interface with original 1930's glazed brick that was uncovered during the renovation and then cleaned for reuse throughout the locker room and elsewhere. Additionally, reclaimed redwood bleachers from the stadium were used as design elements in various areas of renovation in both the home and visitor locker room.