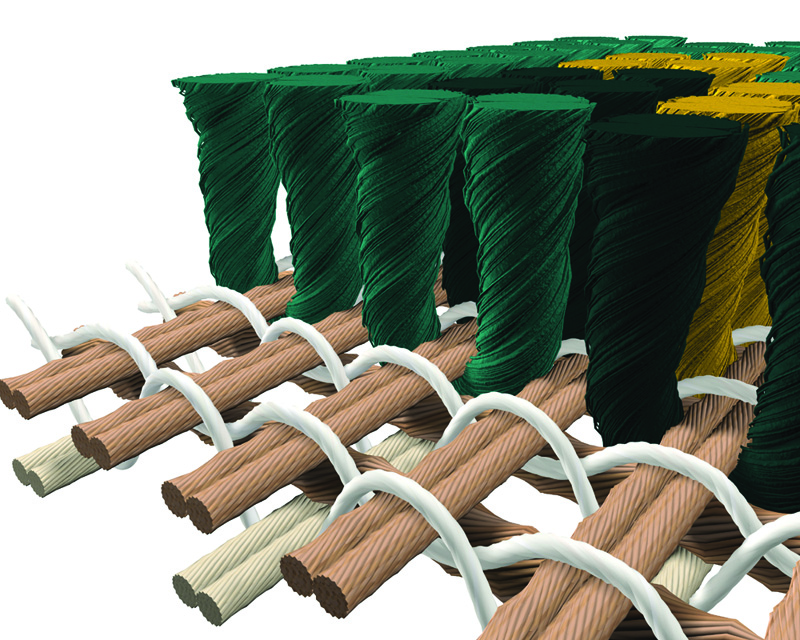 Color
Color (and the maintenance thereof) is incredibly important to the design process, with Axminster offering unparalleled design and color precision. The physical structure of the wool fibers allow for more color saturation, creating much richer and more vibrant colors. Synthetic fibers cannot achieve the same level of saturation.
Additionally, each Axminster yarn is pre-dyed, ensuring full color penetration. During the printing process of tufted carpet, color is injected onto the surface of the pile, which can result in colors bleeding together, therefore losing complete clarity of design. The Axminster process allows for crisper design elements and richer color profiles, creating a better design.
When it comes to color trends, the industry is experiencing a gradual departure from gray palettes and a strong interest in blue, with this hue's 'families' coming together to act as neutral backgrounds. Other neutrals are warming up a bit, and overall color palettes are being derived from naturally occurring materials and elements.
With today's technology, there are limitless color and design possibilities. Designers are no longer restricted to eight color patterns and small pattern repeats. Indeed, patterns are generally becoming void of small repeats, and instead fill the entire area like a single flooring design. Designers can now easily avoid a pixelated look while recreating soft watercolor effects, blurred textural transitions, and contrasting, crisp linear elements.
Design
The design process for Axminster is becoming even more customized, stretching the way we think about pattern and color on the floor. Previously, the word 'Axminster' produced a more rigid traditional image in the minds of designers—floral ornate infills locked in with strict borders and transitions. Today, floorscapes relying on this material can be designed with massive undulating natural textures, unnoticeable repeating geometrics, and real perceivable depth.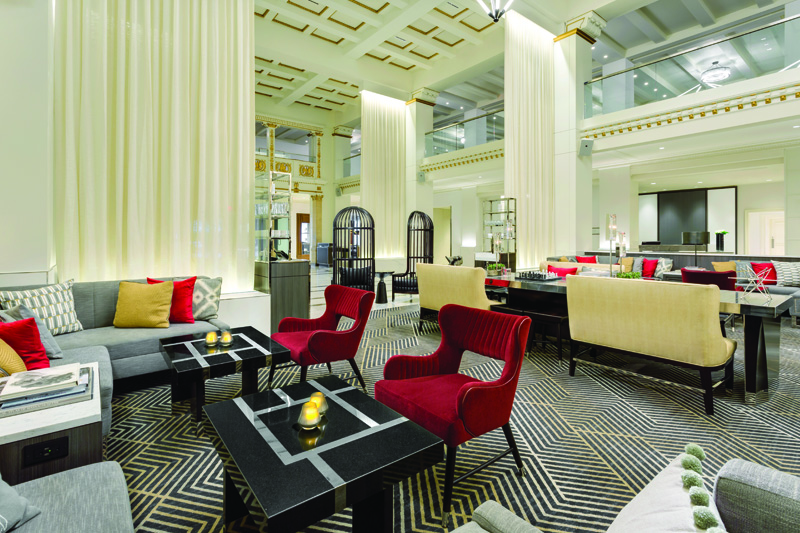 As people are generally bombarded with color, pattern, and repetitive imagery in their daily lives, designs with a unique, authentic hand are driving trends in commercial interiors. Some carpeting manufacturers can translate real artwork and paint strokes to produce broadloom flooring designs.
Many new hospitality lobbies and guestrooms contain no repetitive, commonplace schemes. Instead, designers are creating completely bespoke interiors with equally exceptional carpets. This design approach is made possible by the weaving technology Axminster carpet manufacturers employ each day.
Execution
All these elements—from flooring selection to design—coming together requires a variety of experts to ensure flawless, long-lasting execution.