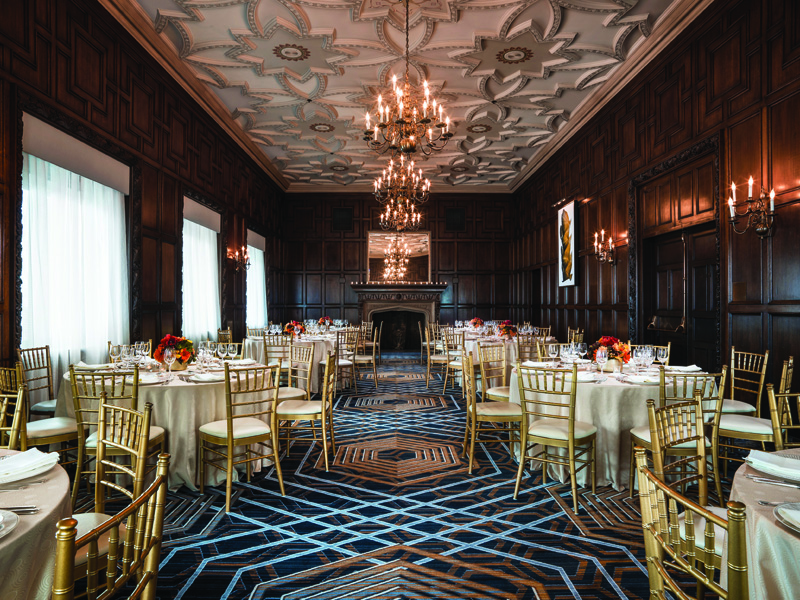 Charleston Area Convention Center
When it comes to public spaces, the Charleston Area Convention Center is a prime example of the strength and durability of Axminster. The facility debuted more than 15 years ago as the region's largest setting for trade shows and conventions. The original carpet held up exceptionally well under an estimated 400 million visitors and more than a decade and a half of traffic. Renovating the carpet was a hot debate, as the structural integrity of the original floorcovering was still intact, yet the need to remain fresh and competitive prevailed. This next 11,706-m2 (14,000-sy) refresh was designed to last another 20 years.
Charleston-based architecture and design firm, LS3P, worked with the carpet manufacturer to create a finish inspired by the region's natural environment and Lowcountry setting, while remaining cohesive with the existing interiors. In this case, the carpet sets the tone for the entire design scheme. To mimic natural patterns and textures found in the surrounding environment, the team eliminated all borders and hard-line transitions from one pattern to the next. This technique makes it hard to tell where one carpet ends and another starts, with colors blending into one another. In the end, the carpet feels like a piece of hand-painted artwork. Using Axminster again was the perfect solution for this the convention center because of the high amount of expected foot traffic.
Conclusion
With advancements in technology, the process of designing and creating Axminster carpet will continually evolve. Improvements to looms will lead to quicker production times, while use of different yarn types to create texture will advance design. Improvements to sustainability will be a priority as consumers push for less waste, leading to an increase in the use of natural materials, such as wool. Through all these improvements and advancements to designing and weaving carpet, one thing should stay the same—the integrity and strength of the floorcovering due to sound construction.
The examples in this article showcase Axminster carpeting at its finest, exemplifying incredible application and installation, utilizing the floorcovering's benefits to maximize overall design and function, and highlighting the incredible customized color and design available.
Johnny Massey is the vice president of operations for woven-carpet manufacturer, Brintons Americas; he has been with the company since 1999. Massey graduated from Mississippi Delta Community College with a degree in graphic design. He can be reached via e-mail at brintons@brintonsusa.com.