ABCs of specifying Axminster carpet
July 5, 2017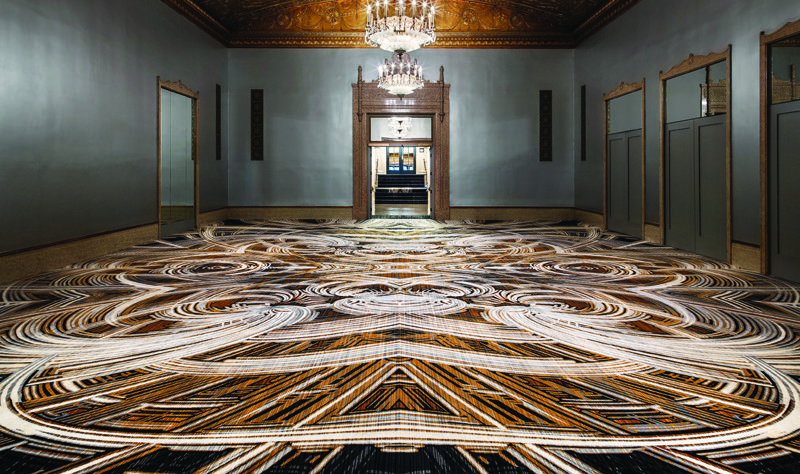 by Johnny Massey
Woven Axminster carpet, with its interlocking pile and backing yarns, is constructed primarily for strength and durability. The floorcovering has become a popular choice for high-traffic areas including hospitality, gaming, marine, convention center, and airport projects around the globe.
While Axminster construction over the last two centuries has changed very little, technological advancements and design trends have taken specification of this type of wool carpeting to new levels. Expanded product offerings for project teams now include designing with up to 32 colors, as well as creating enormously scaled patterns with electronic jacquard weaving. The design options with precision weaving are virtually limitless.
The carpet industry is currently seeing a design shift from its materials simply being a floorcovering option to serving as a true design feature—a piece of art to complement a design story, and in some cases, a design centerpiece. This article covers the ABCs of proper use of Axminster—from application to execution.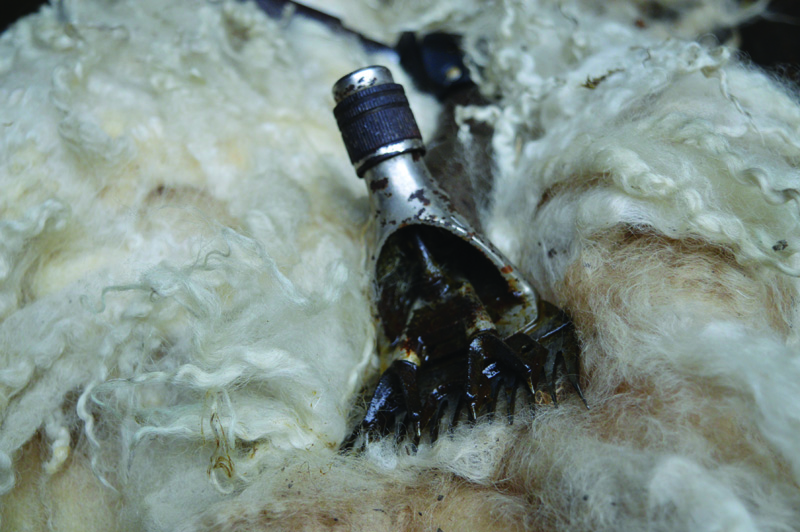 Application
The current Axminster weaving process employs an 80 percent wool and 20 percent nylon blend of yarn, which was pioneered in the 1950s. Although both woven Axminster and traditional tufted carpet use pile and backing, the weaving process is what sets Axminster apart.
Each tuft of yarn is woven and locked into place by shots of backing yarn. This creates a strong, three-dimensional structure more durable than tufted carpet. The manufacturing method not only creates a high-performance floorcovering, but also allows for the creation of complex designs incorporating a multitude of color combinations.
When specifying for public spaces, especially in hospitality corridors and ballrooms, Axminster's three-dimensional weaving paired with wool (a naturally soil-repelling and resilient fiber) is a beautiful and functional solution. Over time, standard tufted carpet in these areas can fall subject to delamination—the separation of the primary and secondary backings due to the latex adhesive's crystallization. Simply because of the nature of the manufacturing process, this causes the need for premature redesign, making the product's lifespan much shorter than that of a typical Axminster construction. Loss of appearance and shape is the predominant reason for carpet replacement, followed by design relevance.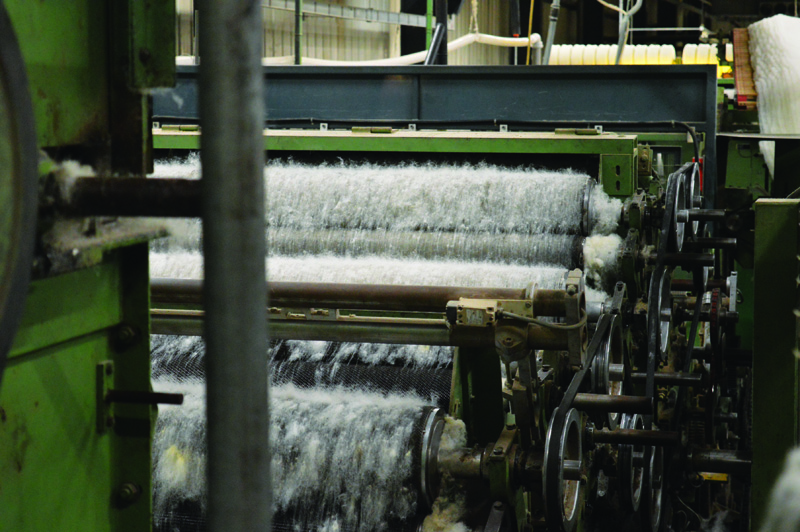 One of the most important considerations for project teams to keep in mind when selecting carpet is the amount of expected traffic. The more traffic anticipated, the higher the specification needed. Higher specifications—that is, carpeting with more tufts per square inch—can be ideal for public spaces and corridors (i.e. 9/10-row specs), while lower specifications are better for areas such as guestrooms (i.e. 7/8 row specs).
Although Axminster is naturally tough on soiling, during the design process, the concept of 'soil-hiding by design' should always be at the forefront of the project team's mind. For example, in the most-trafficked areas, designers should avoid lighter colors and larger areas or swatches of one solid color. Clever application of pattern and texture combinations can help minimize the evidence of soiling. This ability to control specific design elements separates Axminster carpeting from other woven floorcoverings.
Proper installation is essential to preserving the life of Axminster. Pile direction is critical—the carpet must be installed with the pile direction running against the main flow of traffic, as this keeps the pile intact and consequently preserves the floorcovering's color. The other most important aspect of carpet preservation is a routine maintenance program with the correct equipment.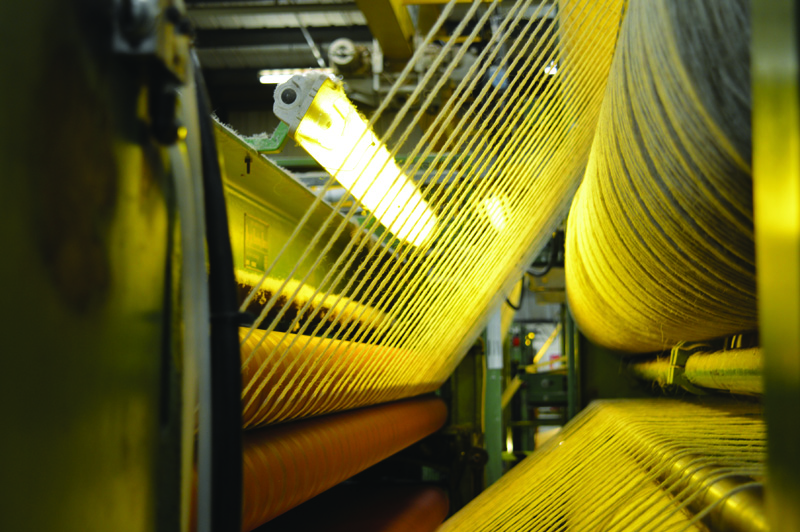 Benefits
Flooring options can seem endless; the decision-making process requires flooring professionals to understand the unique benefits and challenges of working with each material—from laminate, hardwood, and vinyl to stone, concrete, tile, and carpeting—while keeping in mind the overall design approach. Underfoot comfort, protection against slips and falls, noise reduction, and clear wayfinding are all key benefits of carpet over other flooring materials. However, even once carpeting has been selected, there is a plethora of options and factors to consider.
Given all the different variations in tufted and woven carpets, how does one decide which type to specify? In standard Axminster carpeting, wool becomes a key differentiator. This material can stand up to the heaviest of foot traffic due to its naturally existing crimp. The fiber literally bounces back, providing built-in resilience and structural integrity. This material also requires less-intensive cleaning than synthetic fibers due to the natural stain resistance of its scaled surface, thus extending the carpet's life.
While all carpeting has an impact on noise pollution, wool over synthetic product further absorbs sound, reducing its impact. Sound absorption is tested using a noise reduction coefficient (NRC) grading. Axminster, due to the nature of its construction is 100 percent cut-pile, thereby providing a greater NRC than loop-pile carpets of the same specification. In Carpet and Rug Institute (CRI) testing using the NRC grading, two carpets of identical pile heights and weights lay on concrete with no cushion, with the only difference being loop- or cut-pile construction. The loop-pile carpet provided a .30 NRC, while the cut-pile carpet offered a .35 NRC. Additionally, when it comes to underfoot comfort, wool Axminster can outshine tufted products, which tend to be much thinner.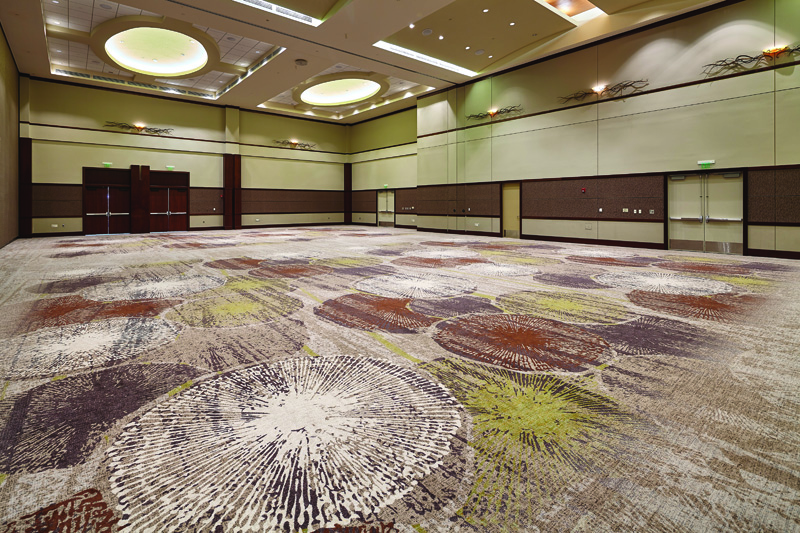 In addition to considering how the carpet will fit in the interior, designers must adhere to stringent building codes and regulations. Wool is an easy solution because the actual fiber is slow-burning, making it naturally flame-resistant. Wool-rich carpets can meet and exceed flammability and fire code standards without the need for spray-on treatments.
Some woven Axminster carpets meet CRI's Green Label Plus standard. Indoor air quality (IAQ) is protected through very low emissions of volatile organic compounds (VOCs) even when new. Further, wool has the ability to absorb indoor air contaminants.
As well as being a durable natural fiber with an inherent resistance to dirt, wool can be used to create products that are renewable, reusable, and recyclable. Consequently, it can contribute to a project's certification under the Leadership in Energy and Environmental Design (LEED) program in two Materials and Resources (MR) credits: Rapidly Renewable Materials and Low-emitting Materials.
It is critical to keep in mind not all wools are the same—geography, climate, sheep breed, and even the location where the wool is sheared dictate each fiber's properties.
Initially, tufted products are defined as a lower-cost alternative to traditional woven floorcoverings. Thanks to its increased durability, life expectancy, and quality construction, woven Axminster carpet can be a good investment for hospitality interiors over the long term.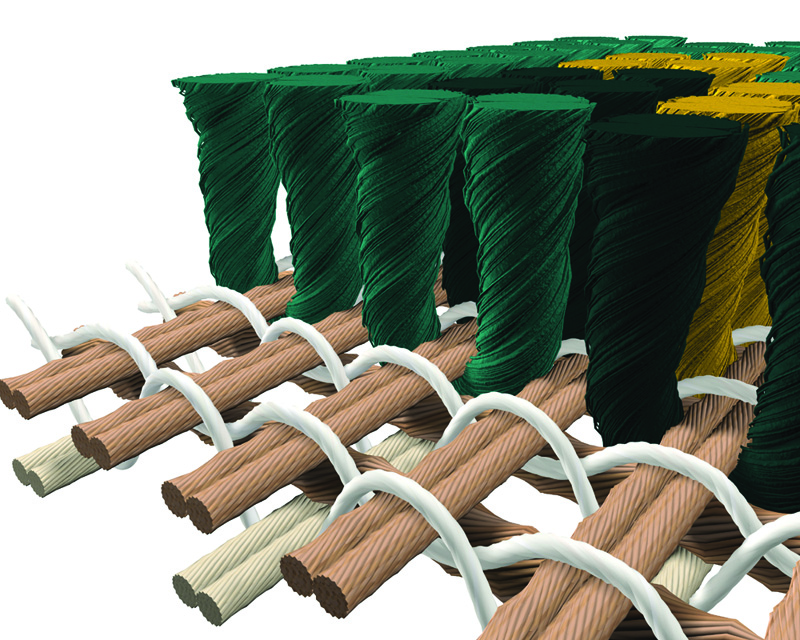 Color
Color (and the maintenance thereof) is incredibly important to the design process, with Axminster offering unparalleled design and color precision. The physical structure of the wool fibers allow for more color saturation, creating much richer and more vibrant colors. Synthetic fibers cannot achieve the same level of saturation.
Additionally, each Axminster yarn is pre-dyed, ensuring full color penetration. During the printing process of tufted carpet, color is injected onto the surface of the pile, which can result in colors bleeding together, therefore losing complete clarity of design. The Axminster process allows for crisper design elements and richer color profiles, creating a better design.
When it comes to color trends, the industry is experiencing a gradual departure from gray palettes and a strong interest in blue, with this hue's 'families' coming together to act as neutral backgrounds. Other neutrals are warming up a bit, and overall color palettes are being derived from naturally occurring materials and elements.
With today's technology, there are limitless color and design possibilities. Designers are no longer restricted to eight color patterns and small pattern repeats. Indeed, patterns are generally becoming void of small repeats, and instead fill the entire area like a single flooring design. Designers can now easily avoid a pixelated look while recreating soft watercolor effects, blurred textural transitions, and contrasting, crisp linear elements.
Design
The design process for Axminster is becoming even more customized, stretching the way we think about pattern and color on the floor. Previously, the word 'Axminster' produced a more rigid traditional image in the minds of designers—floral ornate infills locked in with strict borders and transitions. Today, floorscapes relying on this material can be designed with massive undulating natural textures, unnoticeable repeating geometrics, and real perceivable depth.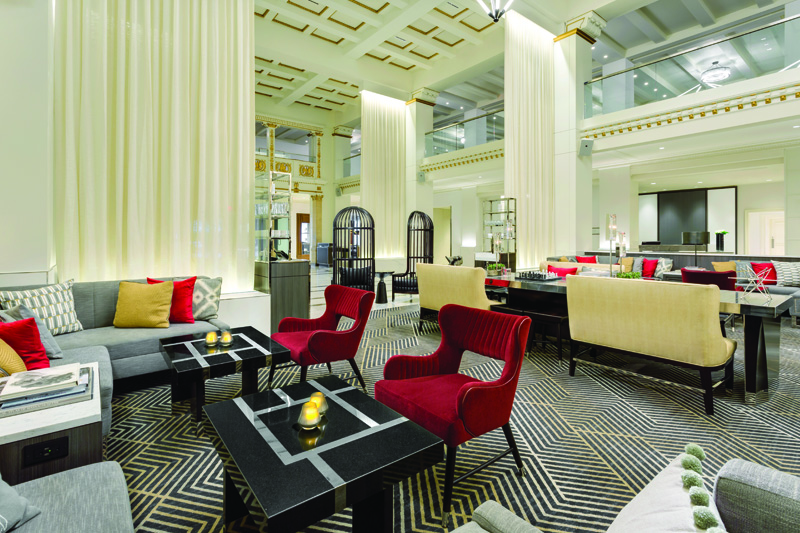 As people are generally bombarded with color, pattern, and repetitive imagery in their daily lives, designs with a unique, authentic hand are driving trends in commercial interiors. Some carpeting manufacturers can translate real artwork and paint strokes to produce broadloom flooring designs.
Many new hospitality lobbies and guestrooms contain no repetitive, commonplace schemes. Instead, designers are creating completely bespoke interiors with equally exceptional carpets. This design approach is made possible by the weaving technology Axminster carpet manufacturers employ each day.
Execution
All these elements—from flooring selection to design—coming together requires a variety of experts to ensure flawless, long-lasting execution.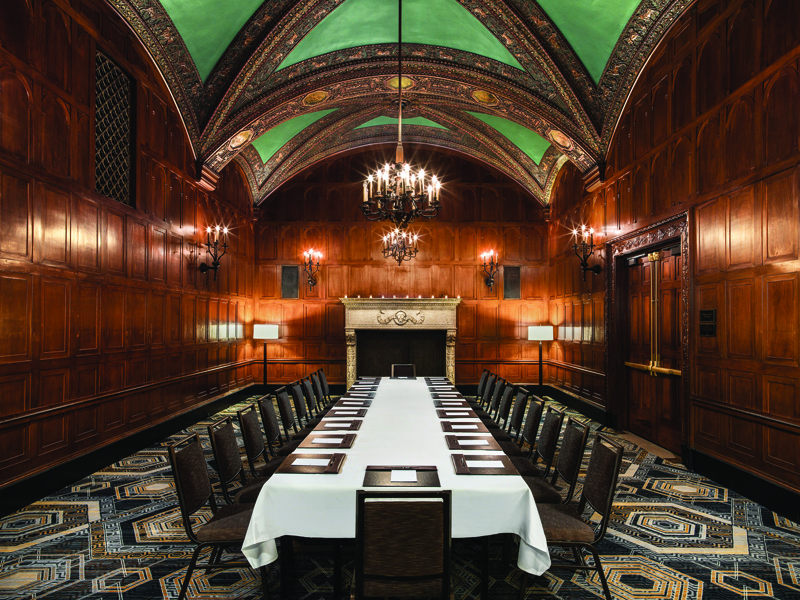 Westin St. Francis
Located in San Francisco's Union Square, the Westin St. Francis showcases the use of Axminster in ballroom and meeting spaces. The historic Grande Dame hotel needed a respectful and thoughtful design approach to pay homage to its illustrious past and appeal to a contemporary audience. The St. Francis' refurbishment included 1600 guest rooms, as well as historic ballrooms and new modern meeting spaces. The process of redesigning a historic property is filled with challenges; designer Whitespace Interiors created an overall design that blended modern forms with a rich color palette and sensitivity to the iconic property's historic aura.
The Edwardian and Art Deco-era influence within the hotel's architecture established the essence of the new design, but the team did not rely too heavily on literal translations. To keep the spaces from feeling too traditional, the 'new classic' design aesthetic is modern without feeling foreign to the historic virtues of the property.
The hotel's 8009 m2 (9579 sy) of custom Axminster carpet creates a unifying landscape throughout the hotel. Moving away from monochromatic palettes, the carpet design uses fearless punches of gold and white. The ballroom carpets of the Westin St. Francis employ Neoclassical elements with blended striations in a timelessly elegant gold and navy medley, blending the restoration and revitalization elements. Ornate gold-leafed ceiling elements were restored from the existing hotel, which help balance the contemporary public space carpet designs. The color palette and the use of repeating geometrics create unity in the contemporary meeting spaces.
The larger public space designs needed to be centered in the Italian, Colonial, and Grand Ballrooms. The 12 color designs were created to fill the entire area with scrolls spilling out symmetrically from a central focal point in each ballroom without showing a pattern repeat. To achieve this utopian balance, the carpeting manufacturer conducted five consecutive days of site measures before the design and planning process began. The success of the final interior relied on foolproof planning and installation.
Boston Park Plaza
The $100-million renovation of Boston Park Plaza included roughly 18,395 m2 (22,000 sy) of custom carpeting, introducing the historic grand hotel to 21st century design. As with the Westin St. Francis project, designers for Boston Park Plaza were tasked with updating a property with a rich historical narrative from the 1920s. The Boston Park Plaza renovation took a more subtle approach to sophistication, with a restricted color palette and smaller repeating designs, and fewer critical match points in corridors and public spaces.
Utilizing smoky charcoals and shades of ivory, lattice-like geometrics course through the nine-row Axminster carpets in the corridors and the 10-row product in the public spaces. The designs bounce off reflective lacquered surfaces, mirrored walls, and chrome accents casting a unified network of repetition throughout the hotel's interior. The addition of shadow underneath the curvilinear forms in corridors, along with public and pre-function carpets, continues this relationship of reflective light and brings the flat repeating shapes into a three-dimensional realm. Layered graphic lines undulate across the floor of the lobby and dining areas, balancing perfectly with the ceiling's angular contemporary lighting.
Parker Torres Design's reinvention of the traditional medallion via intensive contemporary interpretation of scale, proportion, shading, and texture is showcased in the grand ballroom carpet.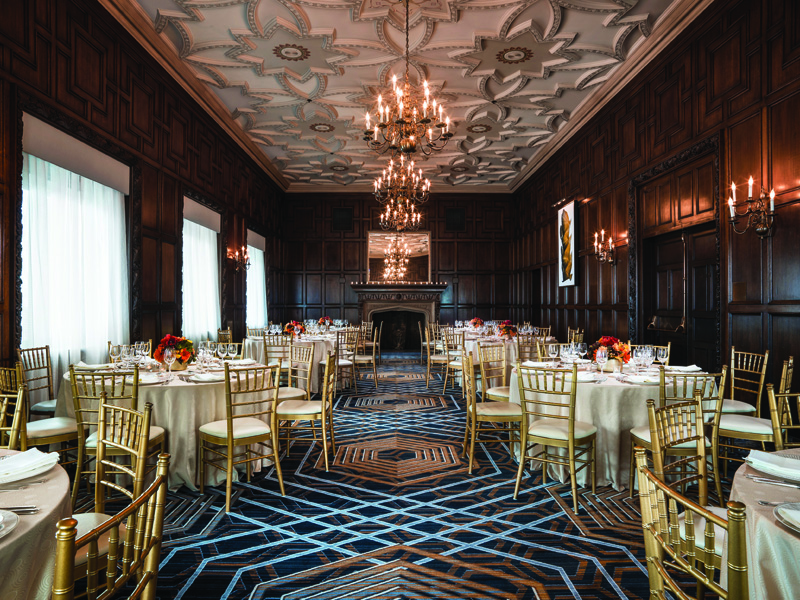 Charleston Area Convention Center
When it comes to public spaces, the Charleston Area Convention Center is a prime example of the strength and durability of Axminster. The facility debuted more than 15 years ago as the region's largest setting for trade shows and conventions. The original carpet held up exceptionally well under an estimated 400 million visitors and more than a decade and a half of traffic. Renovating the carpet was a hot debate, as the structural integrity of the original floorcovering was still intact, yet the need to remain fresh and competitive prevailed. This next 11,706-m2 (14,000-sy) refresh was designed to last another 20 years.
Charleston-based architecture and design firm, LS3P, worked with the carpet manufacturer to create a finish inspired by the region's natural environment and Lowcountry setting, while remaining cohesive with the existing interiors. In this case, the carpet sets the tone for the entire design scheme. To mimic natural patterns and textures found in the surrounding environment, the team eliminated all borders and hard-line transitions from one pattern to the next. This technique makes it hard to tell where one carpet ends and another starts, with colors blending into one another. In the end, the carpet feels like a piece of hand-painted artwork. Using Axminster again was the perfect solution for this the convention center because of the high amount of expected foot traffic.
Conclusion
With advancements in technology, the process of designing and creating Axminster carpet will continually evolve. Improvements to looms will lead to quicker production times, while use of different yarn types to create texture will advance design. Improvements to sustainability will be a priority as consumers push for less waste, leading to an increase in the use of natural materials, such as wool. Through all these improvements and advancements to designing and weaving carpet, one thing should stay the same—the integrity and strength of the floorcovering due to sound construction.
The examples in this article showcase Axminster carpeting at its finest, exemplifying incredible application and installation, utilizing the floorcovering's benefits to maximize overall design and function, and highlighting the incredible customized color and design available.
Johnny Massey is the vice president of operations for woven-carpet manufacturer, Brintons Americas; he has been with the company since 1999. Massey graduated from Mississippi Delta Community College with a degree in graphic design. He can be reached via e-mail at brintons@brintonsusa.com[10].
Endnotes:
[Image]: https://www.constructionspecifier.com/wp-content/uploads/2017/07/Westin-St.-Francis-1-e1499198684911.jpg
[Image]: https://www.constructionspecifier.com/wp-content/uploads/2017/07/Brintons_Wool.jpg
[Image]: https://www.constructionspecifier.com/wp-content/uploads/2017/07/Brintons_FtF2.jpg
[Image]: https://www.constructionspecifier.com/wp-content/uploads/2017/07/Brintons_FtF4.jpg
[Image]: https://www.constructionspecifier.com/wp-content/uploads/2017/07/Brintons_NCCC2.jpg
[Image]: https://www.constructionspecifier.com/wp-content/uploads/2017/07/AxminsterWeaving_Construction.jpg
[Image]: https://www.constructionspecifier.com/wp-content/uploads/2017/07/BPP-Lobby-Seating..jpg
[Image]: https://www.constructionspecifier.com/wp-content/uploads/2017/07/WestinStFrancis_2.jpg
[Image]: https://www.constructionspecifier.com/wp-content/uploads/2017/07/Westin-St.-Francis-2.jpg
brintons@brintonsusa.com: mailto:brintons@brintonsusa.com
Source URL: https://www.constructionspecifier.com/abcs-of-specifying-axminster-carpet/
---