By Channing Beaudry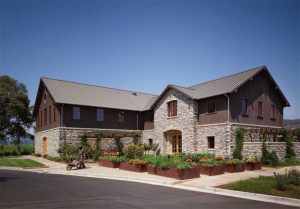 As more people return to workplaces, schools, hotels, event venues, and other destinations, they seek reassurance that building owners share their concerns not only for environmental health, but also for their personal health.
Architects and specifiers increasingly seek options for architectural metal coatings combining sustainability, durability, and a wide variety of colors. Now, they have a choice of innovative coil and extrusion finishes to support energy efficiency, reduced maintenance, product longevity, and material circularity.
Coil coatings are factory-applied to coiled metal substrates by a continuous, automated process. Metal coils are unwound, cleaned, pretreated, and given a series of coating layers (i.e. primer, backer, and topcoat) before being thermally cured and recoiled for shipment. Common coil coated products used in construction include roofing, wall panels, soffits, and fascia.
Extrusion coatings are factory-applied in a manufacturing process that consists of cleaning and pretreating aluminum preformed extrusions, going through a spray process, and then thermally curing the metal coating system for it to set. Finished metal extrusion products include framing members of curtainwall, storefront, window, skylight and entrance systems, sun screens, canopies, and some wall panel systems.
The biggest difference between coil and extrusion coatings is how and when they are applied: Coil coatings are applied to the metal substrate before they are formed into building products, and extrusion coatings are spray-applied after the product profile has been formed. Together, they provide the finished metal products needed for commercial, institutional, and residential buildings.
Green building benchmark programs
The world is expected to add 230,400 km2 (2.48 trillion sf) of new floor area by 2060, doubling global stock. This is the equivalent of adding an entire New York City every month for 40 years and buildings already account for nearly 40 percent of all greenhouse gas emissions.
In the U.S., commercial buildings account for 18 percent of total energy consumption. New buildings are designed and constructed with bigger footprints than existing or demolished ones. More energy is required to heat, cool, and operate buildings with larger space and longer operating hours.
In 2020, the market for green building materials in the U.S. was estimated at $64.6 billion. This represents approximately 28 percent of the $238 billion global market, and is projected to reach $425.4 billion by 2027.
Contributing to this growth, more building owners and municipalities are adopting green building codes and standards to fight climate change, improve air quality, and protect public health. Some of the most recognized are the U.S. Green Building Council's (USGBC's) Leadership in Energy and Environmental Design (LEED) programs.
LEED-certified buildings achieved an estimated $1.2 billion in energy savings and $715.3 million in maintenance savings between 2015 to 2018, along with associated greenhouse gas reductions. By 2030, LEED projects will have diverted more than 540 million tons of waste from landfills.
Vacancy rates for green buildings are an estimated four percent lower than non-green properties; these properties also command the highest rent at up to 20 percent above average. Employers in LEED-certified spaces report higher recruitment and retention rates, and employees report higher productivity.
More than $100 billion in green materials are estimated to have been specified on LEED-certified buildings. The most current version of the rating system, LEED v4.1, raises the bar on green building standards, prioritizing the most important asset of the building: people. It includes a rigorous focus on material selection, air quality, and human comfort and health.