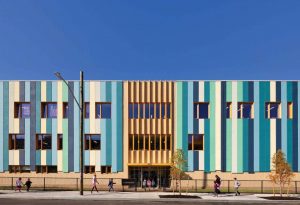 By Karine Galla
Desirable aesthetics for the exterior of any building are often tied to the project's location. In the Southwest, architects, specifiers, and building owners often rely on plaster to deliver traditional looks. In the Northeast, brick and wood are more desirable and, therefore, more prevalent as the go-to material for a building's facade.
The common denominator, regardless of geography, in today's design paradigm is knowing one type of material is no longer good enough. Combining multiple aesthetics into the design of a building is the standard rather than the exception. Since the days of monolithic design are long gone, architects are pushing
the limits to achieve their creative vision by integrating materials to create a modern, sophisticated look.
At the same time, no designer can afford to sacrifice performance for an eye-catching look. Ever-evolving, stricter building codes and heightened expectations from building owners now demand the right balance between beauty and durability.
How can designers, specifiers, and contractors capitalize on the growing trend of multiple aesthetic looks for a building's exterior while ensuring the structural stability of a building enclosure?
The connective tissue to solve this equation lies beneath what the eye can see. It is a singular, cohesive building envelope which relies on exterior continuous insulation (ci). Employing materials to work in concert with each other can deliver key value propositions, such as design freedom, long-term performance, potential cost savings, and peace of mind.