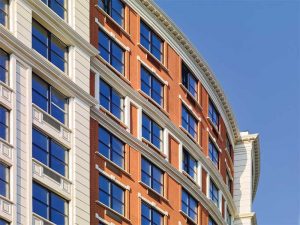 333 Grand, New Jersey
333 Grand St. in New Jersey achieved multiple cladding types and shapes with stone and brick using a fully engineered continuous insulation (ci) system, offering both sustainability and design flexibility.
In Jersey City, New Jersey, 333 Grand St., stands as the epitome of urban luxury and style. An 18-story residential apartment complex in the Liberty Harbor area, 333 Grand offers an easy commute to Manhattan with public transportation and stunning views of New York Harbor. Architects on the project needed an exterior wall system which would serve as an effective air and moisture barrier to weather the elements, but with the building's aesthetics in mind, it would have to include multiple types of cladding and shapes. The architect, Urban Architecture, chose a decorative, protective exterior wall cladding system with ci and a continuous air and moisture barrier for heat, air, and moisture control. Using the latest in material science advancement, crews installed trowel-applied architectural finish to mimic the look of brick and stone, replicating the look of grand buildings throughout North America during the early 1900s. The project achieved the desired aesthetics while installing an energy-efficient, resilient building envelope which occupies a much smaller carbon footprint and offers higher Leadership in Energy and Environmental Design (LEED) certification results.