Aesthetics, stability go hand-in-hand with continuous exterior insulation systems
by arslan_ahmed | November 17, 2022 12:55 pm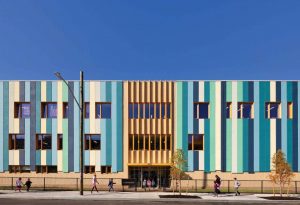 By Karine Galla
Desirable aesthetics for the exterior of any building are often tied to the project's location. In the Southwest, architects, specifiers, and building owners often rely on plaster to deliver traditional looks. In the Northeast, brick and wood are more desirable and, therefore, more prevalent as the go-to material for a building's facade.
The common denominator, regardless of geography, in today's design paradigm is knowing one type of material is no longer good enough. Combining multiple aesthetics into the design of a building is the standard rather than the exception. Since the days of monolithic design are long gone, architects are pushing
the limits to achieve their creative vision by integrating materials to create a modern, sophisticated look.
At the same time, no designer can afford to sacrifice performance for an eye-catching look. Ever-evolving, stricter building codes and heightened expectations from building owners now demand the right balance between beauty and durability.
How can designers, specifiers, and contractors capitalize on the growing trend of multiple aesthetic looks for a building's exterior while ensuring the structural stability of a building enclosure?
The connective tissue to solve this equation lies beneath what the eye can see. It is a singular, cohesive building envelope which relies on exterior continuous insulation (ci). Employing materials to work in concert with each other can deliver key value propositions, such as design freedom, long-term performance, potential cost savings, and peace of mind.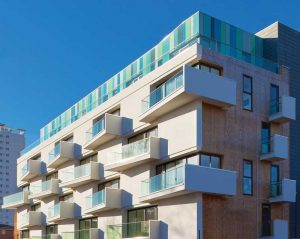 Hands on the controls
Before architects can even consider what the building will look like, they must ensure it will protect its inhabitants and maintain its integrity over the life of the structure.
The control layers of a building's exterior are built to repel natural forces such as rain, wind, snow, ultraviolet (UV) rays, temperature changes, etc., in the long haul. These control layers include:
A vapor retarder to minimize condensation by controlling the flow of water vapor as it shifts from high to low pressure areas.
An air- and water-resistive barrier (AWB) which reduces energy and condensation loss by limiting the uncontrolled flow of air coming through the
wall assembly.
A water penetration barrier flashed to the cladding's exterior to prevent water from entering the
wall cavity.
A thermal barrier to mitigate energy loss and prevent thermal bridging.
A durable and water-shedding facade to protect against environmental elements, impacts, UV exposure, pollutants, and more.
The "pen test" can be applied to each control layer in the make-up of the exterior wall assembly. Each layer is assigned a color code; for each layer, one line should be drawn which follows the layer across the detail of the wall assembly. Any time the pen lifts from the page, it highlights a loss of continuity. Any breaks in the air and moisture barrier can promote unwanted airflow, compromise in comfort for the people occupying the building, cause potential damage to materials from unwanted moisture build-up, and decreased energy efficiency.
Smartly engineered building enclosure systems contain all control layers in an integrated, tested assembly. When the first four layers, which are not visible, are planned as an integrated solution beneath the surface of the cladding, the individual layers work together to deliver a holistic approach. When acting as an integrated system, these four layers can also accommodate multiple facade options.
Consider a building with concrete masonry units as a base, but the sheathing transitions to glass-mat gypsum or plywood sheathing on the upper levels. Specifiers can select a single fluid-applied AWB for these different substrates, and they are also effective under multiple types of cladding, such as stucco, cement board, wood, vinyl, brick, stone, and metal panels. While the consistency of the fluid application may need to be adjusted depending on the cladding above or below the substrate, a singular product as part of a tested system ensures greater reliability and less complexity. The fluid-applied AWB forms a bond with the wall sheathing and can act as a waterproof barrier when combined with joint and rough opening treatment.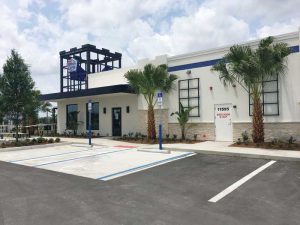 When it comes to the thermal barrier, ci systems on the exterior of a building deliver the greatest R-value and overall energy performance. The American Society of Heating, Refrigerating and Air-conditioning Engineers (ASHRAE) defines ci as "continuous across all structural members without thermal bridges other than fasteners and service openings."1 Thermally insulating the exterior of the wall structure with ci wraps the building in a thick, well-insulated, protective blanket, and eliminates thermal bridging, which keeps the wall structure warm and dry. Using ci on the outside of the wall maintains the temperature of the building wall structure above the dew point, effectively dealing with the potential for condensation caused by water vapor diffusion.
Advancements in material science now deliver thermal barriers for the exterior wall, providing even greater fire protection. Mineral wool insulation, which is noncombustible, inorganic, and mold-retardant can resist fire and temperatures in excess of 1093 C (2000 F). When mineral wool serves as the thermal barrier in a fully engineered assembly, it also allows the vapor barrier to do its job without creating additional traps for moisture in the wall cavity.
Cladding: the power of possibilities
Using a ci exterior system on the wall assembly broadens the range of possibilities for the exterior facade cladding. Rather than being limited to delivering a textured, stucco-looking aesthetic, architects and designers can paint with a broad brush. They can combine the traditional looks of brick, stone, concrete, and stucco with the modern appeal of metal, wood, and tile. For instance, architects may choose to create the look of brick or wood over a ci exterior system by employing resin-cast shapes. This approach maintains the timeless look of traditional brick or wood without having construction crews lay brick and mortar or cut and ship lumber. It creates an authentic-looking facade, capitalizing on the latest material science. Even the discerning eye has difficulty determining if the material used is not traditional brick or wood.
Resin-cast bricks and wood can be made to match traditional textures and colors while creating unique looks. Compared to their predecessors, resin-cast brick and wood require little maintenance. They will not warp, crack, or chip, and are not prone to efflorescence. For increased UV resistance and hydrophobicity, they can be enhanced with a wide variety of coatings as well.
The possibilities do not end with resin-cast shapes; architects can also achieve the look of brick, wood, concrete, stone, metal, and other materials using trowel-applied acrylic finishes or a variety of other exterior coatings. The result is a more durable surface delivering the desired aesthetic.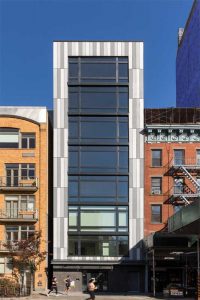 Houston House, New York
Using the systems approach to the building facade produces enviable results in cities across the nation—in energy performance, in efficiency during the construction phase, and in the aesthetic impact of the final product.
In New York City, an engineered building enclosure system is providing comfort and energy savings, despite the seasonal temperature variations. For Houston House, a continuous insulation (ci) exterior system delivers the performance needed with the stylish, modern look the developer wanted in this East Village project. The facade of the high-end condominiums features thin, vertical metal-looking panels, framing the large windows in three shades of gray.
For the Houston House, the ci exterior system incorporated all envelope control layers, including an air- and water-resistive barrier (AWB) for vapor, air and moisture control, thermal insulation, and a durable exterior finish layer. The metal panel look was created though clever application techniques employed by the applicator, Imperiex Construction. In this project, a coat of the thick, putty-like finish is applied and sanded down with a fine grit sandpaper. A second coat was applied and sanded down with an extra-fine grit until it was even and sleek in texture, and deep U-grooves were troweled into the finish to create the look of panels. Then, an acrylic coating in the desired colors was applied, achieving the look at a fraction of the cost.
In addition to energy efficiency improvements and the ability to replace expensive metal panels, the ci exterior system also addressed concerns about noise in the busy neighborhood; providing additional value to both the developer and the eventual tenants.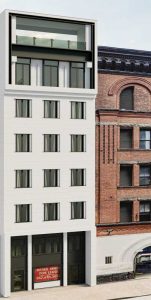 The protective finish
Using an engineered building enclosure system for the exterior wall can also take advantage of the wide variety of coatings available to the architect, whether the cladding is made of metal, resin-cast shapes, or other materials. With today's advancements, these coatings can deliver stunning visual impact while improving the durability of the exterior wall.
For instance, certain finishes applied over the surface of the exterior cladding can dramatically improve the performance of the facade.
Hydrophobic finishes repel water, keeping walls cleaner longer, and providing greater protection against algae and mildew without sacrificing design possibilities, while super-hydrophobic finishes have self-cleaning capabilities with superior algae and mildew resistance. The value proposition of such finishes should be considered in coastal or rainy areas where rain cleans the wall cladding and reduces maintenance costs.
Perhaps an architect seeks to achieve the look of a metallic panel without specifying metal for the cladding. Acrylic-based coatings can attain the look of metal in many colors and over smooth or textured surfaces. The coating's properties generate luminous depth and discernible visual impact, mimicking the properties of a metal panel but at a fraction
of the cost.
The case for sustainability
Achieving sustainability goals has become an integral part of any construction project. Engineered building enclosure systems utilizing ci exterior provide several key advantages when it comes to sustainability.
Lighter-weight cladding (e.g. resin-cast brick versus traditional brick) allows lower deflection criteria and offers weight relief. This means the building requires fewer structural components, decreasing the amount of concrete or steel required in a building. This can also translate into cost savings and reduced embodied carbon for the building.
Construction projects also reduce their carbon footprint when they opt to ship lighter-weight cladding. Consider the savings of shipping traditional cubes of bricks compared to boxes of resin-cast brick or pails of acrylic finish for exterior wall surfaces. It takes an equivalent of 15 trucks of traditional bricks to carry the same square footage as one truck of resin-cast bricks.
There is also a lower operational carbon footprint generated over the lifetime of the structure. Engineered building enclosure systems with ci exterior produce a building which requires less energy for heating and cooling than uninsulated brick, stucco, or metal panels. Further, cladding systems with exterior insulation also use less energy over the full lifecycle of the building. This is driven by two key factors; ci exterior delivers a higher total R-value, and it proves to be far more efficient than cavity wall insulation.
The National Institute of Standards and Technology (NIST), part of the U.S. Department of Commerce, develops testing, measurement, and reference materials needed to ensure the quality of energy-related products and services. In "Investigation of the Impact of Commercial Building Envelope Airtightness on HVAC Energy Use," a report prepared for the U.S. Department of Energy (DOE), well-known leaders investigated the impact of envelope air tightness on energy consumption in a typical commercial building. The study found using an air barrier can achieve energy cost savings of up to 36 percent.2
In addition, heavier cladding systems create more solid waste, both in production and at the end of their lifecycle.
Offering greater efficiency, less complexity, more reliability
With engineered building enclosure systems, the value proposition on the construction site is also clear and unmistakable. Crews install one single building enclosure behind the facade and there are no issues with transitions between insulation and materials. The single barrier system is put in place
by one installer, simplifying the production schedule and eliminating complications of using a collection of components. Using one installer for all components can also translate to fewer errors and faster delivery of the finished product.
Engineered building enclosure systems integrate ci, an air and moisture barrier, a drainage plane, and a variety of textured finish options to create sustainable, high-performance wall cladding. The system improves indoor comfort and air quality while maintaining curb appeal and lowering lifecycle costs.
Additionally, the system approach reduces the complexity when it comes to compliance. Contractors and builders can rely on testing the system rather than performing viability tests on individual components. This more readily ensures the safety of the building and its occupants, assuring all stakeholders in the value chain. From National Fire Protection Association (NFPA) 285, Standard Fire Test Method for Evaluation of Fire Propagation Characteristics of Exterior Wall Assemblies Containing Combustible Components, to hurricane and wind impact tests, the system components are designed to work together for the optimal building envelope.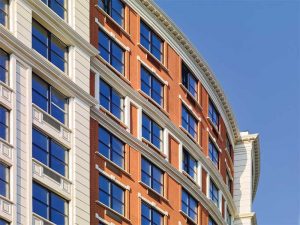 333 Grand, New Jersey
333 Grand St. in New Jersey achieved multiple cladding types and shapes with stone and brick using a fully engineered continuous insulation (ci) system, offering both sustainability and design flexibility.
In Jersey City, New Jersey, 333 Grand St., stands as the epitome of urban luxury and style. An 18-story residential apartment complex in the Liberty Harbor area, 333 Grand offers an easy commute to Manhattan with public transportation and stunning views of New York Harbor. Architects on the project needed an exterior wall system which would serve as an effective air and moisture barrier to weather the elements, but with the building's aesthetics in mind, it would have to include multiple types of cladding and shapes. The architect, Urban Architecture, chose a decorative, protective exterior wall cladding system with ci and a continuous air and moisture barrier for heat, air, and moisture control. Using the latest in material science advancement, crews installed trowel-applied architectural finish to mimic the look of brick and stone, replicating the look of grand buildings throughout North America during the early 1900s. The project achieved the desired aesthetics while installing an energy-efficient, resilient building envelope which occupies a much smaller carbon footprint and offers higher Leadership in Energy and Environmental Design (LEED) certification results.
The new standard
Building a facade with multiple aesthetic elements is the new standard. The vision is made easier with ci exterior systems. Architects can stretch their imagination, incorporating a wide palette of colors and textures to set the building apart, while delivering a high-performing structure which either meets or exceeds today's building codes.
Reducing the number of trades and suppliers involved in the sourcing and installation of materials allows managers on a construction project to lower the budget by using ci systems, as well as achieve greater efficiencies. This can lead to collapsed timelines, meaning the project will be delivered faster. Further, the potential for energy and cost savings improves the bottom line for all stakeholders and can help meet sustainability targets.
A building's cladding is not a system by itself. While exterior cladding is critical to both the design and functionality, it is only one component of the building envelope.
It is important to look at all control layers as one symbiotic system—from what the eye can see to what is behind the outer wall—and recognize how this system drives greater energy performance, higher reliability, and the kind of curb appeal which sets a new standard in today's design environment.
Notes
1 Visit the American Society of Heating, Refrigerating and Air-conditioning Engineers (ASHRAE) to learn more, https://www.ashrae.org[7].
2 Read the National Institute of Standards and Technology (NIST) report, "Investigation of the Impact of Commercial Building Envelope Airtightness on HVAC Energy Use" at https://www.govinfo.gov/content/pkg/GOVPUB-C13-db70d72cbf88472707ae51276ee7e599/pdf/GOVPUB-C13-db70d72cbf88472707ae51276ee7e599.pdf[8].
3 See Houston House on Sto Corp. https://www.stocorp.com/sto_project_gallery/houston-house[9].
4 Refer to 333 Grand St. at Sto Corp. https://www.stocorp.com/sto_project_gallery/333-grand-st.
Author
Karine Galla is the senior product manager at Sto Corp. She has more than 17 years of experience in product marketing in exterior insulation and finish system (EIFS), stucco, air and moisture barriers, and other materials. Galla has a master's degree from the University of Lyon, France. She is multilingual and holds the Association of the Wall and Ceiling Industry's (AWCI's) EIFS Doing it Right and Building Envelope Doing it Right certifications, as well as the International Organization for Standardization's (ISO) internal lead auditor certification from Georgia Tech.
Endnotes:
[Image]: https://www.constructionspecifier.com/wp-content/uploads/2022/11/BronxCharter10-reduced.jpg
[Image]: https://www.constructionspecifier.com/wp-content/uploads/2022/11/CS-Fall-2022_QueenBridge.jpg
[Image]: https://www.constructionspecifier.com/wp-content/uploads/2022/11/CS-Fall-2022_White-Castle.jpg
[Image]: https://www.constructionspecifier.com/wp-content/uploads/2022/11/CS-Fall-2022_Houston-House.jpg
[Image]: https://www.constructionspecifier.com/wp-content/uploads/2022/11/CS-Fall-2022_-207-W-75th-St.jpg
[Image]: https://www.constructionspecifier.com/wp-content/uploads/2022/11/CS-Fall-2022_333-Grand-St.jpg
https://www.ashrae.org: https://www.ashrae.org
https://www.govinfo.gov/content/pkg/GOVPUB-C13-db70d72cbf88472707ae51276ee7e599/pdf/GOVPUB-C13-db70d72cbf88472707ae51276ee7e599.pdf: https://www.govinfo.gov/content/pkg/GOVPUB-C13-db70d72cbf88472707ae51276ee7e599/pdf/GOVPUB-C13-db70d72cbf88472707ae51276ee7e599.pdf
https://www.stocorp.com/sto_project_gallery/houston-house: https://www.stocorp.com/sto_project_gallery/houston-house/
Source URL: https://www.constructionspecifier.com/aesthetics-stability-go-hand-in-hand-with-continuous-exterior-insulation-systems/
---