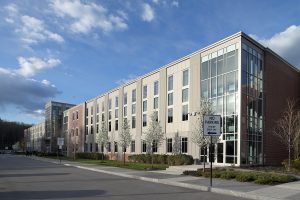 When Danvers High School in Massachusetts embarked on a $70.9-million renovation and expansion project, staying within the budget and on schedule were at the top of its priority list. The project scope included building a renovated three-story academic wing, a new science lab, entranceway, cafeteria, and library with significant renovations to the field house and auditorium.
The first floor of the three-story academic building was clad with insulated precast concrete panels to provide a new 'skin' for the structure. Expanding the precast to the upper two stories was too expensive, so the architects looked to metal paneling to provide the look and feel they desired.
"The metal panels were used to carry the color and look of the precast concrete to the second and third floors of the existing building, where installing precast concrete would have been more expensive," explained James Shuttleworth, project architect and associate at Dinisco Design Partnership of Boston.
The upper two stories were clad with insulated metal panels (IMPs) and coated with 70 percent polyvinylidene fluoride (PVDF) architectural coating in gray and white colors. The coil coatings were chosen because they could match the color of the precast concrete panels as well as offer a solution that was affordable. Additionally, the coatings are resistant to dirt, stains, and fading. Not only did the gray coating extend the visual line of the first-floor precast concrete elements, but the white color also added an accent to the architectural trim and building as a whole.