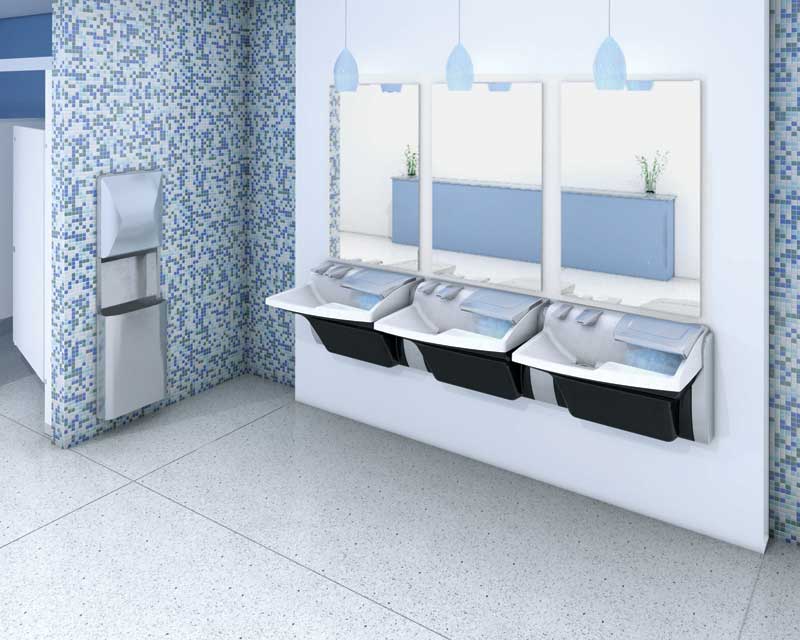 All-for-one
A BIM project file is a 3-D model database. It allows multiple designers to work simultaneously within one project file. The files are divided into working pieces and assigned user rights for editing, viewing, and printing functions. For example, one designer has 'edit rights' to lay out the toilet rooms on third floor, while a second designer has edit rights to the locker rooms on the first floor. They can view or print each other's layouts, but they only have edit rights for their assigned area of the building. This means a third designer can review their room layouts but would have only 'view/print rights' for the first and second designers' respective layouts.
BIM projects dependent on building product manufacturers' BIM content
BIM software typically includes a basic generic library of walls, floors, ceilings, roofs, windows, lights, plumbing equipment, and casework. The project is designed and specified using specific manufacturer's building products. Accurate project views (e.g. elevations, plans, sections) depend on using the exact model in the specifications.
Teams have several choices for obtaining manufacturers' BIM content libraries that will populate their construction documents. For example, if the team is using one common proprietary system they can search or obtain information via:
building product manufacturer websites;
online libraries for manufacturers;
user group websites;
in-house project team-created models using manufacturers' tech data sheets;
shared component/libraries from another project team member or colleague; or
existing models edited to help match standards.
The average cost to build individual BIM component models varies between $150 and $250 per model. This component modeling cost depends on the:
complexity of the product model;
variations of all the product sizes and options;
level of detail required to display the component within the scaled plans and elevations;
amount of embedded data required for each model; and
quality testing process time (i.e. labor) for validating each model.
Manufacturers create 3-D BIM files of their building products for designers and contractors to create their project BIM files. Otherwise, the design and construction team must invest time and labor to create models for their drawings.
BIM is not a silo
BIM is a core component that integrates with several other project delivery processes. Together with these six other processes, it is developing a more efficient manufacturing-oriented design and construction methodology:
design−build;
integrated project delivery (IPD);
cloud computing and mobile technologies;
Lean Construction and green/sustainable design practices;
BIM design to fabrication workflow; and
modularization and prefabrication.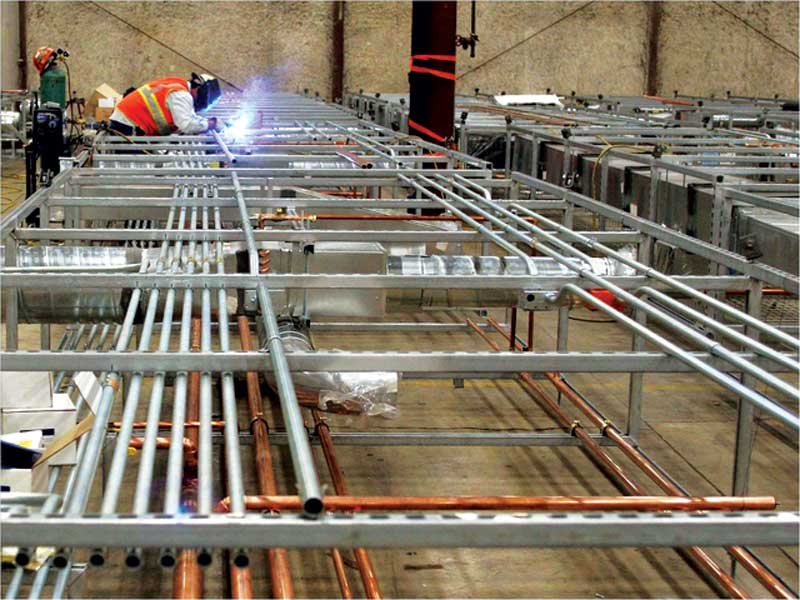 BIM design/construction documentation
BIM's value is reducing labor costs for producing a better-coordinated construction document set. Recently, this author created a construction document packet to renovate two toilet rooms, a large office, and a lunch room using BIM. The total project scope included the four rooms' 80 m2 (850 sf)
and 36 pre-built manufacturers' product models. It took less than four hours to create this fully coordinated set of C-size documents for the contractor from the field measurements and photos of the following:
floor plan, dimensioned with all equipment tagged;
two interior building/room sections;
four interior elevations;
reflected ceiling plan;
plumbing fixture and washroom accessory product schedules;
room schedule; and
a grand total of seven 3-D plan and interior views.
BIM delivered the following bottom line results for construction documentation:
Design intention was very clear to the contractor with accurate, coordinated plans, tags and schedules, elevations, sections, and 3-D views.
Faster creation of documentation with pre-built 3-D/2-D product models that include 3-D and orthographic viewing options.
The contractor received accurate counts and room area of product
to be installed.
Improved design/engineering/construction communications with unlimited 3-D viewing for any room.
Enhanced installation coordination with three-dimensional documentation.