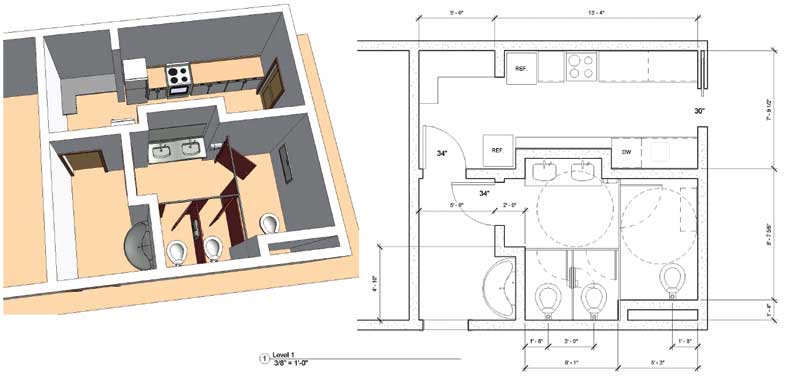 Project cost-estimating and building product procurement
Cost-estimating and procurement use the same processes as BIM-driven specifications. They extract building product components from the BIM project. Using the BIM product schedules, they export products to a spreadsheet for estimators. The UniFormat assembly codes can also connect and synchronize with external cost estimating systems similar to the BIM specification writing system process.
BIM projects will run cost estimates more frequently to validate design options against the project scope and budgets. As the project moves into the construction phase, BIM will create product procurement lists from the project files. BIM can also calculate floor, ceiling, and wall surface areas to assist with procurement of associated materials (e.g. tiles, paint, and vinyl).
BIM schedules can also be configured to report volume of demolished material, existing to remain products, and new products required for renovation projects. BIM is a visual database with product information that can be accessed by other databases.
Commissioning, as-built documentation, and O&M
The BIM project file used by the design and engineering teams may not be the as-built model file a contractor turns over to the owner. As the contractor constructs the building, it uses BIM for phasing the construction processes and recording the completion of those construction phases. This creates a coordinated, as-built BIM project file the owner can use to manage the building.
Facility owners are realizing the value of BIM to meet construction budgets, improve facility quality, and attain on-time construction schedules. BIM is a collaborative process—it engages the owner and their management teams early in both the design and the construction processes.
Their teams are discovering the value of the data-rich information contained within the BIM project model. BIM represents a gateway to data that is critical to their roles of maintaining the building and servicing its occupants. Key groups impacted include:
operations and management;
facility and site management;
human resources;
health, life, safety, and wayfinding;
asset management—furnishings, fixtures, and equipment (FFE);
real estate and leasing; and
interiors and construction services.
The owners' BIM project file represents a rich inventory of space, mechanical resources, and the physical contents of their building. Renovations like toilet rooms are re-designed, while products are cost-estimated, procured, and constructed using the BIM process.
Each BIM product component now contains owners' building information modeling parameters, including:
installation date;
model and serial number of product;
product manufacturer website URLs;
manufacturer's tech data product sheet URLs;
product manufacturer installation and maintenance guides URLs;
material type and color;
asset tag ID; and
applicable service or maintenance dates.
As such, BIM is becoming the data-rich, online visual 'owner's manual' for efficiently and cost-effectively maintaining and managing buildings from ideation and beyond. BIM is especially ideal for managing all stages of the restroom, washroom, and locker room design process.
Conclusion
Since 2007, the McGraw-Hill BIM SmartMarket Surveys have demonstrated building information modeling process growth of four to six percent every year for every discipline. These surveys also indicate BIM is leveraged to produce efficiencies for several other design-construction processes.
Half of all projects over $10 million use alternative project delivery processes, as reported by RS Means for the Design-Build Institute of America (DBIA). Larger design projects with shorter construction schedules have also driven the transition to and growth of these newer procedures.
Design-build, integrated project delivery (IPD), prefabrication/modularization, and sustainable design are highly collaborative processes. Integrating the collaborative, data-driven BIM process into these processes is dramatically increasing their efficiencies.
For toilet rooms in particular, certain design trends are leveraging these processes to reduce construction time and costs, improve accessibility and safety while providing cost-efficient sustainable designed spaces for the facility owners. Such rooms can be expensive spaces to construct, especially when several construction trades are working in these smaller, confined areas.
Typically, designers duplicate the same toilet room layout(s) throughout the building. The ideal scenario to use prefabrication for the toilet room, mechanical systems, and toilet room products involves employing BIM for toilet room pod layout and prefabrication and offsite prefabrication of water/waste piping and HVAC ductwork systems. Building information modeling for cost-estimating/procurement produces a 'just-in-time' quantity takeoff using the BIM file while listing all toilet room fixtures, accessories, electrical and lighting fixtures, along with floor, wall, and ceiling materials. Prefabricated out-of-the-box (OOTB) toilet room products can reduce installation time, while delivering water and energy savings from on-demand tankless water heaters, light-emitting diode (LED) lighting, and motion-detecting sensors.
Further, manufacturers are producing consolidated hand-washing systems that integrate components—bowl, water, soap, and hand-drying—into one modular prefabricated unit. These prefab units centralize access of all hand-washing components to a smaller space. The designer has the opportunity to reduce the overall footprint and square footage of the toilet room. Additionally, centralized components provide efficient universal accessibility to the handwashing systems and, by confining hand-drying and hand-washing to the same location, a safer toilet room environment is achieved by eliminating water on the floor.
Daniel Hughes serves as Bradley Corporation's building information modeling (BIM) strategist, managing the company's initiative that provides 1000 efficiently modeled Revit families to architects, engineers, contractors, and owners. Hughes has presented on the topic to various chapters of CSI, American Institute of Architects (AIA), American Society of Plumbing Engineers (ASPE), and Associated General Contractors (AGC). He authors the BradleyBIM.com Resource Portal and served on the ASPE BIM Committee for the creation of National BIM Standards for Plumbing. Hughes can be reached at dan.hughes@bradleycorp.com.