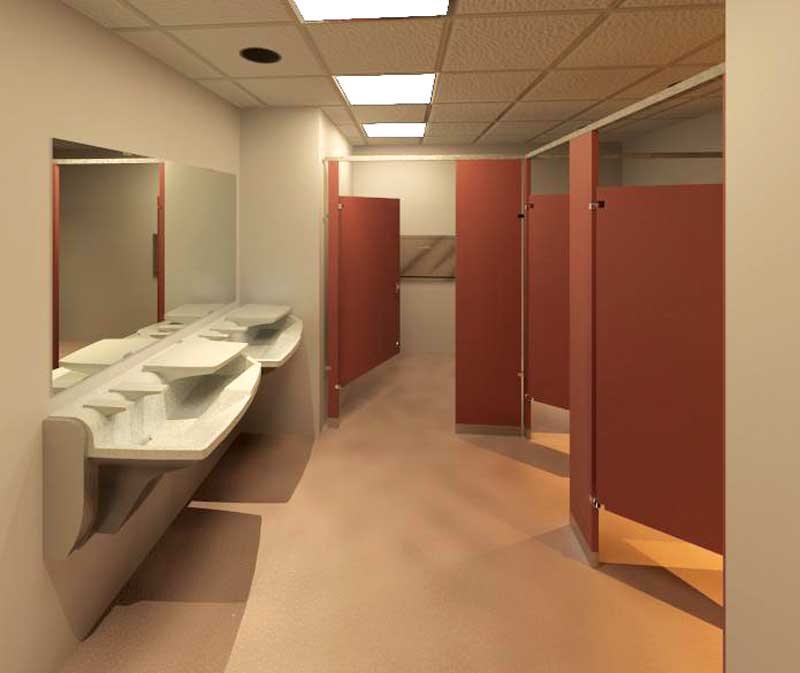 ADA and code-checking
The BIM clearance box object is incorporated into product components to confirm ADA/universal design access and clearances within the toilet rooms. It is also used to maintain the 'open space' required to service MEP equipment in the chases, ceilings, and walled spaces.
For example, BIM managers will create an ADA BIM clearance box of the wheelchair knee and foot clearance required beneath a solid surface lavatory deck. This ensures the deck mounting height meets the clearance standards and the trap covers do not interfere with knees and feet.
Designers use the software's 'interference detection' with BIM product components. If a lavatory is installed too low, the lavatory's BIM clearance box will 'interfere' with the floor BIM component. It will send an alert to the designer showing there's a problem at this location with the BIM clearance box and the BIM floor system.
The designer adjusts the lavatory height to meet code prior to the construction process. BIM clearance boxes are also embedded into BIM doors and toilet partition models to validate access code compliance
MEP engineering
Toilet rooms and locker rooms represent some of the most expensive engineered spaces. Keep in mind that BIM is not comprised of only 3-D models and imagery. BIM literally simulates the MEP design performance (lifecycle) of the product models within the building spaces prior to construction. The BIM project model automatically tells engineers the volume of a room, zone, or the entire building to assist with their HVAC calculations.
BIM product models that contain various HVAC, electrical, or plumbing connections should:
verify that the ceiling diffusers are,
in fact, meeting the required CFM for a room;
simulate and verify the electrical loads for restroom lights so they do not exceed a circuit's design; and
validate the required water pressure on a cold-water source to multiple sinks and toilets.
BIM software now bi-directionally integrates with many of the engineering programs used to design structure, HVAC, electrical, and plumbing systems. BIM simulation confirms the engineers' design intent from their engineering programs within the BIM project file for both MEP design and construction.
MEP and toilet room pre-fabrication
Toilet rooms and locker rooms represent the more time-consuming, labor-intensive spaces to construct. However, they also offer the biggest opportunity to use cost-saving, labor-reducing, modular, BIM-driven prefabrication.
Prefabricated prototype rooms, mechanical room skid systems, mechanical chases, and MEP hallway racks are fabricated offsite and then trucked to the project site for installation. BIM components are used throughout the fabrication process for ductwork, plumbing fixtures and valves, lighting and switches, pipe spooling, and washroom accessories, along with wall, floor, and ceilings assemblies.
BIM-driven fabrication offers several benefits for construction workers and facility owners.
BIM-driven MEP prefabrication processes utilize Lean Construction processes that are safer and more efficient, producing less construction waste while also reducing construction costs.
Horizontal\vertical MEP multi-trade prefabrication modules are assembled in an offsite construction facility.
The typical fabrication at an offsite construction facility provides optimal adjacency for tools, raw materials, and trades personnel.
It improves construction quality while reducing the conflict of multiple trades working within smaller spaces of toilet rooms, hallways, and vertical chases.
Work that would normally require ladders and lifts is brought to hip-height racks on a warehouse floor in an offsite construction facility.
Building components and systems are prefabricated on racks within a spacious, environmentally controlled work space before being transported to the project site.
Construction that typically could not be done until the building envelope was completed is now simultaneously finished while the structure and envelope are constructed. This efficiency eliminates months of construction time.