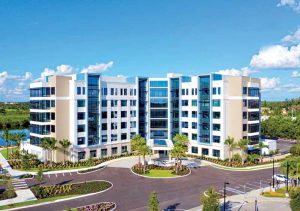 By David L. Heuring, AIA, CCCA; Mitchell Elliott, AIA; Scott Horn, AIA; and Joshua Storm, PE
In early 2018, RDG Planning & Design and its partner firms began design work to replace an existing, nearly 50-year-old healthcare facility on the Shell Point Retirement Community campus (a Continuing Care Retirement Community [CCRC]) in Ft. Myers, Florida. Borne out of a necessity created by aging-in-place residents, but also from a desire to provide world-class service, the owner acknowledged the time is now to build for the future.
This growing market is recognized all over the country. The number of Americans ages 65 and older is expected to grow approximately 40 percent in the next 20 years. And the majority are going to retire where they live. While a small percentage of retiree's move to a new location, the majority live in the areas in which they worked.
Forty percent of the U.S. population, or approximately 127 million people, live in coastal communities.
Culminating with a grand opening in early 2022, the Larsen Health Center brings together all of Shell Point's healthcare services, including a comprehensive medical office center, behavioral health suite, therapy rehabilitation center, dental offices, pharmacy, and a 180-bed skilled nursing facility with private rooms.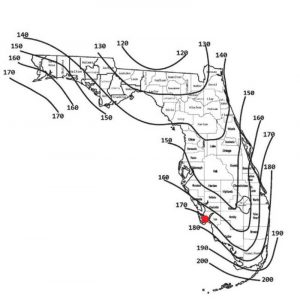 In addition to the challenges inherent in designing and building any facility, Larsen Health Center had its own set of unique, site-specific needs. The design had to be responsive and resilient to coastal weather events while taking advantages of the amenities of beautiful coastal views and tropical surroundings.
The new facility is six-stories with mixed occupancy use—a 3252 m2 (35,000 sf) medical office building and a 14,864 m2 (160,000 sf) skilled nursing facility (SNF)—and located within one mile of the Gulf of Mexico coastline. Its location is on an originally poorly drained site of fine sand and muck elevated at only 2.1 to 2.4 m (7 to 8 ft) above sea level and is prone to 290-km/h (180-mph) hurricane winds and Category (CAT) 5 storm surge flooding to 8.2 m (27 ft) above sea level. It was constructed through two active hurricane seasons. Designing within these constraints proved difficult, but not impossible. Understanding the fundamental challenges of building in a coastal environment can help teams create solutions that maintain the safety of occupants, even amid extreme weather events.
Healthcare market trends
Over the last two decades, the healthcare market has undergone major shifts from institutional care models to residential/home care models. This transformation of philosophy has modified business structure, partnership alliances, and financial organization.
"Very few CCRCs are making investments in skilled nursing, but we're bullish on it," says Shell Point president and CEO Martin Schappell. "Locating all medical services within one facility accelerates access to care, enhances collaboration in treatment, and hastens the healing and restorative process."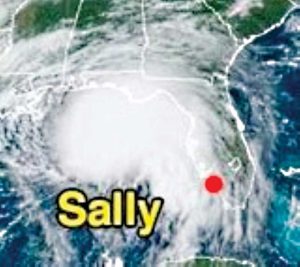 The current pandemic has pushed this evolution a step further, requiring a reassessment of operational capabilities from retaining staff and finding skilled new hires to coping with supply chain issues, and even compliance with expanded regulatory requirements and oversight. All these items inwardly affect how a healthcare facility operates. However, the chief driver of progress is a more educated and selective patient/resident base, whose concerns and expectations scrutinize level of care, quality of life, and aesthetics of 'their' space. As a result, facilities need to look towards holistic centered models.