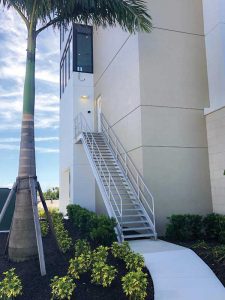 Project specific: Lee County, Florida
The County Authorities Having Jurisdiction (AHJ) requires all Healthcare SNF buildings to have a ground floor grade elevation at BFE +0.6 m (+2 ft), and all other buildings to be at the BFE +0.3 m (+1 ft) for the site location (each site varies). The FBC has a more stringent requirement for SNF's, as indicated in this code reference:
FBC 449.4.2.2.1
Except as permitted by Section 1612 of this code, the lowest floor of all new facilities shall be elevated to the base flood elevation as defined in Section 1612 of this code, plus 2 feet, or to the height of hurricane Category 3 (Saffir-Simpson scale) surge inundation elevation, as described by the Sea, Lake, and Overland Surge (SLOSH) from Hurricanes model developed by the Federal Emergency Management Agency (FEMA), United States Army Corps of Engineers (USACE), and the National Weather Service (NWS), whichever is higher.
For this site, the first floor of the SNF needed to be at a minimum elevation of +5.5 m (+18 ft) as the ground was 2 to 2.4 m (7 to 8 ft) above sea level.
The design concept was to place the SNF over the medical office building (MOB), which presented separate challenges with the Agency for Health Care Administration (AHCA), the Florida state agency which regulates and licenses healthcare facilities. The owner desired to have the SNF entirely above the Category 5 SLOSH level for the site. Using a 4.2 m (14 ft) floor-to-floor height for the MOB (B and A-2/A-3 occupancies) placed the SNF (I-2) first floor at a +8.4 m (+27.8 ft) to meet the goal.
One of the FBC's requirements for a SNF is to have a covered, grade-level entry. Putting the SNF above grade required AHCA's acceptance of an alternate method and means. A covered Porte-Cochere main entry through the MOB and a separately enclosed, dedicated service entry at grade level for the SNF (which would incur only minimal damage during a flood event and quickly return to service when flood waters recede) helped secure AHCA approvals for locating the SNF in this coastal flood area.
Another component added was an emergency access exterior stairway to the second level of the building (first floor of the SNF) to ensure access if the site around the grade level was flooded.
Challenges of building materials/methods
Coastal environments present unique challenges for proper design use of building materials, as well as timing and sequencing of construction, to combat humidity and moisture, harsh sunlight, rainy seasons, corrosive salt, and flooding. Several building components, products and construction methods helped address these demands.
Product approvals and roofing design information
For buildings located in HVHZ and WBDR's, the state of Florida requires a product approval for certain materials and assembly systems. So, what is required to be protected? In HVHZ, the whole building envelope; in WBDR, exterior glazed openings (windows and doors) and ventilation openings. Typically, exterior door assemblies and roofing products and installations are also required by AHJ's to have a Florida product approval. One of these is a notice of acceptance (NOA), a Miami-Dade County local product approval issued under applicable rules and regulations governing the use of construction materials. Florida also has a product approval database of tested products, assemblies, and installations.
Roof systems are typically designed using an ASD value, which is equal to the ultimate design value multiplied by a reduction factor of 0.6. This result is then often doubled as a safety factor to provide the design wind uplift resistance loads. When roofing systems are tested by listing agencies, most agencies typically include this safety factor in the testing, so it does not need to be applied to published design wind uplift pressures. The tested wind resistance (a.k.a. the 'wind rating') should be higher than the design wind resistance shown on the drawings.