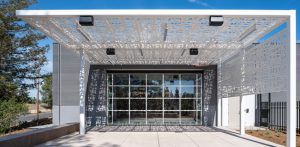 When officials went into the design phase for building the Contra Costa County Public Safety Building & Emergency Operations Center (EOC) in Martinez, California, the decision was made to look to hydraulic designer doors. The state-of-the-art hydraulic glass door helps with disaster management and public safety.
The sheriff's administration, fiscal, personnel, and emergency services are also located in the building. The 3726-m2 (40,111-sf) building is designed to operate independently for up to a week in the event of a natural disaster or crisis where city utilities are unable to function or become unavailable.
Contra Costa County selected the design-and-build team of Hensel Phelps Construction of Irvine, California, to complete the project. Dreyfuss + Blackford Architecture, with offices in Sacramento and San Francisco, contributed to the design and oversaw the construction of the two-story building, which was co-designed by Ross Drulis Cusenbery Architecture of Sonoma and Emeryville, California.
The custom-made hydraulic glass designer door is 7-m (23-ft), 25-mm (1-in.) wide by 4-m (13-ft), and 229 mm (9 in.) tall. It is equipped with electric photo eye sensors, a door-base safety edge, and a hydraulic back-up system in case of a power outage. The hydraulic pump is in an out-of-the-way location, about 9 m (30 ft) from the door. A decorative grid work canopy extends outward and above the door, giving a unique reflection off the glass door and sidewalk below.
The new essential-service facility houses the office of the county sheriff and command staff. A state-of-the-art emergency room within the EOC is equipped with the highest level of communication technology. Within the building is a public training and lecture hall with amenities to support media briefings in times of emergency operations and community events. The building has been designed to achieve the Leadership in Energy and Environmental Design (LEED) Gold certification.
Julian Andrade, architect and project manager at Dreyfuss + Blackford, said the building is a huge upgrade from where the county was before.
"The county is very pleased with the building and the door," Andrade said. "There was not a whole lot for us to do on our end for it except to provide supports for the door. The lecture hall has a retractable stage on one end that slides into a vertical position integrated into the wall. The hydraulic door on the other end opens to a courtyard on the exterior. It seats 160 inside and an additional 140 people outside."