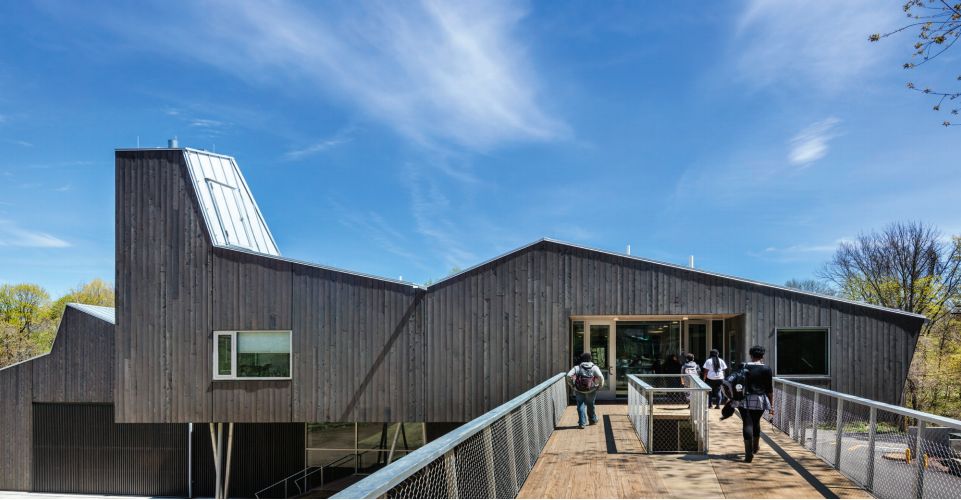 Last month, the WoodWorks–Wood Products Council announced the 2017 winners of its Wood Design Awards. Rewarding projects embodying wood's beauty, strength, versatility, and sustainability, the awards span nine national categories. Seven Regional Excellence Award winners were also selected this year.
An independent jury makes the winning choices—this year, it included:
Tom S. Chung, AIA, LEED AP, of Leers Weinzapfel Associates Architects;
Lisa W. Lamkin, AIA, of BRW Architects; and
Gregory R. Kingsley, PhD, PE, P.Eng., of KL&A.
By category, this year's winners were:
Wood School Design: Common Ground High School in New Haven, Connecticut, by architect Gray Organschi Architecture, timber engineer Bensonwood, and environmental engineer Atelier Ten;
Multi-family Wood Design: MOTO in Denver, Colorado, by architect Gensler, structural engineer Monroe & Newell Engineers, and contractor PCL Construction;
Multi-story Commercial Wood Design: Albina Yard in Portland, Oregon, by architect LEVER Architecture, structural engineer KPFF Consulting Engineers, and contractor REWORKS (to read more about this project, check out The Construction Specifier article here);
Low-rise Commercial Wood Design: The Barn in West Sacramento, California, by architect !melk, structural engineer Magnusson Klemencic Associates, and contractor Brown Construction Incorporated;
Institutional Wood Design: Writers Theatre in Glencoe, Illinois, by architect Studio Gang Architects, structural engineer Halvorson and Partners, and contractor W.E. O'Neil;
Wood in Government Buildings: Rosewood Beach in Highland Park, Illinois, by architect Woodhouse Tinucci Architects, structural engineer Enspect Engineering Consultants, and general contractor WB Olson;
Beauty of Wood: University of Minnesota Landscape Arboretum Tashjian Bee and Pollinator Discovery Center in Chanhassen, Minnesota, by architect MSR Design, structural engineer Meyer Borgman Johnson, and general contractor Loeffler Construction & Consulting;
Green Building with Wood: Dixon Water Foundation Josey Pavilion in Decatur, Texas, by architect and structural engineer Lake|Flato Architects; and
Special Achievement: T3 in Minneapolis, Minnesota, by architects MGA | Michael Green Architecture and DLR Group, structural engineer Magnusson Klemencic Associates, design assist and builder StructureCraft, and contractor Kraus-Anderson Construction Company.

Among the Regional Excellence Award winners was Frick Environmental Center in Pittsburgh, Pennsylvania, which uses wood to play off the aesthetic of the surrounding forest and the center's intent.
Photo © Nic Lehoux Architectural Photography. Photo courtesy WoodWorks
Regional Excellence Winners for 2017 will be recognized at regional Wood Solutions Fairs, starting with the Texas Wood Solutions Fair at the end of this month. They are:
Duke Faculty Club in Durham, North Carolina (by architect Duda|Paine Architects, structural engineer Gardner & McDaniel, PA, and contractor Romeo Guest Construction);
One North – Karuna East and West Buildings in Portland, Oregon (by architect Holst Architecture, structural engineer Froelich Engieners, and contractor R&H Construction Co.);
Cowell Ranch Hay Barn in Santa Cruz, California (by architect Fernau & Hartman Architects, structural engineer Tuan and Robinson Structural Engineers, and contractor Cen Con);
The Littleton Trials in Massachusetts (by architect and general contractor Decentralized Design Lab and structural engineer Simpson Gumpertz & Heger);
Firehouse 12 in New Haven, Connecticut (by architect Gray Organschi Architecture, structural engineer Jacobson Structures, and general contractor JIG Design Build);
Emerge in Eugene, Oregon (by architect University of Nebraska Lincoln, College of Architecture, structural engineer PCS Structural, and general contractor Justin Austen Design); and
Frick Environmental Center in Pittsburgh, Pennsylvania (by architect Bohlin Cywinski Jackson, structural engineer Barber & Hoffman, and general contractor PJ Dick).