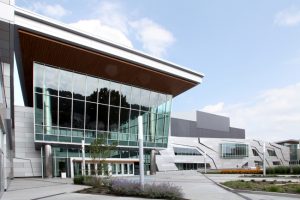 During the renovation and expansion of the Charleston Coliseum and Convention Center in Charleston, West Virginia, approximately 6946 m2 (74,764 sf) of aluminum composite material (ACM) was fabricated and installed on the walls to transform the space into a state-of-the-art facility.
Improvements and expansion were necessary because the original Charleston Civic Center did not have the space required to attract significant conventions. Additionally, it lacked the appearance of the architectural community centerpiece it aspired to become.
"The original 1950s building and the 1983 addition had become outdated in appearance as well as technologically deficient," said Rodney Pauley, AIA, project manager for ZMM Architects & Engineers of Charleston. "We created different entrance nodes and pathways to help visitors reach all parts of the building. We designed separate entrances for the coliseum and convention center, one of which faces the Charleston Town Center, where a lot of people park for events."
"We updated everything, from the lighting to the Wi-Fi," Payley added. "It has got everything a state-of-the-art coliseum and convention center should have in today's market."
Completing the project took more than two and a half years, in part because it remained open during construction.
The project was completed in two phases. The first phase, the smaller one,along the east side was about 1579 m2 (17,000 sf). The massive facelift and expansion proved to be challenging due to its complexity.
The new walls of the coliseum and convention center were designed to mirror the mountainous West Virginia terrain. ZMM Architects & Engineers and their design partners, TVS Design of Atlanta, chose to have the ACM panels, measuring 1 x 5 m (3 x 15 ft), installed horizontally with an array of four similar but distinct colors: silver metallic, silversmith, champagne pearl, and champagne metallic.
"It took quite a while to decide on which four colors to use," said Pauley. "We started with at least 20 colors and narrowed it down to eight. We got some larger pieces and spent days looking at them in shade or cloudy conditions and in bright sunshine, trying to determine the best combination."
The panel reveals were all classic black and provided a clean and unique aesthetic. ZMM also included dark diagonal breaks down through the wall panels and reveals to represent the jagged mountains. Sections of ACM between the diagonal lines were pulled out or pushed back at different angles, creating the look of a rock wall. It also created a challenging installation. Within the diagonal lines is a lighting system that can be adjusted to show virtually any color.
Part of the job included working from a barge on the Elk River to complete work on a new ballroom overlooking the water. A separate entrance area was created for the ballroom area guests to distinguish it from the main coliseum.
BBL Carlton of Charleston was the general contractors on the project.