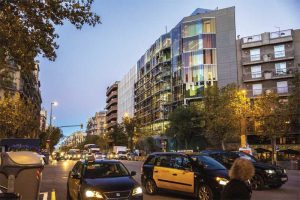 by Julia Schimmelpenningh
Architects and designers have discovered the benefits of using laminated glass with colored interlayers to achieve a specific objective. Whether daylighting, wayfinding, area-defining, or simply transforming the space to bring joy, color is being used increasingly and creatively in interior and exterior design.
Color meets function
The widespread use of glass in architecture is possible because glass has been made stronger and more versatile with built-in performance features through the use of plastic interlayers. Laminated glass consists of two layers of glass bonded together by a thin, flexible plastic interlayer under heat and pressure. Most interlayers can be used with annealed, heat-strengthened, or fully tempered glass. The resulting piece looks like traditional glass—no optical distortion, just excellent strength.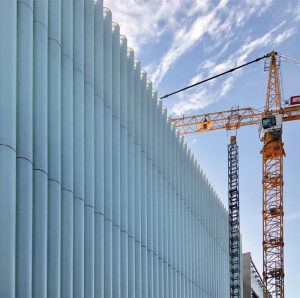 While glass processing by way of strengthening with heat does induce some amount of undulating waves in the material, this is considered a characteristic and can be controlled to some degree.
Laminated glass can be used in place of traditional glass in nearly any architectural application, including façades, stairways, balustrades, railing, curtain walls, windows, overhead glazing, interior partitions, and many forms of decorative element imaginable.
It offers aesthetic benefits that run the color gamut from earth tones and trendy neutrals to the brightest whites and all colors under the rainbow. Colored interlayers for glass have the ability to transform ordinary buildings and interiors into statement pieces. With a palette of over 17,000 color combinations and the ability to combine up to four colored interlayers together, it is possible to achieve more than 3000 transparent or translucent glass colors. If desired, two different colors can be used simultaneously for different reveals on each side of the glass.
These custom design options open up virtually unlimited possibilities for using color in tandem with functional purposes, such as safety, security, and solar and sound control. Designers have experimented with color in many types of building project imaginable, including theaters, schools, hospitals, offices, retail, and hospitality as well as parking garages and wayfinding.
HOW LAMINATED GLASS PACKS A PUNCH
Laminated glass is created when two lites of glass are bonded on either side of a thin, flexible plastic interlayer under heat and pressure. Interlayers can be used with annealed, heat-strengthened, or fully tempered glass.

Controlling the thickness of the interlayer ensures uniformity in the finished product. Technical experts usually work with the glazing customer to ensure all aspects of the processes minimize or eliminate the potential for process-induced optical distortion.

Heat-strengthened glass provides multiple benefits, including thermal stress breakage resistance, reduced potential for spontaneous breakage, a larger break pattern, and optimal residual strength should loads be applied post-breakage.

Laminated glass offers a slate of high-performance characteristics to glazing, including security, enhanced thermal, structural stability, sound damping, solar control, storm resistance, and style. In some cases, these interlayers can be used together or 'stacked' to serve multiple functions in one application.