by Steven Saffell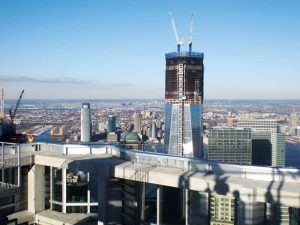 Metal curtain walls are a ubiquitous feature of most cityscapes, but their ultimate expression and aesthetic is as varied as the creativity of architects employing virtually unlimited design options. Additionally, a curtain wall's dual mission of providing structural integrity to accommodate both static and dynamic forces, while serving as a two-way filter controlling the through-flow of heat, light, and air, makes system design, specification, and installation a complicated process.
A volunteer task group of industry-representative curtain wall manufacturers has published guidelines to aid this process, marking the culmination of a multiyear effort. Representing the latest knowledge and process consensus as evolved over the past 20 years, the guidelines— published under the title American Architectural Manufacturers Association (AAMA), Curtain Wall Manual (CWM)—are intended for manufacturers, architects, specifiers, contractors, and testing agencies. The new manual addresses many aspects of curtain wall design, specification, testing, and installation with information presented in eight sections, primarily dealing with design-related topics including material and system performance criteria, architectural detailing guidelines, and building tolerances. It also addresses design validation through testing and installation issues from the perspective of many technical stakeholders, including architects, specifiers, manufacturers, installers, glaziers, and general contractors (GCs).
A guide specification (section 5 of AAMA CWM), of particular use to architects and specifiers, features new content in the form of detailed fabrication and installation tolerances, as well as air barrier interface guidelines. Intended to cover the complete exterior metal curtain wall, the guide can be referenced as a performance standard.
Key design considerations
Experience dictates that in the design of metal curtain wall there are generally four matters of chief concern:
structural integrity;
provision for movement;
weather tightness; and
energy efficiency.
Structural integrity
While it is important to consider all possible forces acting on the curtain wall system, wind loads are one of the most challenging.
Wind loading
The guide specification requires the curtain wall system to be designed to withstand specified allowable stress design (ASD) wind loads. Given the nature of curtain walls, dead loads are of minor concern. As with all types of fenestration, the lateral wind forces are the primary live loads affecting curtain wall. It is strongly recommended design loads (in psf or Pa) specific to all relevant areas of the building be provided by the specifier. Special requirements for snow or ice loads on projecting wall elements, such as sun shades, may be applicable.
Provision is made here for specifying design wind loads at different building heights and at areas adjacent to the building corners. The architect selects actual load limits for positive and negative loads at ground level, at various defined heights (stories) above ground, and at corners. Appropriate design wind loads for most situations may be selected by the architect from the American Society of Civil Engineers/Structural Engineering Institute (ASCE/SEI) 7, Minimum Design Loads for Buildings and Other Structures. For other situations, such as unusual building shapes or sites with extreme wind conditions, boundary layer wind tunnel testing, and/or special engineering studies, may be needed to determine the required design wind load.
Compliance can be demonstrated by calculations performed in accordance with accepted engineering standards established by the Aluminum Association (AA), American Institute of Steel Construction (AISC), American Iron and Steel Institute (AISI), or Copper Development Association (CDA) for the materials being used.
Provision for movement
The laws of physics are constantly acting on curtain walls so they must be designed with movement in mind.