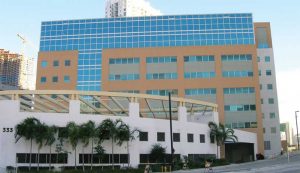 To guide the wall contractor, the guide specification covers the provision of building perimeter offset lines on each floor and benchmarks to be scribed on each floor on a designated column.
Among the installation-related requirements in the guide specification are:
pre-installation site inspection by the wall contractor to locate errors in location;
sequencing of any masonry work;
anchorage;
proper finishing of field welds and protection of glass and other finished surfaces from damage by weld spatter;
delivery, storage, and handling; and
protection and cleaning.
Optional requirements
Language for a variety of optional project-specific requirements are included in the guide specification.
Among these is guidance for the inclusion of:
unitized system requirements;
green documentation (sustainable design);
air barrier interfacing;
pressure-equalized design requirement;
blast hazard mitigation (per recommended federal standards);
maintenance equipment loading;
horizontal or vertical inter-story drift (wind or seismic);
sound transmission;
field testing; and
use of building information modeling (BIM).
Dealing with installation
While careful attention to tolerances and clearances of both the erection of the building skeleton substrate and in the fabrication and installation of the curtain wall system contribute to ease of installation, AAMA CWM offers additional points concerning the architect's and specifier's roles.
For best results, design and installation considerations cannot be limited to their respective silos. AAMA CWM features an in-depth discussion of metal curtain wall installation procedures. Some architects or specifiers may consider installation to be only of minor concern, deferring to the contractor for correct placement. Too often the architect is not made aware of problems encountered, or likely to occur in the field, or may not have been advised as to how the wall should be detailed to facilitate its installation. However, without a clear knowledge of how the wall is to be installed, what problems may arise in the field and how to avoid them, there are likely to be serious deficiencies in wall design. To avoid such situations, AAMA CWM enumerates nine specific installation-related architect/specifier responsibilities, the basics of which come down to clear and open communication.
Teamwork is required and each member of the team—architect, specifier, manufacturer, contractor, and curtain wall subcontractor—must understand the needs and the problems of the others.
Curtain wall systems can be complex, but with teamwork and a plan like what is outlined in AAMA CWM, it can be simplified and managed.
Steven Saffell is the American Architectural Manufacturers Association (AAMA) technical director, overseeing the standards, product certification, and codes and regulatory affairs aspects of the association. With more than 32 years of experience, Saffell's background is a tapestry of architectural firm work, modular design, and residential and commercial fenestration experience. Saffell also spent three years teaching as an adjunct professor. He is experienced in managing technical teams, including employee development, operational strategy, and financial management. He can be reached at ssaffell@aamanet.org.