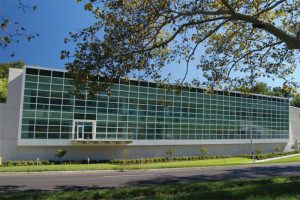 The included guide specification in section 5 of AAMA CWM sets forth recommended tolerances for both component and system tolerances based on recognized industry standards. Component tolerances reference AA standards or defer to those permitted by the manufacturer's quality assurance (QA) documentation, whichever is more stringent.
The recognition of normal dimensional tolerances and the provision of proper clearances are of critical importance in several aspects of metal curtain wall design, including detailing of glazing frames, where ample edge clearance and sufficient 'bite' are prime factors affecting glass performance.
Lack of attention to these matters often necessitates changes and adjustments in the field, not only delaying the work, but usually resulting in unnecessary costs and sometimes, impairing the appearance of the wall.
It is also the architect's responsibility to control, by details and specifications, and to alert supervision in the field, the tolerances permitted in the basic building structure. In the case of a reinforced concrete building frame or precast/prestressed concrete, the maximum tolerances permitted should be those listed in the American Concrete Institute (ACI) 117, Dimensional Tolerances of the Building Structure. Alternately, tolerances for structural-steel building frames should be specified per AISC 303-16, Code of Standard Practice.
Specified clearances should be based on the assumption this construction will be as far out of position in the wrong direction as is allowed. In short, one needs to assume the worst-case scenario based on the tolerances provided and design accordingly. In no case should the nominal clearance shown on architectural details be less than 50 mm (2 in.).
Overall curtain wall system tolerances (excluding installation and substrates)
These cover factory-assembled framing and trim and alignment of framing members.
Alignment of framing and trim members
Maximum offset from true alignment between two identical exposed members, abutting end to end in line within an assembly, is recommended at 1.5 mm (60 mils). The maximum variation from co-planar alignment between two exposed members at corner joinery within an assembly is two degrees. Maximum variation in nominal joint width between exposed members within an assembly is 1.5 mm, not including purposeful gaps for drainage, expansion, movement, or installation tolerances.
Installation tolerances
Recommended allowable maximum deviations during installation from the nominal position of curtain wall framing are called out for level, plumb, and true characteristics, as well as straightness and variation from plane. Tolerances for the installation of panels, column covers, windows, and doors can be optionally specified as well by the architect or design professional. How tight these tolerances must be is a function of the design and the manufacturer's requirements.
Air barrier interface design guidelines
The second major addition to the new AAMA CWM is a detailed discussion on the application of air barriers. The guide specification includes a provision to specify in detail accessories, fastening devices, perimeter sheets, sealants, adhesive, and/or tapes used in air barrier installation. Specifications should also clearly indicate the coordination of the work of various involved building trades.
AAMA CWM also provides guidance on the use of vapor permeable and non-permeable air barriers and their placement that is relative to wall insulation and interfacing with framing.
Guide specification offers roadmap
Formatted to be compatible with the three-part Construction Specifications Institute (CSI) MasterFormat, the guide specification (see section 5 of AAMA CWM) covers performance and testing requirements, and fabrication and installation methods, referencing a broad range of accepted industry standards.
In writing the specifications for any one project, an architect or specifier must delete inapplicable paragraphs or add paragraphs to meet special requirements of the design. Beyond the recommended mandatory requirements, optional requirements can be selected for project-specific specifications.