by Tammy Schroeder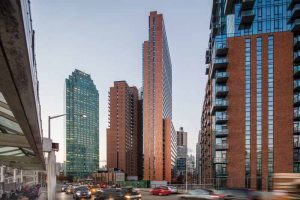 The risk of corrosion should be a key consideration when specifying finishes for a building envelope's architectural aluminum products. Regardless of the project's proximity to the sea, transportation facilities, transit-oriented developments (TODs), and many other high-traffic city centers can present significant challenges in protecting exterior-facing elements that are made of architectural aluminum.
Without proper precautions and finishes, corrosion to finished aluminum components can damage the structural integrity of the building envelope and lead to systemic failure. Such failures can have dangerous and costly results when they affect the connecting points and places within urban landscapes and skylines.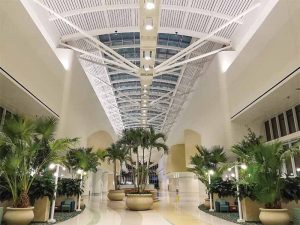 Windows, storefronts, entrances, curtain walls, sun shades, canopies, skylights, column covers, rainscreens, and exterior panels—all are commonly manufactured from aluminum and integrally connect to a building's façade. In almost any city, these architectural aluminum products are continually exposed to not only weathering, but also pollution, chemicals, and the constant bumps and scuffs of pedestrians. While salt spray performance considerations are reserved for coastal conditions, it is important to remember salt mixture often is used to de-ice roads, making it an equal concern in colder climates.
As a prominent part of the building's exterior, the finished aluminum adds color and aesthetic appeal to the project. The coating also protects the building from unsympathetic surroundings. The American Architectural Manufacturers Association (AAMA) continues to set the highest standard for architectural finishes, especially in highly corrosive environments. When selecting a coating to withstand such conditions, design professionals must select either the highest-performing organic paint coating meeting AAMA 2605, Voluntary Specification, Performance Requirements, and Test Procedures for Superior-performing Organic Coatings on Aluminum Extrusions and Panels, or a Class I anodize meeting AAMA 611, Voluntary Specification for Anodized Architectural Aluminum. Case study examples will be presented throughout the article to demonstrate how coatings and finishes can protect architectural aluminum products.
High-performance painted coatings
Using high-performance, 70 percent polyvinylidene fluoride (PVDF) resin-based coatings on architectural aluminum products provide architects, specifiers, and building owners the capability to select nearly any conceivable color or combination of colors, while shielding the building against weathering, pollution, and aging.
PVDF is known for its chemical stability and resistance to ultraviolet (UV) radiation. It is used in architectural applications as a coating on aluminum providing exceptional resistance to environmental exposure.
The carbon-fluorine bond in the 70 percent PVDF is one of the strongest known. These paint coatings can withstand enduring and intense UV radiation. Such attributes support long-term color and gloss retention as well as chalk resistance.
These coatings also meet AAMA 2605. This specification requires paint coatings to meet rigorous testing performance standards including more than 4000 hours of salt spray and heat- and humidity-resistance tests.
Orlando airport's painted skylights stand up to sun and salt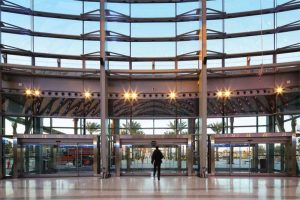 The new Intermodal Terminal Facility (ITF) at Orlando International Airport's South Airport Complex offers a seamless travel experience for 44.3 million annual passengers. Designed by HKS Architects, the ITF features a 743-m2 (8000-sf), heavy-duty commercial skylight. This daylighting system helps connect those arriving and working within the space to the welcoming surroundings and the Florida sunshine.
"Although the aesthetics are certainly important, the skylight specifications are more performance-driven than aesthetic," acknowledged David Thomas, AIA, associate principal at HKS. "Firstly, we did not want it to leak and the skylight system needed to meet Florida product approval. The finish also needed to withstand the harsh climate and local airport conditions."
Corrosion resistance was among these conditions and specification considerations for the ITF skylight's finished aluminum framing. The low-rise, segmented barrel-vault skylight spans 12.3 m (40 ½ ft) wide x 60 m (97 ½ ft) long. Hundreds of aluminum-framed segments compose the total skylight system. Each aluminum extrusion was manufactured with recycled content and finished in a bright silver color using a 70 percent PVDF resin-based coating system.
Prior to finishing, the extrusions were stretch formed to the skylight's required radius. Maintaining close and consistent tolerances, this process yields a smooth and even curved surface. To obtain the best finish quality and to keep parts fully warranted, it is necessary to thermally improve and finish the aluminum framing members after they have been stretch formed. Installing the thermal barrier in the metal after it has been curved helps minimize stress on the thermal barrier and ensures performance as specified.