Durability and sustainability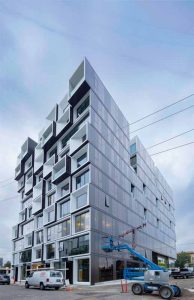 Anodized aluminum is an inert, noncombustible, 100 percent recyclable material and poses no health risks. At the beginning of the new millennium, environmentally responsible finishers changed from the traditional caustic etching process to a sustainable etch system allowing customers to use secondary (recycled) billet in the anodizing process.
Small surface defects, such as those common in recycled material, are hidden by the finish's 'frosty' matte appearance. The resulting surface also reduces glare in bright sunlight. Gloss level reading is typically reduced from 15 to 25 with conventional anodize, down to a gloss level of three to 12 for environmentally responsible color anodize.
This anodizing process reduces landfill waste produced with conventional etch processes by 75 to 80 percent. Landfill waste directly relates to the production of greenhouse gas (GHG). The anodize also has the viscosity of water and will not collect in the small recesses of aluminum extrusions or narrow aluminum tubes. This property serves to enhance the durability and life cycle of the finished architectural aluminum product.
For painted architectural aluminum elements, paint manufacturers and applicators recommend the use of a PVDF-based paint system on aluminum material for all corrosive environments. Offering one of the longest life cycles, a 70 percent PVDF resin-based coating system pretreated with chrome phosphate along with an inhibitive chrome-rich primer should be used. This coating type meets or exceeds all the requirements of AAMA 2605.
Beyond ensuring the highest-quality application, environmentally responsible finishers can also manage liquid paints' volatile organic compound (VOC) content in their facilities before the coated material returns to the product manufacturer or arrives at a jobsite. Using a 100 percent air capture system, they can safely destroy the VOCs with a regenerative thermal oxidizer. Innovative finishing applicators can even reuse the heat energy byproduct to improve process energy efficiency. This process of reuse is completed before the material exits the paint line.
Portland's Slate earns LEED Gold
The 10-story, mixed-use TOD known as Slate combines environmentally friendly and durable design choices to earn LEED Gold certification. Helping revitalize the Burnside Bridgehead area in Portland, Oregon, Slate offers direct access to public transit, pedestrian walkways, and bicycle lanes. The project spans 13,657 m2 (147,000 sf) and contains 75 market-rate apartment units on the upper six floors, creative co-working office areas on floors two to four, and retail space at street level.
Designed by Works Progress Architecture for co-developers Urban Development Partners and Beam Development, the property conveys a 'push and pull' theme exemplifying the location's vibrancy. The glass, metal, and concrete façade consists of articulated, modulated, rectangular shapes, including some set back and some projecting over the sidewalks below.
"It creates the illusion of a shifting stack," described Works Progress Architecture's Ian Roll. "On the north and south sides, the curtain wall has a flat, clean, crisp look that transitions to a sculpted, figural texture on the east and west elevations. The curtain wall is crucial in registering the intentional lines and visual elements."
Enhancing the exterior aesthetics with high-performance finishes providing corrosion resistance, Slate's architectural aluminum exterior elements showcase six colors and two finishing methods. The aluminum framing members for the curtain wall, window, and entrance systems were finished in AAMA 611 Class I black anodize, plus slate gray and dark bronze colors using PVDF resin-based paint coatings to meet AAMA 2605 specifications. Additionally, the aluminum panel system was painted with PVDF resin-based architectural coatings in stone white, gun barrel, and block 45 silver colors.
Along with enhancing Slate's durability, the finishing provider offered thermal improvement services for the high-performance building envelope systems. Adding a polyamide thermal barrier between the aluminum framing members helped in achieving the building's energy-efficiency goals. Seasonal opportunities for natural ventilation also help reduce the demand on HVAC systems and associated energy use. Weather permitting, the operable windows on Slate allow tenants to enjoy fresh air, natural light, and views. All of these environmental attributes are recognized by USGBC through LEED.
Specifying the right finish for aluminum components on transportation facilities, TODs, and other high-traffic city centers not only supports the environmental and structural integrity of the building envelope, but also creates a lasting impression of quality and safety.
Tammy Schroeder, LEED GA, is a senior marketing specialist at Linetec and serves as an industry educator on architectural coatings. With 18 years of experience in the finishing industry, she shares her knowledge of liquid paint coatings, powder coat, and anodize with architects, specifiers, and architectural product manufacturers in commercial and residential markets. Schroeder can be reached at tammy.schroeder@linetec.com.