Forged in New York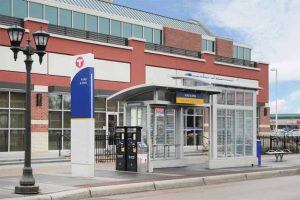 The Forge, a 272-unit luxury residential tower in New York City, sits solidly within its urban environment displaying a façade of copper-colored anodized aluminum cladding. Developed as a 'village in a building' by Brause Realty and Gotham Organization, the wedge-shaped site and its stringent zoning requirements led the Forge to take a slender form with stepped massing in a neo-modernist style. While it is a single 38-story, 2471-m2 (266,000-sf) structure, the property appears as if it could be three separate wafer-like buildings set side by side with a fourth, far shorter one nestled at the foot of the other three.
On the Forge's south side, the copper-colored aluminum wall system clads the entire height of the building, accentuating its vertical presence. To create the industrial metallic look specified by architect FXCollaborative, more than 8574 m2 (92,000 sf) of aluminum wall panel system was finished in a proprietary copper-colored anodization and painted an additional 446 m2 (4800 sf) in a black iron color.
The building's anodized aluminum thus resembles real copper's lasting luster, but without shortcomings such as salt run-off stains, galvanic corrosion, patina, or intensive maintenance. It does not require a clear coat or ongoing treatment to maintain color stability. Anodized aluminum also weighs less than half as much as real copper, for easier transportation and installation.
The Forge's other elevations also showcase the copper-anodized cladding punctuated by julienne strips of windows to maximize daylight and views toward the East River and Manhattan, all while preserving outdoor zones. The project is pursuing Leadership in Energy and Environmental Design (LEED) Silver certification through the U.S. Green Building Council (USGBC).
Minnesota bus shelters withstand harsh conditions with anodized aluminum frames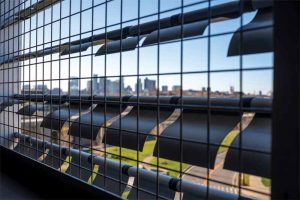 Minnesota's Metro Transit owns and maintains more than 700 transit shelters throughout the twin cities. The region's first bus rapid transit (BRT) system—the A Line—recently added 38 shelters and 40 signage pylons. Constructed of aluminum and finished in a clear anodization, the shelters and signage offer high-traffic durability in an urban setting. Given their proximity to the roads, corrosion resistance to de-icing salts in winter and weather resistance in every season were top considerations in specifying the finish on the shelters.
"It was important the design be replicable for future expansion, as well as easily maintainable," said Katie Roth, project manager for Metro Transit BRT/Small Starts. "We wanted the aesthetic to convey speed of service, shown in the sleek curvature of the arched roofs. Of course, we needed weather protection and personal security, and we also wanted to maintain openness and an easy flow."
The shelters are sized in small, medium, and large and installed according to site conditions and ridership patterns. Brought to life in finished aluminum, the framing members feature narrow sightlines and maximum viewing areas.
The signage pylons accompanying the shelters contribute to Metro Transit's branding with a custom logo on top, provide real-time information, and serve as a beacon for riders. The station platforms integrate fare-collection machines, transit signal priority, and security elements, as well as push-for-heat buttons and plates and edge-lit light-emitting diode (LED) map cases. All of the electrical wiring is concealed inside the finished aluminum framing.
Working with Metro Transit, Minneapolis-based Luken Architecture created the concept for the BRT shelters as part of an overall design team led by Kimley Horn and Associates. More than 1000 riders contributed to the design by sharing their preferences for improved appearance and functionality.