New York subway skylight specified for lasting performance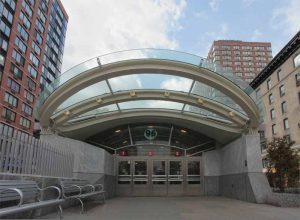 Intended to last for decades, the updated transit station at 96th Street and Broadway in New York City was completed $20 million under budget and on time. Working with the Metropolitan Transportation Authority (MTA) on the $98-million renovation, general contractor (GC) Citnalta Construction Corporation worked with Atlantech Systems to install the glass and aluminum skylights capping each of the station's entrances.
New York's seasonal changes, de-icing road salt, urban pollution, and high-traffic use make corrosion resistance a notable consideration when specifying finishes for architectural aluminum products. The skylights' aluminum framing was finished in a silver white color using a two-coat, 70 percent PVDF resin-based coating system.
Two narrow, large-circumference barrel-vault skylights flank the east and west sides. The north and south entries are covered by two cylindrical vault skylights. Each required complex geometry to determine the different ellipse halves and the cylindrical radii.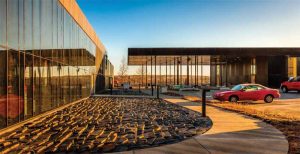 Since the skylight perimeters curve in both plane and elevation, the tubular perimeter skylight framing consists of aluminum plates. The sides are cut to the cylinder radii, while the tops and bottoms are cut to the plane ellipses. The plates are then fully welded together and ground smooth prior to paint application.
Maintaining their intended performance and appearance, the renovated skylight-covered station entrances shelter more than 64,000 daily commuters.
Corrosion-resistant requirements
Section 8.8 of AAMA 2605 refers to corrosion-resistance requirements. Coatings must pass the following stringent guidelines.
Humidity
The sample is exposed in a controlled heat and humidity cabinet for more than 4000 hours at 37.8 C (100 F) and 100 percent relative humidity (RH). There must be no formation of blisters to an extent greater than 'few,' as defined by ASTM D714, Standard Test Method for Evaluating Degree of Blistering of Paints.
Cyclic corrosion testing
Score the film sufficiently deep to expose the base metal. Expose the sample for 2000 hours according to ASTM G85, Standard Practice for Modified Salt Spray (Fog) Testing, Annex A5, dilute electrolyte cyclic fog/dry test. The sample must score a minimum rating of seven on scribe or cut edges and a minimum blister rating of eight within the test specimen field, as defined in ASTM 1654, Standard Test Method for Evaluation of Painted or Coated Specimens Subjected to Corrosive Environments.
South Florida exposure
The coating shall maintain its film integrity, color and gloss retention, chalk resistance, and erosion-resistance properties for a minimum of 10 years on the south Florida on-fence testing site.
Color retention
Maximum of 5ΔE units of color change after the minimum 10-year exposure test. A ΔE unit is the variance or color difference measured on a vector scale from a specific point in the color space.
Chalk resistance
Chalking shall be no more than that represented by a No. 8 rating for colors and No. 6 for whites after 10 years of test fence exposure. Per ASTM D4214, Standard Test Methods for Evaluating the Degree of Chalking of Exterior Paint Films, chalking is measured on a numerical scale with higher numbers representing better chalk resistance.
Gloss retention
Gloss retention shall be a minimum of 50 percent after the 10-year exposure testing, as described by ASTM D523, Standard Test Method for Specular Gloss.
Resistance to erosion
Less than 10 percent film loss is required after the 10-year exposure testing. AAMA notes in high-humidity areas such as coastal or industrial environments, corrosion resistance may be diminished.