High-performance anodize finishes
Class I anodized finishes meeting or exceeding all requirements of AAMA 611 also resist the ravages of time, temperature, corrosion, humidity, and warping. Anodized aluminum withstands extreme temperature changes and weather conditions, constant exposure to vehicle exhaust, and daily use by passengers. Over-sprayed de-icing salt can be managed with a simple rinsing as needed. With basic maintenance, architectural aluminum products enjoy a long life cycle.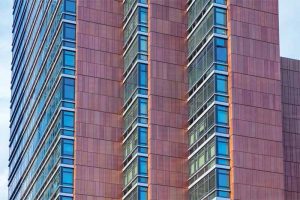 Since it is an integral part of the substrate, the anodizing process produces a uniform, hard oxide film. The film protects the rest of the aluminum substrate from deterioration, thereby providing excellent wear and abrasion resistance. The coating produced is extremely durable, and the hardness of the surface is comparable to a sapphire—the second-hardest substance on earth. This characteristic makes anodization an ideal choice for high-traffic areas where resistance properties are important.
In the most challenging applications, anodized aluminum will perform as specified and will not reduce the service life of the aluminum, but may affect the natural beauty of the surface finish. Avoiding conditions that can quickly corrode an anodized finish, such as contact with mortar, cement, and other alkaline materials, is recommended.
To meet AAMA 611 requirements, Class I anodization must have a dry film minimum thickness of 0.02 mm (0.7 mils) and adhere to the following guidelines.
Abrasion resistance (Michael Clarke test)
This is a go/no-go abrasion test using abrasive papers coated with silicon carbide, garnet, and glass, respectively. The test is used to discriminate between films of the correct hardness and those that may give poor service because they are too soft. The specification grade of abrasive paper is:
abrasive type: glass;
grade: 'flour;' and
Mohs Hardness Scale number: 4.5 to 5.5.
Corrosion-resistance testing
Expose the sample for 3000 hours according to ASTM B117, Standard Practice for Operating Salt Spray (Fog) Apparatus, using five percent salt solution. Test samples shall show no more than 15 isolated spots or pits, none larger than 1 mm (39 mils) in diameter, in 4 m (12.5 ft) of test area grouped from five or more test pieces.
South Florida exposure
The coating shall maintain its color and gloss retention and erosion-resistance properties for a minimum of 10 years on the south Florida on-fence testing site.
Color retention
Maximum of 5ΔE units of color change after the minimum 10-year exposure test.
Gloss retention
Gloss uniformity shall be within established gloss range. AAMA 611 covers many types of anodic coatings and each has its own designation. The specific designation determines what the gloss range should be. For acid etch, medium matte, anodizing, the gloss range should range between 10 and 30. This does not mean the gloss should vary this much within a project. Gloss varies very minimally on anodize.