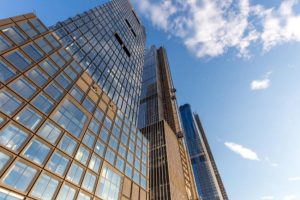 Kohn Pederson Fox Associates designed the 55 Hudson Yards skyscraper in New York to incorporate both smooth and textured coatings on its metal curtain wall and window frames. The firm selected a customized black color for the powder coatings to reflect the industrial heritage of the building.
The 51-story structure is a landmark in the Hudson Yards development, the country's largest private real estate development. Named a 2020 Design Award recipient by the New York chapter of the American Institute of Architects (AIA), 55 Hudson Yards contains 120,773 m2 (1.3 million sf) of office space.
The powder coating helps mimic the classic cast-iron façades of neighboring SoHo and commemorate the industrial heritage of the building's Meatpacking District setting. The building is also one of the first skyscrapers in the United States to be finished with powder coatings.
The metal coatings contractor factory applied nearly 9072 kg (20,000 lb) of powder coatings to metal components used on the building's façade.
The coatings are based on a proprietary fluoroethylene vinyl ether (FEVE) resin to provide satin and high-luster glosses, including solids and micas, along with color retention and superior chalk resistance. They can be used as a one-coat paint system or a two-coat system with a primer to achieve weathering performance , per American Architectural Manufacturers Association (AAMA) 2605, Voluntary Specification, Performance Requirements and Test Procedures for Superior Performing Organic Coatings on Aluminum Extrusions and Panels (with Coil Coating Appendix).