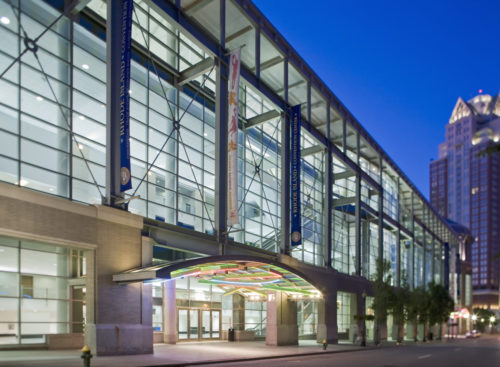 Supporting the development of the event's more than 40 educational sessions and tours, Informa has announced the members of the 2017 Education Advisory Council for CONSTRUCT. These 12 people will make crucial decisions regarding the education program for the show, which will take place in Providence, Rhode Island, September 13 to 15.
"Being a part of the CONSTRUCT Education Advisory Council is an exciting opportunity to have a voice and help create a program that best meets the needs of our attendees and addresses relevant topics," said Cherise Lakeside, CSI, CDT, a specifier with Ankrom-Moisan Architects and one of this year's chosen council members. "CONSTRUCT will have something to offer every discipline and level of experience, from young to seasoned professionals. I am honoured to participate."
Efforts were made to ensure the council is balanced and well-rounded, with members from various backgrounds and levels of experience. This year's council includes several past contributers to The Construction Specifier, including Lakeside, and consists of:
Susanne Connors Bowman, CAE, director of marketing and membership with Construction Specifications Institute (CSI);
Edmund L. Brown, CSI, CCCA, Assoc. AIA, project architect with SEBREE Architects;
Nina Giglio, FCSI, CCS, specifications manager and senior associate with Perkins Eastman;
Chris Hardy, fabrication studio coordinator and associate with Sasaki;
Eric D. Lussier, CSI, CDT, sales and marketing manager with Precision Athletic Surfaces;
Christopher O'Hara, PE, SECB, founding principal and façade director with Studio NYL;
Brent Redmon, CSI, CDT, facilities and operations construction coordinator with Gwinnett County Public Schools;
Di Ann Reid, CCS, CCCA, senior associate with Gensler;
Floyd Sterling, FCSI, CDT, senior estimator with Shreve Land Constructors, LLC;
Sheldon Wolfe, RA, FCSI, CCS, CCCA, CSC, specifications writer with BWBR and a member of The Construction Specifier's editorial advisory board; and
Corey S. Zussman, AIA, NCARB, ALA, REWC, RWC, RRO, CDT, CQM, LEED AP, director of quality management with Pepper Construction Company.
For more on the show's educational offerings, click here. Those interested in registering can do so starting later this month. Of course, the event also includes the CSI Annual Convention.