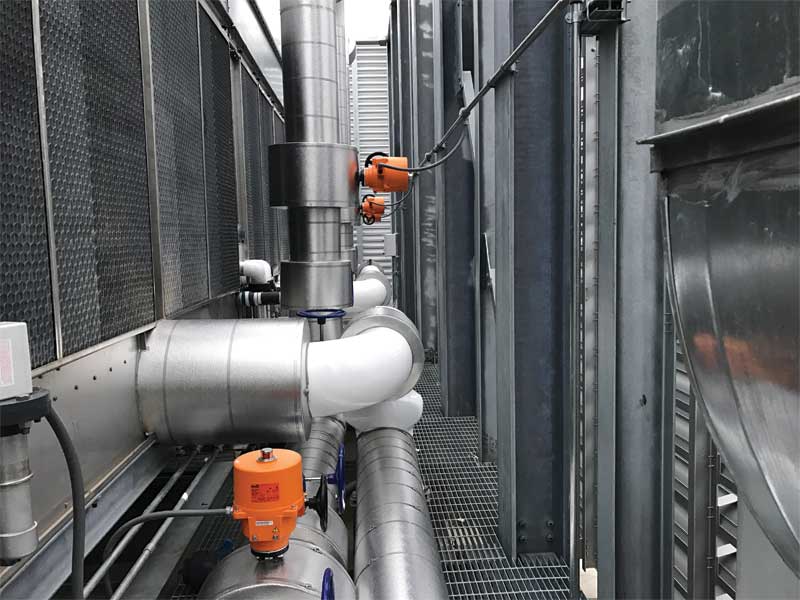 by Nick Eaton
Updating a commercial mechanical insulation system is essential to keeping various operations in a building running comfortably. Any Water damage, mold growth, tears, or rips can necessitate updates. Therefore, it is important the materials are regularly examined and assessed by a mechanical insulation contractor to identify any areas of concern and properly specify the correct type of mechanical insulation, based on the surrounding environment.
The main purpose of a HVAC system is to help maintain good indoor air quality (IAQ) through adequate ventilation and filtration, while also providing thermal comfort to the building occupants. These mechanical systems are one of the largest energy-consumers in commercial buildings. Therefore, mechanical insulation must be properly installed on several parts of the HVAC system, including pipes, tanks, vessels, ducts, and equipment.
Types of insulation
Fiberglass insulation is intended as a thermal insulation that best serves steam and heating hot-water piping. The pipe insulation is a molded, heavy-density insulation that is made from inorganic glass strands that are bonded. The fiberglass insulation is used to insulate both iron and copper piping
in industrial applications and commercial buildings. It is suitable for hot, concealed, and exposed piping systems operating at temperatures from -17 C (0 F) to 537 C (1000 F). Additional weather protection is needed for outdoor piping.
A closed-cell foam insulation is recommended for operating temperatures from -182 C (-297 F) to 104 C (+220 F). This becomes hard and brittle and begins deteriorating if installed in an environment with temperatures exceeding 104 C or if incorrectly installed in an area exposed to prolonged sunlight or high outdoor temperatures.
If the piping is moving chilled water, ANSI/American Society of Heating, Refrigerating and Air-conditioning Engineers (ASHRAE)/Illuminating Engineering Society (IES) Standard 90.1-10, Energy Standard for Buildings Except Low-rise Residential Buildings, requires a layer of vapor retardant material to be installed on the outside of the insulating material without the use of adhesive tapes as shielding. Several insulation solutions are best suited for specific process cooling applications:
For chilled-water and refrigeration systems that have active condensation or water leaks, a mold-resistant flexible elastomeric thermal insulation with an expanded closed-cell structure is recommended. This type of pipe insulation is particularly useful for preventing heat transfer and condensation drip in these systems.
In process cooling systems experiencing extremely low temperatures, a blend of several materials to create a hybrid insulation is sometimes necessary. One example is choosing a polyurethane-modified polyisocyanurate cellular plastic insulation that is used for multiple applications with extreme temperature differences.
If sustainability is a concern, new innovations in thermal insulation have provided environmentally friendly, high-density molded insulation that is suitable for process cooling and other applications ranging from -17 C to 537 C. This advanced type of insulation is formaldehyde-free, mold-resistant and made from inorganic glass fibers, providing both life-cycle longevity and high-performance for low- and high-temperature applications.
Section 64.4.1 of ASHRAE 90.1-2010 requires HVAC system insulation on heating hot-water pipes, steam pipes, and steam condensate pipes. According to the 2012 International Energy Conservation Code (IECC) Section C404.5, hot water piping should be insulated with at least 25 mm (1 in.) of insulation having a conductivity not exceeding 0.27 Btu per inch/(h-sf-f).
One example of mechanical insulation product is a pre-formed, high-temperature, abuse-resistant pipe and block insulation with increased structural strength. Composed of hydrous calcium silicate, this type of insulation is intended for use on systems operating up to 648 C (1200 F). Its low thermal conductivity, high durability, dependable structural strength and corrosion-reducing features make it ideal for high-temperature pipes or equipment.
When it comes to specifying the mechanical insulation on a HVAC system, some common missteps must be considered—inadequate insulation can result in loss of energy and insulation value, corrosion underneath the insulation, mold growth, unsafe conditions for personnel, and some system downtime for repair.