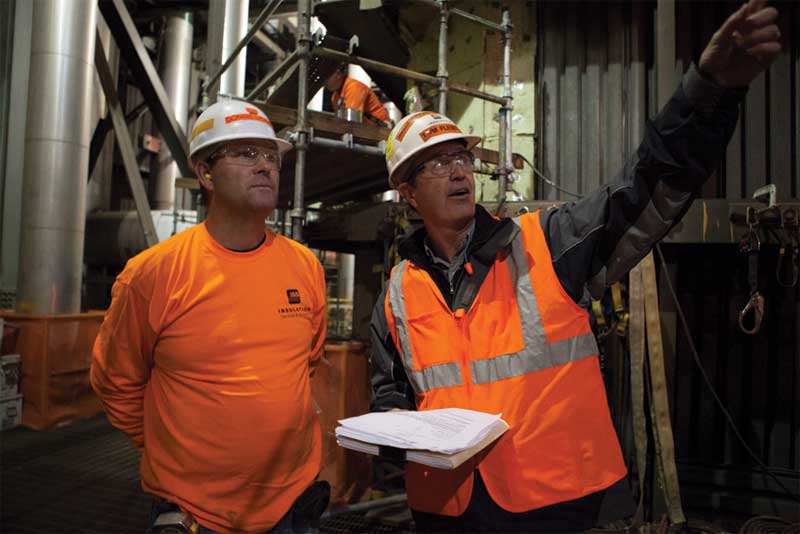 Installation of mechanical insulation is typically managed by experienced contractors who specialize in mechanical insulation of commercial and HVAC sectors. As with any successful project, the mechanical insulation contractor should be involved from the beginning. The contractor can understand project specifications and drawings, review objectives of the insulation job, and be prepared to highlight and resolve any inconsistencies or errors in the specification.
Additionally, the building owner should know whether special design conditions have been addressed. Working with the building's maintenance staff to ascertain necessary requirements, the design professional should be aware of the following:
sufficient clearance for installation and maintenance of the insulation;
whether insulation systems are exposed to corrosive chemicals and the systems have chemically resistant materials;
any frequent maintenance needs for certain insulated components;
requirements for proper high-compressive strength insulation materials for horizontal pipes located close to the ground and at risk of foot traffic; and
indications that the below-ambient pipe and equipment located in humid, unconditioned spaces have been insulated with materials not conducive for mold growth.
After installation, facility managers and building owners are responsible for scheduling regular inspections of the mechanical insulation on HVAC systems so as to detect any damage early on and reduce the costs of an otherwise preventable large-scale repair. Damaged insulation should be replaced immediately to prevent further damage and avoid the negative effects it can cause.
Initial inspections can be performed visually by looking for water damage, mold growth, tears or rips, sagging, or any other deterioration. However, during a full inspection performed by a professional mechanical insulation contractor, the contractor will verify the mechanical insulation on pipes, ducts, tanks, and equipment on the HVAC system have been insulated to the specified R-value in accordance with the approved mechanical plans, and that they have been installed and sealed in accordance with approved design document code requirements. The professional inspection typically involves spot checks to confirm the seams and connections are sealed properly. Testing the duct system for airtightness provides the final confirmation of proper installation and sealing. The lifespan of materials depends on its usage and location.
Conclusion
If a mechanical insulation system is properly installed, sustains little damage, and is routinely inspected and maintained, it can last 20 years or more. Often, this valuable asset to a building's infrastructure is neglected, leading to avoidable damage and sometimes harmful conditions as well as increased energy costs. These negative effects are easily avoided when using correct specification, installation, and maintenance techniques.
Systems are usually labeled by the mechanical contractor. Sometimes they may require systems to be color-coded, which can be done with either paint or colored PVC jacket.
Nick Eaton is general manager of ISS Insulation Services and Solutions. With more than 15 years of experience in commercial construction and insulation fields, he has managed several difficult and labor-intensive projects, providing turnkey insulation and sheet metal lagging services. Eaton can be reached at neaton@insulationsands.com.