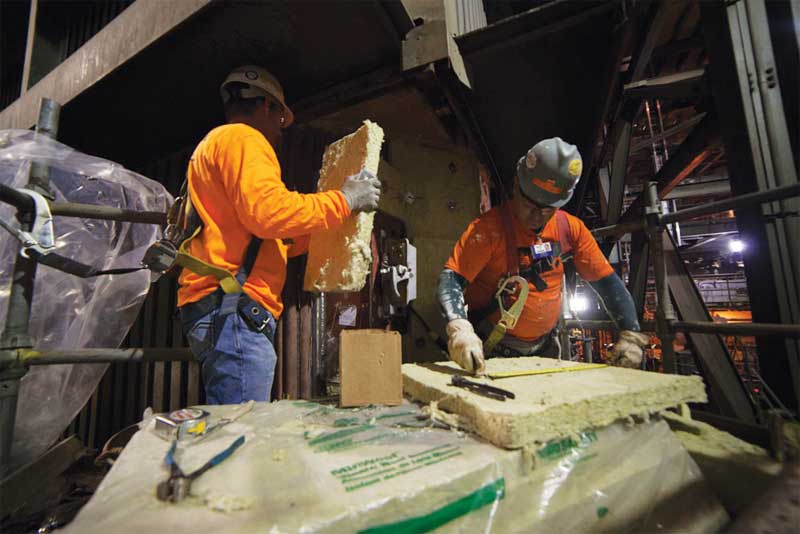 Why improper installation happens
Every decision that is made during the design and construction phases has an impact on a project's bottom line. Insulation must not begin until an appropriate specification has been prepared and agreed to by all the involved parties. Unfortunately, the mechanical insulation contractor is not always involved from the beginning and, as a result, may not have the chance to review the specifications and notify the designer of contract requirements that are non-compliant with codes or standards.
In cases when the mechanical insulation contractor is not involved from the start, the owner may suffer consequences like increased energy use, large-scale corrosion underneath the insulation, physically or chemically damaged insulation, wet insulation, and mold growth on insulation, as well as incurring a high-cost for removing insulation and subsequent insulation with new materials.
Further, many common mistakes can occur when installing mechanical insulation. Improper installation can be caused by factors including:
inadequate clearance between pipes to allow for the proper insulation thickness;
insulation installed before the building is protected from the weather;
valves and circuit setters installed too close to adjacent piping and equipment; and
equipment designed with connections too close to allow for proper insulation.
Insufficient clearance for mechanical insulation is a major issue. Thus, adequate clearance must be provided for all mechanical systems to allow for the specified installation of the mechanical insulation's recommended thickness. If proper clearance is not provided, the mechanical insulation contractor is unable to guarantee its effectiveness.
Adequate clearance is particularly important on cold systems. Vapor retarders must be provided on all insulated areas to prevent condensation and vapor drive into the insulation. When duct, pipes, conduits, walls, ceilings, and other items are too close to an insulated system, it becomes difficult or impossible to complete the vapor seal. Vapor seals are vital for a system's quality performance. Since labor is the largest portion of installation field costs, the financial consequences of inadequate clearance must be considered by all parties.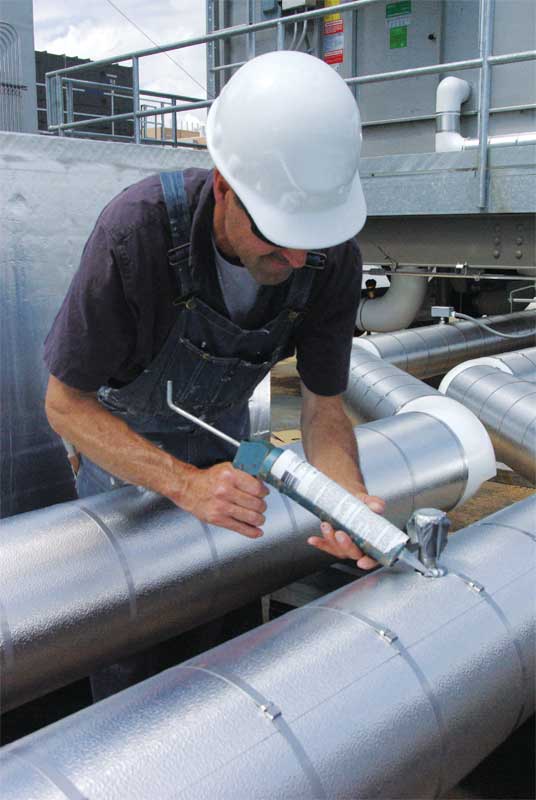 Steps for improvement
When making a large investment on a commercial HVAC system, facility managers should always be aware of the causes and negative effects of improperly specified mechanical insulation, as well as how to prevent damage through correct installation and maintenance techniques. With the many different types of mechanical insulation available and varying environments (including indoor and outdoor systems), determining the cause of damage can be a complex process requiring intimate knowledge of the materials used. Due to a wide variety of pipe insulation options available, mechanical system engineers are in the unique position to choose the specific type of insulation system that is best suited for the needs of the individual application. Common mechanical insulation materials include fiberglass, mineral wool, rigid or flexible foam, polyethylene or other polyurethane-based insulation types, calcium silicate, cellular glass, and aerogel.
Fiberglass pipe insulation is intended as a thermal insulation and best serves steam and heating hot-water piping. The pipe insulation is molded, heavy-density insulation made from inorganic glass strands that are bonded. The fiberglass insulation is used to insulate iron and copper piping found in industrial applications and in commercial buildings. The insulation is suitable for hot, concealed, and exposed piping systems operating at temperatures from -17 C to 537 C (0 F to 1000 F).
Duct wrap insulation offers thermal properties that reduce any unwanted heat loss or gain and condensation during system operation. This blanket-type insulation is used to insulate rectangular and round HVAC ductwork. Further, it is employed as external insulation on commercial HVAC ducts and controls condensation. Duct wrap is lightweight, flexible, and easily conforms to flat or irregular surfaces, and its roll style qualities allow for faster installation at lower labor costs.
If mechanical insulation is not properly installed and maintained, the facility runs the risk of being exposed to a myriad of issues—this could be avoided with a knowledgeable and thorough mechanical insulation contractor.
Architects, engineers, and specifiers should be able to identify the parameters, which must be addressed through the materials selection process. Thus, a well-prepared and well-written specification document is critical to the success of any project. The National Insulation Association's (NIA's) Insulation Training Program (NITP) spends a considerable amount of time on specifications and the design process, and how it supports the creation of a highly effective specification. The specifier should be familiar with the codes and regulations for each type of project. Codes for basic mechanical insulation needs— from National Insulation Association's (NIA's) Process Industry Practice (PIP)—include heat conservation (HC), process stability (PS), personnel protection (PP), prevent from freezing (PF), cold conservation (CC), and condensation prevention (CP). The type of code establishes the basic reason for mechanical insulation of a system.
Resources are readily available to the design and construction teams, and the building owner. These resources include many standards, including:
2009 American Society of Heating, Refrigerating and Air-conditioning Engineers' ASHRAE Handbook: Fundamentals;
ASHRAE 90.1-201, Energy Standard for Buildings Except Low-rise Residential Buildings;
the online Mechanical Insulation Design Guide by the National Mechanical Insulation Committee (NMIC); and
National Commercial and Industrial Insulation Standards Manual, also known as the MICA Manual, was developed by the Midwest Insulation Contractors Association (MICA).