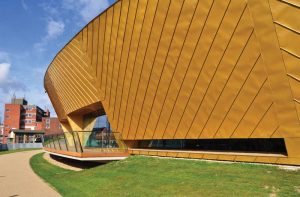 by Tiffany Coppock, AIA, NCARB, CDT, LEED AP
Could events of the past year be considered anything other than extreme? Beyond the global pandemic and events in the news, both episodic weather events and new environmental regulations are placing extreme demand on building materials, including insulation. This article considers insulations' role in commercial roofs and other areas of the enclosure subject to extreme demands. Insulation will be viewed through the lens of extreme weather, more stringent regulatory requirements, and performance concerns posed by mission-critical buildings.
Extreme weather, climate concerns, and new regulations
Historic wildfires in the West, tropical storms in the South, derechos in the Midwest, and an infusion of artic air devastating parts of Texas are just some of the recent climate events underscoring the need for commercial roofs to be able to withstand extreme moisture, wind, and thermal conditions. Extreme weather conditions has left virtually no part of North America unscathed.
Weather like this can influence code changes. Managing stormwater runoff is a good example. As noted in the October 2020 issue of The Construction Specifier, vegetative roof assemblies (VRAs) are a popular means of adding space and access to nature while also providing strategic approaches for managing stormwater. Mandatory ordinances in the United States supporting vegetative roofs have been in place in some cities since 2007. As interest in sustainable roofs continues to grow, ordinances are beginning to show change and other ways to further reduce buildings' impact on the environment must also be considered.
In response to climate change, the Canadian government and a growing number of U.S. states have enacted new environmental regulations to support slowing the climate change impacting extreme weather. Currently within the United States, environmental regulatory action is taking place at the state level. On January 1, 2021, new regulations became effective in California, Colorado, New Jersey, New York, Vermont, Washington, and all of Canada banning the use of high global warming potential (GWP) hydrofluorocarbon (HFC) blowing agents. More states are planning to enact similar laws. As of this writing, Massachusetts, Maryland, and Delaware have finalized laws and regulations to lower the GWP levels of blowing agent formulations. Those will go into effect later this year, and several more states have proposed legislation. During the transition, accommodations were made to allow for a grace period of selling existing, non-compliant material and preventing the production or sale of additional material in affected states. It is recommended to review each state's requirements for compliance.
A reduction in GWP supports sustainability
The target of these new regulations was not only rigid insulation board, but also mandating lower levels of GWP in blowing agents impacting products like extruded polystyrene (XPS.) Blowing agents are a key ingredient allowing XPS to deliver high thermal performance. Moving beyond regulatory compliance, the new environmental regulations are also inspiring environmentally conscious designers and contractors to think about how insulation can support sustainable buildings alongside manufacturers of these materials.
These new regulations—coupled with awareness surrounding life cycles—are mainstreaming once novel innovations such as recycled content, low GWP formulas, and longer-use products reducing the overall environmental footprint of buildings. Manufacturers with a continuous focus on this sustainability mindset are helping lead this effort in putting materials that are constantly being improved into the hands of designers.