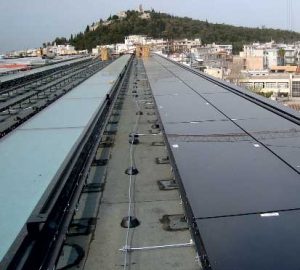 An extreme undertaking of product innovation
While the environmental regulations are new, approaches to a lower-GWP insulation have been years in the making at some companies. Leading companies have been working toward this goal through multiple previous formulas. The challenge in creating a lower-GWP XPS was daunting because the reduction in GWP could not detract from the superior properties that support XPS's performance attributes which has been achieved with varying levels of success by different manufacturers.
The next generation in XPS can be installed in applications across the building enclosure from foundations to vegetative roofs; in some cases, sustainability features are validated by a third-party verified Environmental Product Declaration (EPD) and Optimization report. The EPD can provide designers and specifiers with documentation for specifying and installing this material to meet rating systems such as the U.S. Green Building Council (USGBC) Leadership in Energy and Environmental Design (LEED), Environmental Protection Agency (EPA) Energy Star, and the National Association of Home Builders (NAHB) National Green Building Standard.
Extreme missions: Insights from Europe
In Europe, a different type of insulation is addressing 'extreme' applications. 'Extreme' in this case refers to 'mission critical' buildings where the breach of a roof membrane and resulting water leak could threaten priceless contents or disrupt a critical process resulting in risk to the health, safety, or welfare of occupants or the community.
In these mission critical buildings, cellular glass insulation is the product of choice because of one or more of its performance characteristics—lightweight, water, and vapor resistance, non-combustibility and high compressive strength to name a few. Notable examples of some mission critical buildings include the new Acropolis Museum in Athens, Greece, the Stora-Enso facility in Ghent Belgium, and the Firstsite Centre in Colchester, United Kingdom.
Each of these buildings presented an extreme challenge for designers and contractors: how best to protect the artifacts or mission critical process inside. These high-profile installations are explored in more detail below.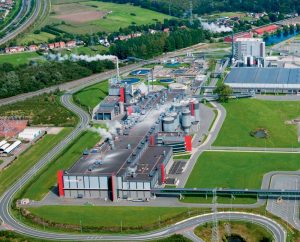 Protection for ancient artifacts: Insulation in action
Located in the historic Makryianni district, collections in the New Acropolis Museum take visitors on a tour of both late antiquity and ongoing conservation and research efforts. At the museum's base, foundation columns and glass floor were carefully engineered to allow visitors to look down upon an active archeological excavation of ruins from the 4th and 7th centuries A.D. A double-height trapezoidal plate in the middle section of the 'cube' is home to galleries from the Archaic period of the Roman era. At the top level, natural light floods the top floor Parthenon gallery, bringing a panoramic view of modern Athens and the Acropolis and connecting the architecture strongly to its site.
Constructed in the shape of a cube and situated below the Acropolis, the museum's flat roof using a cellular glass insulation complements the structure's clean, geometric aesthetic while reducing weight on the unique foundation and managing rooftop drainage due to tapering the insulation. This cellular glass insulation in the main roofing system sits atop a metal roof deck that includes fully adhered insulation, two layers of reinforced waterproofing membrane, and an embedded protection course. This surface is connected with a insulation serrated plate, screw, and rubber air- and water-sealing gasket ring to support structure underneath opaque glass to complete the glass cube concept. As noted, this not only visually reduces the building's weight but provides less structural weight to the building without compromising thermal protection of the roof and adding to the critical mission of protecting artifacts from potential water infiltration. Ease of handling was a bonus during construction, as the cellular glass could be tapered during manufacture and easily cut in the field to accommodate lightening protection and variations in construction tolerance.