An extreme enclosure and roof evoke a 'sheathed in gold' effect
'Extreme' is an apt metaphor for the FirstSite Centre. The golden-clad crescent is a work of art embracing its historic surroundings of heritage gardens and sites as well as housing historic artifacts within. Ensuring developers did not disrupt historic sites did not compromise the mission to provide educational opportunities while actively commissioning and exhibiting artists of the present and future to form Colchester's 'future heritage.' Connecting the public to art, the center includes gallery spaces for hosting workshops, lectures, exhibits, and events. Yet another facility built atop a historic artifact, the Berryfield mosaic, dating back to 200 A.D. and discovered in 1923, is protected under a glass case built into the floor. As a result, the foundation was engineered as a concrete 'raft' due to a 'no dig' policy.
In this roof assembly, the cellular glass insulation was adhered to the structural deck with cold adhesive. Square plates were then embedded into the insulation and covered with the torch-applied roof membrane. Additional metal grips were screwed through this plate to create the attachment skeleton for the standing seam gold sheets (a copper and aluminum alloy). In a traditional architectural metal roof, these fasteners would have penetrated the roof membrane and the insulation to attach to the structure below. However, the method used here eliminates through-fasteners and therefore thermal bridging. The waterproof, dimensionally stable and high-compressive properties of the cellular glass also help hold the fasteners through the membrane securely and add a layer of waterproof material. This unique solution creates both a visually appealing extreme roof and protects valuable building contents.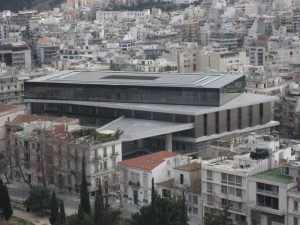 Extreme processes define industrial operations
Beyond ancient artifacts and treasures, mission critical buildings housing industrial assets also protect extreme processes. A good example is Stora Enso's Langerbrugge Mill in northwestern Belgium. The facility is home to the world's largest newsprint machine. From a sustainability perspective, the facility is also a leader in renewable materials replacing fossil-based resources. In 2019, the company announced a pilot facility for enabling the production of bio-based plastics and found a way to recycle used paper cups to cut the carbon footprint of disposable paper cups by 50 percent.
Once again, cellular glass plays a role in topping off this treasure. A cellular glass roof tops the 22,000 m2 (236,806 sf) area of flat roofs at the Langerbrugge Mill. The material composition aligns with the company's investment in ecologically responsible activities. Totally inorganic, the cellular glass insulation used on this project does not contain any ozone-depleting propellants, flame retardants, or binders, and is free of volatile organic compounds (VOCs). Cellular glass is aligned with these company goals as it is a product with up to 60 percent recycled content.
Industrial applications require massive strength on the roof as mechanical systems, heavy equipment, and even maintenance vehicles are often placed atop the structure. The Langerbrugge Mill's rooftop supports mechanical and electrical equipment, requiring extreme loadbearing capacity. The compressive strength of cellular glass insulation begins at 345 kPa (50 psi) and is regularly used in building applications reaching 1655 kPa (240 psi). Dimensional stability and resistance to deflection is another consideration. The predominantly glass composition of cellular glass provides a low coefficient of thermal movement that is comparable to the movement of the concrete or steel decks to which it typically attaches. This quality means warping, dishing, or shrinking of the insulation does not occur. Cellular glass provides a stable foundation for the roofing membrane minimizing the stress placed on its joints and thereby prolonging the life of the roof.
Of particular concern in industrial applications, cellular glass is preferred where flammable liquids are used. Cellular glass is not a fuel source as it is non-combustible. It is classified as a Class A material per ASTM E84, Standard Test Method for Surface Burning Characteristics of Building Materials, due to zero flame spread and zero smoke development in independent third-party testing.. This serves as an added benefit in critical facilities where threat of fire is increased and shutdown due to fire would result in significant loss.
One of the key reasons cellular glass was ideal for the Langerbrugge Mill was its vapor impermeable property. The printing process creates a significant vapor pressure that must be countered to protect the membrane and other roof components. Cellular glass has a maximum vapor permeability of 0.005 perms per inch Class I vapor retarder per ASHRAE 90.1 (per ASTM E96 Standard Test Methods for Water Vapor Transmission of Materials Method B) compared to a range of 0.1 to 10 for similar rigid board insulation products (Class II or Class III). Limiting vapor transmission is also especially important in applications where the vapor is a chemical. Cellular glass is also acid- and chemically resistant, making it ideal for this and other pipe insulation applications.