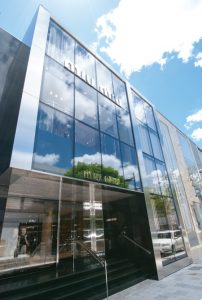 Miami's design district is home to showrooms, art galleries, restaurants, and luxury retailers, such as Burberry, Cartier, Dior, Fendi, Givenchy, Giorgio Armani, Gucci, Hermes, and Piaget.
Three of the retail storefronts in the district—Tory Burch, Tom Ford, and Prada—showcase high-performance glazing systems. These systems meet the stringent hurricane codes for Miami-Dade County, shielding against high winds, flying debris, and water infiltration. Additionally, the storefront systems and curtain wall deter smash-and-grab burglaries, allowing retailers to show off their wares without fear of loss. The systems also effectively balance aesthetics with structural durability and code compliance.
Designed by David A. Udkow Architect, the Tory Burch project features two stories of large glass panes surrounded by gold-tone cladding. The windows and doors for the Tom Ford store, designed by architect Barry Michael Ludlow, echo the modern, white lines of the building's exterior.
Each project has standard hinges, locksets, and mechanics on the doors to comply with code, but the distinctive door handles were supplied directly from the designers to maintain brand standards.